aA
"Strategic priorities in the area of national defense were discussed during the conversation, including a consistent increase in defense spending to 2.5 percent GDP by 2030, the state's defense preparedness, as well as boosting defense capabilities, including issues related to personnel, critical acquisitions and infrastructural issues," Bubnelis told journalists after the meeting.
"The president and candidate's priorities on all those issues match, and cyber security issued received separate attention," the presidential spokesman said.
In his words, the president paid attention to Anusauskas' solid work experience.
"Following the meeting, the president praised the candidate's solid and long-standing experience in the area of national defense, as well as his priorities," Bubnelis said.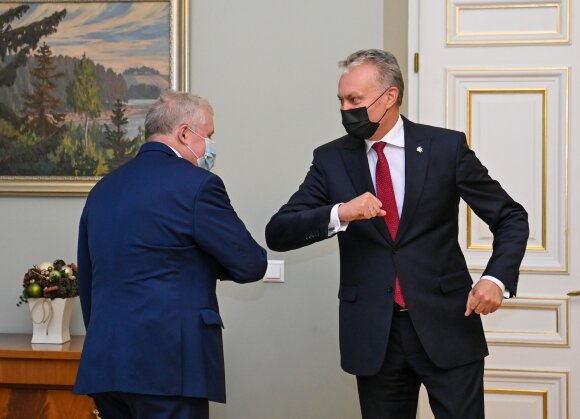 © LRPK
Nauseda also raised the issue of the knowledge of the English language during the meeting, the spokesman said. "The language issue was also discussed," Bubnelis said.
Representing the conservative Homeland Union – Lithuanian Christian Democrats, Anusauskas, 57, has served as an MP since 2008. He graduated from Vilnius University's Faculty of History and later received a doctorate of arts degree from Kaunas' Vytautas Magnus University.
He previously worked at Vilnius University's Faculty of History, the then Vilnius Pedagogical University, Vytatas magnus University, the Genocide and Resistance Research Center of Lithuania, and the Lithuanian Institute of History.
It is prohibited to copy and republish the text of this publication without a written permission from UAB "BNS".