aA
Lithuania's former President Valdas Adamkus on Tuesday called for convening a meeting of the region's political leaders on energy issues.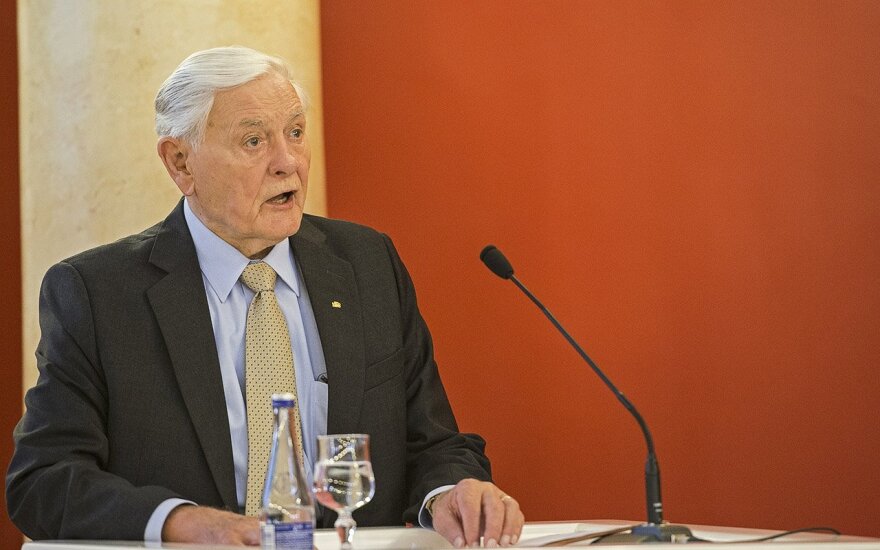 Speaking at a high-level international conference in Vilnius, Adamkus criticized Lithuania's current government for failing to convince neighboring EU countries that Belarus' new nuclear power plant project, which he called "an atom bomb", poses a threat.
Adamkus thinks that Lithuania could also rally the regional opposition against an expansion of the Nord Stream gas pipeline between Russia and Germany across the Baltic Sea.
"Lithuania must raise not only the issue of Nord Stream 2, but also of Astravyets at the European Council (and) to seek an energy meeting of political leaders of the entire region to be convened to identify new threats," the former president said during the conference on regional security.
"Russia is building an atom bomb near Vilnius with the hands of Belarusians and we fail to convince European countries of our concerns or to reach an agreement with our closest neighbors," he said.
Lithuanian officials say that the nuclear power plant that Russia's state corporation Rosatom is building in Astravyets, some 50 kilometers from Vilnius, falls short of safety standards and worry that the facility may hamper the Baltic countries' plans to synchronize their power grids with the Western European system. Minsk has categorically rejected criticism over the safety of the project.
Lithuania has passed a law to boycott electricity from the Astravyets plant, but some experts say that the move will not make much sense unless Latvia and other neighboring countries join the initiative.
Ukraine, Poland and the Baltic countries say that Nord Stream 2 will increase the EU's dependence on Russia's gas giant Gazprom, which already supplies around one-third of gas to Europe. The gas pipeline would also reduce the role of Ukraine as a transit country, thus dealing a blow to the country's pro-Western government that is facing military and economic pressure from Moscow.
Supporters of Nord Stream 2 argue that it will help lower gas prices. German, French and Austrian companies cooperate with Gazprom in the development of the project.