The article reports on ten important foreign and security policy episodes, based on interviews with several dozen Lithuanian and foreign politicians and diplomats who agreed to speak anonymously, as well as on documents obtained by the news agency and in the public domain.
A "secret six" gathered at NATO headquarters in a complex of drab, grey buildings in eastern Brussels in the latter half of 2009.
US, German, Lithuanian, Latvian and Estonian diplomats and NATO secretary general's envoy began coordinating plans for defending the Baltic nations against Russia.
They agreed that the "prudent planning" efforts that US generals undertook in the wake of the Russian-Georgian war were insufficient and that more detailed plans, endorsed by all NATO member states, were needed.
The issue was also high on the agenda of meetings of NATO's quad that includes the US, France, Britain and Germany.
Initially it seemed that the biggest challenge would be to convince Southern European countries, which did not see Russia as a threat and feared that such defense plans would cause unnecessary tension.
Before long, a new arose, namely how to silence Lithuania's new President Dalia Grybauskaite.
Diplomats were disconcerted by her public statements that NATO had no defense plan for the Baltic region and her comments that such a plan might emerge in two years.
Americans and Germans warned that making public the details of behind-the-scenes negotiations might lead sympathizers of Russia to try to stop these talks by political means. Latvians and Estonians were infuriated to hear Grybauskaite speaking on behalf of all three Baltic nations without first consulting them.
Grybauskaite firmly rejected all requests to keep silent. On the contrary, she warned that she would become increasingly vocal.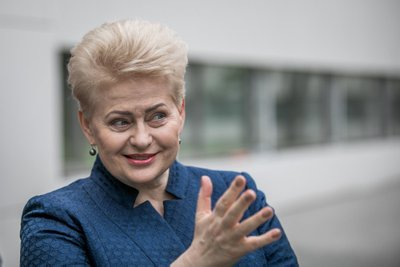 After US President Barack Obama made up his mind, NATO generals took a historic decision on January 22, 2010. They agreed that the Eagle Guardian military plan, originally designed for Poland, would cover Baltic defense, too.
That marked the beginning of an important process. Defense plans were thoroughly reviewed in 2016 in the wake of the annexation of Crimea, but intense discussions about how detailed these plans should be continue. Achieving a Cold War-level of detail in planning will now be a task for diplomacy under Lithuania's new President Gitanas Nauseda.
Grybauskaite and her circle believe that the president's public pressure and her tough rhetoric broke the ice and prevented the process from dragging on.
Some of those close to the talks demur Grybauskaite's merits are a myth. According to them, the public pressure played its role, but the idea was already being debated when she became president, so her statements were not a decisive factor in the US and Germany taking their strategic decision.
The biggest critics say the military plans were approved not because of Grybauskaite's statements but despite them. They say she just picked up the low-lying fruits that others had grown and ripened.
"We have common friends in St. Petersburg," Russian President Vladimir Putin told Grybauskaite, chewing his gum, after cameras were removed from the room in Helsinki February 2010.
"We have no common friends," she retorted.
The face-off with Putin prompted Grybauskaite to change her attitude toward the Kremlin.
The president told Lithuanian reporters later that Putin gave her a list of demands and swore several times during the conversation, but the reminiscences of the St. Petersburg meeting they shared were never made public.
Grybauskaite's communist past did not stop her from harshly criticizing Russia. On the contrary, her background only strengthened her sense of duty to the state. Grybauskaite regretted that her family had not embued her with the spirit of patriotism and she harbored a deeply hidden feeling of indebtedness because of her passivity during the struggle of independence.
Her most quotable assertion, made in November 2014, was that Russia was "a terrorist state". The word had stayed in her head since earlier discussions about the need to include Moscow-backed separatists in lists of terrorist groups. That never happened, and the president's office explained to surprised foreign diplomats that it was a political statement that would have no legal consequences.
During her second presidential term, Grybauskaite prohibited any senior-level contacts with Russia. The ban applied not only to ministers or deputy ministers, but also to diplomats at the level of a Foreign Ministry department director.
Grybauskaite's personal diplomacy with Belarusian President Alexander Lukashenko was also a failure despite initial hopes.
During her first visit to Brussels a month after her swearing-in, Grybauskaite informed EU leaders that she would go to Minsk, end Belarus' isolation and bring it closer to Europe.
Jerzy Buzek, the Polish president of the European Parliament at that time, warned her, saying, "Are you sure about that? If I were you, I'd be cautious."
Grybauskaite did not hesitate. She hosted Lukashenko in Vilnius three weeks later and paid a visit to Belarus' capital in October 2010.
In Minsk, Lukashenko promised her that Belarus' upcoming presidential election would be democratic, but the regime detained hundreds of protesting opposition activists after the polls closed.
Grybauskaite changed her mind: there would be no dialogue. The inability to halt the construction of Astravyets' nuclear power plant became the biggest failure of her diplomatic efforts and of Lithuanian diplomacy as a whole.
At the end of her term the president was convinced that the frequently occuring talk about Belarus' independence was an unfounded illusion.
"I treat Belarus as Russia's territory," she said once, explaining her tough stance.
Phone lines between Vilnius, Brussels and Washington were overheating in March 2011 when Grybauskaite threatened to block NATO's operation in Libya.
The Lithuanian president believed that an attack against the Libyan dictator Muammar Gaddafi's government would be unlawful, sow chaos and that those involved would face an international tribunal.
The German Chancellor Angela Merkel was initially quite critical of France's enthusiasm for military action but nobody expected a veto threat from Lithuania, a country with no military resources for the operation and no interests in the North African region.
"Everybody agrees; you are the only one (to oppose)," Grybauskaite's advisers were warned by US diplomats in a phone call.
Prime Minister Andrius Kubilius, together with Foreign Minister Audronius Azubalis and Defense Minister Rasa Jukneviciene, began to discuss convening a meeting of the State Defense Council to reverse Grybauskaite's decision, and diplomats started arranging a meeting between the Lithuanian president and Merkel.
"Vote as you need to, we'll defend you," Kubilius told Lithuania' representatives in Brussels.
Following intensive behind-the-scenes talks in the run-up to the decisive vote, some decided that they would rather risk being fired by the president than back the veto.
Scandinavians helped to resolve the crisis which lasted for several hours.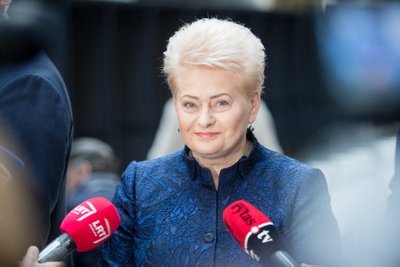 Grybauskaite had just arrived in Brussels for an EU summit. Baltic and Nordic leaders met separately ahead of the summit and all of them said in favor of intervention. The Danish prime minister asked, "Is there is anyone among us who opposes NATO's mission in principle?"
Seeing that Lithuania was all alone, Grybauskaite bit her lip and said nothing. That gave the green light for diplomats to vote "yes". The crisis was over.
Critics say Grybauskaite behaved inadequately as she unnecessarily angered the allies and risked undermining NATO's unity.
In the eyes of her supporters, however, the president showed that Lithuania was a country whose opinion mattered and that she foresaw that the toppling of the regime after military attacks would plunge Libya into chaos that would lead to a migration crisis.
In the summer of 2014, Grybauskaite refused up to the very last moment to support Prime Minister Donald Tusk in his bid to become president of the European Council.
When she received a call from Belgium's Herman Van Rompuy, the ongoing president, Grybauskaite said that Lithuania backed Danish Prime Minister Helle Thorning-Schmidt, not the Polish politician.
However, Tusk emerged as the winner after several days of behind-the-scenes talks. When the issue was put up for a vote, Grybauskaite voted in favor.
Relations between Lithuania and Poland were quite sour at that time. Tensions were mostly fueled by Foreign Minister Radek Sikorski with his continuous criticism of Lithuania over the Polish minority rights and its treatment of Polish investments in the Mazeikiai crude refinery.
Outraged by Vilnius' refusal to back down, Sikorski tried to persuade the Defense Ministry not to send Polish fighters to Lithuania to participate in air-policing missions and prohibited Polish ambassadors from organizing joint events with Lithuanians.
During his visit to Vilnius in September 2013, he demonstratively spoke only in Polish to Lithuanian reporters who asked questions in English.
Grybauskaite did not doubt that Sikorski was responsible for being greeted by angry protesters and forced to stand outdoors in poor conditions for a long time during her visit to Warsaw. The last straw was Sikorski's decision to leak to the Reuters news agency Grybauskaite's statement made to diplomats in a closed meeting that Lukashenko was a guarantor of Belarus' stability and the Belarussian opposition was useless.
No one in Lithuania liked Sikorski, but many had hopes for Polish President Bronislaw Komorowski, who has family roots in Lithuania.
Grybauskaite thought otherwise. The two presidents did not bond. Grybauskaite complained in private after one of their first meetings that Komorowski was a chatterbox who was too fond of wine and decided later that her Polish counterpart was malignantly ignoring her remarks about Sikorski's blackmail and her complaint that the staff of the Polish embassy in Vilnius was flirting with Russians on national minority issues.
Grybauskaite ended the tradition of going to Warsaw on November 11 to mark Poland's Independence Day and later declined the Polish president's invitation to come to Poland to discuss NATO issues.
"We must not yield to any pressure from Poland. We must not dramatize matters and say we could not do without them," she once said.
In the eyes of her critics, Grybauskaite's ambitions prevented Lithuania from making use of the Komorowski presidency to accelerate the implementation of energy projects. Some believe that a warmer relationship would have opened up new opportunities for closer trilateral military cooperation between Lithuania, Poland and the US.
Grybauskaite's supporters say she defended the honor of the state by not allowing herself to be humiliated. They say Valdas Adamkus' friendship with Poland's presidents did not translate into tangible results, noting that it was pressure from Brussels, rather than friendly relations between politicians, that got strategic projects going.
5. Repercussions of the Crimean crisis
A Russian train headed from Moscow to Kaliningrad braked to a halt near the Kaunas hydropower plant on August 28, 2014. Tensions ran high at the Presidential Palace in Vilnius for 15 minutes. Officials started discussing a worst-case scenario of the plant being blown up, causing numerous casualties.
The train was surrounded by police cars. The tension subsided after it was found out that it was no more than a technical problem.
Five months earlier Crimea had been annexed, and an armed conflict raged in Eastern Ukraine. Many Lithuanians were alarmed by Russia's aggression in Ukraine, and the president was no exception.
Grybauskaite changed. She began to care more both about her personal security and about national defense.
She wanted to forget her earlier assertions that increased defense spending would negatively affect plans to compensate for cuts to pension and that "several tanks" would not ensure the country's defense.
In the wake of Crimea's annexation, Grybauskaite took on a strong leadership role in increasing Lithuania's defense budget, reintroducing military conscription and buying new military equipment.
Partial conscription was reintroduced in Lithuania in 2015 despite opposition from the defence minister Juozas Olekas. The president ignored him, accepting advice from his conservative predecessor, Rasa Jukneviciene, and the chief of defense, General Jonas Vytautas Zukas.
After a month of behind-the-scenes meetings, Prime Minister Algirdas Butkevicius and Loreta Grauziniene, the speaker of the Seimas, sided with the president, leaving Olekas as the only member of the State Defense Council to oppose the plan.
The president used the same tactic in deciding on the country's most expensive military acquisition. When the State Defense Council convened to decide which infantry fighting vehicles to purchase, Olekas proposed to leave three or four options open, saying competition might help negotiate a better price. Grybauskaite's answer was abrupt, "No lists, no negotiations; we are taking German Boxers." The decision was made.
Grybauskaite believed that the threat from Russia was genuine, and thus rejected US and French requests to send special operations troops to Iraq and Africa, stating that elite troops had to stay in the country.
She remained unconvinced by arguments from her ministers Lithuanian troops' participation would strengthen ties with the two strongest NATO armies and would help the soldiers gain an invaluable experience.
But as her term was drawing to a close, four years since the Crimean crisis began, the president finally gave the go-ahead for Lithuanian special operations troops, who are highly valued by the US military, to return to Afghanistan.
In December, 2014 democrat US Vice President Joe Biden called Grybauskaite, while US ambassador to Lithuania met in person with her and Valdas Adamkus. They warned that the US Senate was about to publish a report on CIA prisons.
The document confirmed Grybauskaite's suspicions that the Americans had equipped a prison in Antaviliai near Vilnius in 2005-2006 and persons suspected of their involvement in the September 11 terror attacks were brought here on several occasions.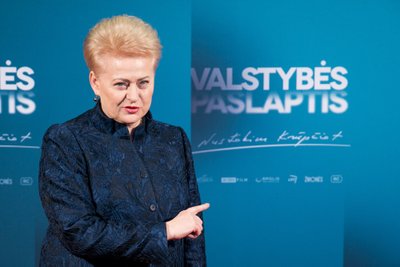 The story began in August, 2009, 40 days after Grybauskaite's inauguration when the US TV channel ABC News reported on the secret prison. Although intelligence chiefs categorically denied everything, the president was not convinced.
She invited Arvydas Anusauskas, the chairman of the parliamentary Committee on National Security and Defense, over to the Presidential Palace for an early morning coffee expounded her conviction that the prison did exist and called for a comprehensive investigation.
She was not convinced by assertions that there was no evidence for the claims. Her response was stern: "It means you are not looking well enough."
Border guards were the first to break the silence with their unexpected testimonies that they were prevented in October, 2005 from checking an incoming plane from Antalya, Turkey, linked to CIA flights.
Then intelligence officers invited lawmakers to visit the State Security Department base in Antaviliai.
Following a month-long investigation, the Seimas announced that there were suitable premises for a prison but it was unclear if any people were brought there.
Prosecutors followed up with their own investigation but after learning that Antaviliai housed "an intelligence support center", law enforcement officials ended the investigation in January, 2011.
Grybauskaite was convinced the investigation was superficial. Her appointed Prosecutor General Darius Valys reproached prosecutor Mindaugas Duda over the aborted investigation and indicated specific persons whose actions could be deemed criminal.
The investigation was resumed following the publication of the US Senate's report and is ongoing. But key question how and to whom the Americans unofficially paid to for the prison - remains unanswered.
7. Trump's unpredictability
The Baltic states were "brave" countries that "started the World War One"," US President Donald Trump told the Lithuanian, Latvian and Estonian presidents in April, 2018.
During the chaotic White House meeting, he confused the Baltic states with the Balkan countries. Trump pretended not to hear journalists' questions about requests to send more American troops to deter Russia, but beamed with pleasure when Grybauskaite said his unpredictability was a good thing.
"Repeat that during the press conference," Trump asked Grybauskaite. She agreed.
Grybauskaite's relations with the United States went through several cycles.
Soon after assuming her position, she told the foreign affairs and national defense ministers: "The Americans will no longer boss us around."
Her critical attitude towards the US had been shaped by the mildly anti-American tone in Brussels and her resentment over fire-sale of the Mazeikiai refinery to an American company during the time she worked at the Lithuanian Embassy in Washington.
Criticism was soon followed by actions as she rejected a request to accept several Guantanamo prisoners, and refused Obama's invitation to meet in Prague in April, 2010, fearing the consequences of US-Russian military cooperation.
Obama himself did not learn about this slap in the face but White House officials and people in his close circle later complained about it to Lithuanians on several occasions. Later on these officials received new assignments, and during preparations for the 2013 meeting of the Baltic and American presidents, the White House no longer demonstrated any hard feelings.
During her second term, Grybauskaite's relations with the United Stated were smoother and she was praised by the Americans for her competence and leadership, the service of Lithuanian troops in Afghanistan, freeing the country from Russia's gas monopoly, the growing defense budget, the refusal to pander to Russia and intolerance towards corruption.
But the Americans knew all along there would be no automatic backing for Washington's initiatives.
Although Foreign Minister Linas Linkevicius proposed otherwise, Grybauskaite decided in December, 2017 to vote in favor of an UN resolution that called Trump's decision to recognize Jerusalem as Israel's capital unlawful.
Grybauskaite's decision was determined not by geopolitical calculations, but by the US administration's blunt threats that the vote would determine the Americans' further cooperation with foreign countries.
"I will not let anyone bully us," she later explained.
In June, 2019, Grybauskaite rejected a proposal to hold a meeting of the Baltic presidents and the influential US Secretary of Energy Rick Perry in Slovenia. Such a "3+1" group had recently met in Ukraine, and Grybauskaite believed a second meeting was unnecessary as a president's meetings with ministers should be the exception rather than a norm.
In contrast to Adamkus, Grybauskaite never managed to have a bilateral meeting with a US president, despite active attempts to arrange one.
Grybauskaite took the foreign policy wheel into her hands from the very beginning. This was especially visible in Europe for she rather than the prime minister represented Lithuania at every meeting of the European Council.
Prime ministers and Seimas members stayed out of the way as Grybauskaite made decisions on EU economic issues that were within the government's competence. It was an effective arrangement, although hardly in line with the Constitution.
Over the course of her two terms, she EU tax harmonization, backing the dominant opinion that low taxes are the best solution for a peripheral country to attract investment.
When the then Lithuanian EU Commissioner Algirdas Semeta proposed taxing financial transactions, Grybauskaite was categorically against it.
"The Council did not ask for the Commission's proposal on the financial transaction tax. Why should we welcome it?" Grybauskaite said during the October, 2011 summit, addressing her counterparts around the table and suppressing French President Nicolas Sarkozy's enthusiasm to welcome "the Semesta project."
The foreign diplomatic corps soon realized that convincing ministers might be not enough for decisions to be made as the domineering president might decide otherwise, therefore, occasions for direct communication were always appreciated.
Female ambassadors had that privilege as Grybauskaite started having regular lunch meetings with them. Female ambassadors from different countries took turns to organize such meetings where men were not welcome.
At the end of the term, women led diplomatic missions of major Western countries, including those of the United States, Germany, Britain and France.
Grybauskaite would never be completely relaxed during such meetings, but ambassadors were glad she allowed them to see some charming aspects of her personality that were at odds with her image of a stern head of state.
Such meetings also provided opportunities to cautiously raise some political issues as well, despite the officially declared wish to avoid them.
Following Grybauskaite's departure from the Presidential Palace, the diplomatic corps will become less feminine as men are due to take over the lead of the US and UK Embassies in Lithuania in the fall.
NATO headquarters in Brussels was overwhelmed by confusion in July, 2018 as US President Donald Trump had just lashed out on German Chancellor Angela Merkel over the defense budget and started voicing doubts whether the United States needed NATO. The meeting was under the threat of collapse.
Following Trump's rant, several other leaders out their notes on Georgia and Ukraine. And then Grybauskaite decided to speak impromptu after given the floor.
She came to Merkel's rescue and with a smile on her face she addressed Trump directly, saying that his comments on the need to increase defense spending were right but it was wrong to nail the chancellor over this.
Grybauskaite reminded that German troops arrived in Lithuania at Merkel's initiative and it was her who kept Europe united in the face of Russia's aggression.
Grybauskaite was the right person in the right time and in the right place, and her statement brought back a constructive tone to the discussion.
Soon afterwards, the Dutch prime minister suggested that Trump should claim the credit for the the growth in defense spending in Europe. He liked the plan and the US president then held a self-praise press conference.
Grybauskaite and Merkel have always got along pretty well, and this connection contributed to Grybauskaite being awarded the prestigious International Charlemagne Prize of the City of Aachen in 2013. Grybauskaite's addresses during EU summits were fairly rare and short, and she would often back the German chancellor. She was considered to be a pro-German president.
Grybauskaite's staunch position on Russia helped Merkel to convince EU member states to keep sanctions and evict Russian spies in a coordinated response after the spy-poisoning incident in England. Germany did, however, wish that Lithuania opt for dialogue with Russia rather than isolation, and show greater solidarity during the migration crisis.
Speaking with Merkel, Grybauskaite would sometimes criticize Lithuanian governments, especially the one of Algirdas Butkevicius.
Therefore, Saulius Skvernelis was not very much surprised when Merkel asked him directly during his visit to Berlin: "Is Grybauskaite strict to your government?"
European Commission President Jean-Claude Juncker had a fairly good opinion about Grybauskaite and these ties helped to ensure the Commission's support for the synchronization of the Baltic power grids with Western Europe through Poland, as Lithuania wished, rejecting Estonian bid to use a link via the Nordic countries.
Grybauskaite was also a true star among journalists in Brussels as she would always come prepared to make statements and Twitter posts, fascinating them with her sharpness and straightforwardness. She satisfied their longing for loud headlines. Thanks to Grybauskaite's statements, Lithuania's name would often resonate more than its genuine influence warranted.
Lithuanian journalists would sometimes be surprised by the fact that she would break protocol during official press conferences and start speaking Polish or English as she lacked trust in interpreters.
Brussels journalists and Merkel supported Grybauskaite during her last summit during the distribution of top EU positions.
With ten days until the end of the term, Merkel and the Latvian prime minister in Brussels proposed considering Grybauskaite for European Commission president. The Estonian prime minister was positive about it, and the Polish prime minister said during a bilateral meeting that Warsaw would not protest.
That was one of more than a dozen scenarios EU leaders discussed during the two-day negotiations. The consultations on the "Grybauskaite option" took around several hours, but eventually the European People's Party decided the position should go to the party's representative, the German defense minister.
The assurances of Lithuanian conservative HU-LCD leaders that Grybauskaite could be considered an EPP-affiliated politician were insufficient.
Some leaders also pointed to Grybauskaite's character, fearing that she is too one-sided to be able to coordinate different positions.
10. Grybauskaite's circle
In September, 2016, Gabrielius Landsbergis, leader of the conservative Homeland Union – Lithuanian Christian Democrats, presented a possible shadow Cabinet to the president, if his party won the Seimas election.
Grybauskaite asked for social democrat Linas Linkevicius to remain foreign minister.
Linkevicius was one of very few politicians whom Grybauskaite listened to, despite some sharp exchanges, for example, when the minister publicly apologized to the Poles over the spelling of Polish names.
She would also listen to the opinion of the country's former leader Vytautas Landsbergis, several diplomats and intelligence officers.
Meanwhile ex-Foreign Minister Vygaudas Usackas and European commissioner Vytenis Andriukaitis topped Grybauskaite's "blacklist" and she made sure their paths would never cross.
When Usackas was the EU ambassador in Kabul, the president ignored the proposal to meet during her visit to Afghanistan, despite the fact that the majority of European politicians, including the Estonian president, would usually consult with him.
When Usackas served as the EU ambassador in Moscow, he proposed discussing the priorities of Lithuania's EU presidency with the president, but received a short and quick answer that the head of state had too many appointments.
Grybauskaite has also never met with Andriukaitis neither in Vilnius nor in Brussels, despite the Presidential Palace's door being open to the majority of European commissioners from other countries.
She would often encourage disputes among her advisors at the presidential office, willing to hear various opinions before making up her mind, despite some of them being unhappy with the fact that colleagues stuck their noses into anothers' area of responsibility.
The president, quick to notice that her populiarty ratings had direct impact on her influence, was careful about cultivating her image, starting with strict instructions to photographers, and ending by granting greater access to favoured journalists.
When the US state or defense secretaries would come to Lithuania, Grybauskaite would insist that she would attend press conferences, despite the protocol stating that ministers were required to do so.
To secure favorable media attention, the presidential office and the government would jockey for the possibility to play the central role during the visits of international political stars – Japan's prime minister or Germany's chancellor.
Those who knew the president only from TV would sometimes be shocked during live meetings by Grybauskaite's rudeneess and tendency to raise her voice. Some people at the receiving end of her tirades could not comprehend why they ewere subjected to such harshness.
But if she wished, she could be witty and charismatic, and charm her interlocutors with her straightforward way of speaking, instead of the tiresome bureaucratese of other leaders.
She didn't like criticism and excuses, but if her interlocutor held his ground, he would earn her respect.
Grybauskaite has always demonstrated her independence and bossiness, and also made swift decisions. It has allowed her to withstand improper influence. But she also would write off people and their advice too quickly sometimes.
The new president should find his own balance between the head of state's two key functions of controlling other powers and pooling them for common solutions.