While Jonas Valanciunas is certainly an outstanding center and has been a solid starter for every single team he's been on since drafted by Toronto in 2011, it's becoming abundantly clear 3x all-star Domantas Sabonis is the best Lithuanian player now. What other reason does a semi-cursed franchise like his Sacramento Kings have to explain the fact that once Domas showed up, they got back on course to the promised land of the NBA playoffs?
I want to say this loud and clear so there can be no misunderstanding-JV is a great player and fantastic at what he does.
His team the New Orleans Pelicans went on an early season run where they were a top three playoff contender in the Western Conference. During this stretch, JV averaged 13.9 points per game along with 9.4 rebounds per game on efficient 52% shooting from the field. At the very moment, however, when it seemed as though the Pelicans were nearly unbeatable, his elite running mate in the front court Zion Williamson, went down with what has become pretty much a season-ending injury. The Pelicans have since plummeted in the standings. Despite this very tough break, JV tried hard to maintain the team's momentum after the loss of Zion, scoring a season-high 37 points (with 7 made three pointers) along with 18 rebounds in one of the early games after Zion's injury.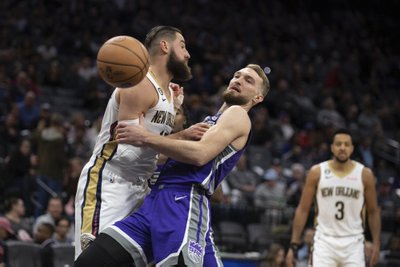 Unfortunately, however, this extra effort hasn't translated to wins for the Pelicans, who have dropped to the play-in tournament level (just barely in the playoffs). Worthy of note, JV has achieved an elite milestone of 300 career double-doubles and expanded his shooting ability to beyond the arc efficiently this season, as exemplified by his 7 made three-pointer game. His minutes have since been reduced by the coach, who is trying out some younger players in the lineup as he realizes they are not going to be competitive this season in the playoffs.
Domantas Sabonis, on the other hand, has enjoyed a starring role on his Sacramento Kings, who are currently in third place in the Western Conference. Domantas has become quite the point-center, facilitating for his teammates in the high-post in addition to being an elite scorer and rebounder which is so confusing for opponents. He models his game after fellow Eastern European big man Nikola Jokic, who has won the prestigious MVP award the past two years in a row and is currently the front runner this year as well. Jokic is the epitome of the point-center, leading his team the Denver Nuggets to first place in the West.
Domas is not far behind, however, and in some regards, his team is even better than the Nuggets. In team offensive rating, the Kings led by Domas are number one in the entire NBA, averaging an astonishing 120.1 points per game in one of the most efficient offenses in basketball history! It seems as though if you surround Domas with capable shooters, he will find them with the assist or if they are being guarded heavily, he will take the ball to the basket and score himself quite capably, with an array of elite post moves in his arsenal.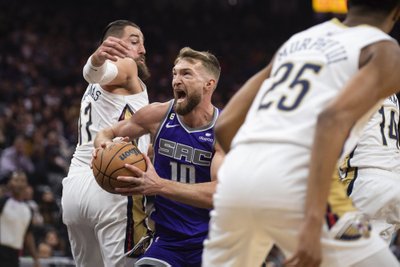 The Sacramento Kings could not have hit a bigger home run (not to mix sports metaphors) than the acquisition of Domantas Sabonis on February 8th 2022. This is a team that has not had any playoff success whatsoever in the 37 seasons they have been in Sacramento. They have only made the playoffs in 10 out of those 37 seasons, the majority of those times getting knocked out in the first round. The closest they ever came to even going to the NBA finals happened in the 2001-2002 NBA season, making the conference finals and losing there in heartbreaking fashion to Kobe Bryant's Lakers, after a hard fought 7 game series. That is a big part of the reason they are seemingly cursed as a franchise. They have not even made the playoffs in the past 16 seasons, going through 11 different coaches in that stretch. At the time of the trade for Domas, there was some controversy in Sacramento because they had to give up to Indiana elite point guard Tyrese Haliburton, along with Buddy Hield, who is consistently one of the top three-point shooters by percentage in the NBA. No one in Sacramento is crying about that now however, with Domas definitely being the reason the Kings are not only a playoff team, but a legitimate contender in third place with home court advantage.
JV and Domas faced each other recently in a head to head match up where both players had great games. JV did what he does best, score efficiently inside the paint and also by stretching the floor a bit with his growing shooting range. He had 19 points and 12 rebounds, yet another solid double-double added to the many of his career. Domas on the other hand, saw his double-double and raised him a triple-double, leading his Kings to victory easily over the Pelicans 123:108 by contributing 19 points, 11 rebounds and 11 assists. This I think is the true beauty of Domas game. Like his father the great Arvydas Sabonis, he is an outstanding passer as well as an elite scorer and rebounder. On a side note, Domas leads the entire NBA in rebounds per game averaging 12.4 per game. This is unbelievable and the team results speak for themselves.
Needless to say, Domantas Sabonis is an unbelievable bargain for the Sacramento franchise on his current four year, $77 million dollar contract signed with the Indiana Pacers after he made his second all-star appearance. His next contract will be for A LOT more money. As of right now, he has made the all-star team three times, although the first one in the 2020-21 season was cancelled due to Covid. JV, as solid a player as he is, has yet to make an all-star team at the ripe old age of 30. Domas has three already and is only 26 years old!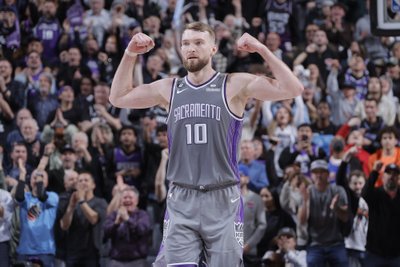 In my humble opinion, it is unfair to say that Domas has surpassed his father as a player. Arvydas Sabonis was drafted in 1986 by the Portland Trailblazers but only began playing in the NBA in the 90's due to the Soviet Union not allowing him to play earlier. I think we can safely say however that Domas is at least equally as good as his father based on what he has accomplished already. God knows what Arvydas could have become had he played in the NBA in his prime like Domas is currently doing.
This leads me to speculate about how the player balance of power is going to shift on the Lithuanian National Team going forward. As I have said before and I will say again, Lithuania has the unique problem of having their two best star players vying for minutes at the exact same position. There is no team that plays two centers together, especially in the modern NBA. The argument that Domas is a power-forward who can play alongside JV is erroneous for two reasons. First of all it slows the team down and guard led opponents have shown they can out-run and out-score them, especially in transition. Secondly, it's the 'rooster in the hen house' phenomenon. You can't have two alpha studs like JV and Domas playing next to each other because one will inevitably hurt the confidence of the other in the short-term as well as the long-term. We've seen this time and time again. It is better to start one of them and then substitute the other one for him directly. This will lead to one playing the starter role while the other plays the bench role. The starter usually has more minutes and usage. Up until now, due to the hierarchy of Lithuanian basketball, the elder JV has been that starter with Domas either playing inefficiently alongside him as a so-called power forward, or coming in off the bench. As I explained before neither of these are good options.
I submit from here on out it should be Domas at the starting center spot with JV coming in off the bench. If Domas plays as the starter he will likely get around 27-30 minutes while JV gets around 20-23 minutes. This does mean that at times, especially if both are playing well, they will probably share the floor together. The vast majority of times however, it would be one or the other center on the floor at all times. My God, imagine JV tearing up the second units of opposing teams while Domas leads off to efficient starts by finding the capable role players of team Lithuania with his outstanding passes. Team Lithuania since the year 2000 has always had the conundrum of having either elite guards or elite bigs but not both at the same time. It's been either Sarunas Jasikevicus or Jonas Valanciunas, just not both of them together. When they did have both an elite guard and big man at the same time in the golden age of the 90's, they were winning medal after medal in international competition.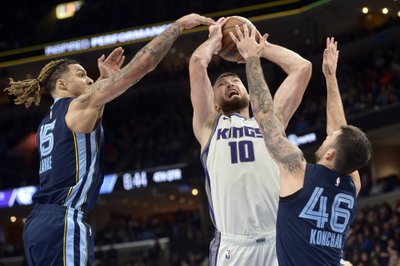 Maybe in the modern game basketball this problem of two elite centers is not as big as it seems. Domas is the new kind of modern NBA center who passes the ball, basically a 6'10" point guard. JV is the traditional kind of center who dominates in the paint. Lithuania has good guards, but they are not usually the pass-first kind that you think of as "traditional point guards". Mantas Kalnietis is my case in point, he was an elite shooting guard who team Lithuania tried for years to stick around peg into a square hole and make into a point guard. The problem was, in a nutshell, he was just not a great passer like Jasikevicius or Marciulonis before him.
Currently, however, with the likes of Lukas Lekavicius, Marius Grigonis, Ignas Bradzeikis, and even Rokas Jokubaitis, all elite scorers but not great passers, perhaps we don't even need to worry about having the pass-first guard if Domas is playing the facilitating role on the team. Sure, when Domas is sitting out and JV is in the game, those guards can all revert to playing on the ball again, especially Rokas Jokubaitis who had a nice performance in the EuroBasket last year. The main bulk of the offensive production however can and should go through Domas, who should be given the keys to this team immediately if not sooner.
We are at the point in Lithuanian basketball history when we understand that we have all the ingredients of a medal winning team again. We have the ingredients right here and now in the palm of our hand, once in a generation players in their prime RIGHT NOW. We just need a good "chef" so to speak as our coach who can put these ingredients together to become a great dish. I submit Sarunas Jasikevicius is just that very creative chef who can do it. For a basketball superpower like Lithuania, it's very troubling that we have been through almost as many coaches as the cursed Sacramento Kings. Our medal drought gets longer and longer just like the Kings sixteen year playoff drought I mentioned earlier. We are thirsty for some new ideas, not just the same tired old coaches who seemingly are a carbon copy of each other who continually hit their heads (metaphorically-speaking) against a brick wall by repeating the same tactics. This could be our year when the World Cup medal podium sees the green, yellow and red of the Lithuanian flag flying proudly overhead. The time is now, let's do it.