In this matchup, Lithuania was team-oriented as they usually are while team USA played isolation ball, where each individual player tried to beat their man one on one. As a basketball coach, you always want to see the beauty of playing together as a team instead of treating the sport like pick up basketball at the YMCA. Of course you had fantastic individual performances from American NBA stars like Anthony Edwards or "Ant", who went insane and dropped 35 points, but for team LT the hot hand and the open man were the star players. This is why bench players like Vaidas Kariniauskas, Eimantas Bendžius and Tomas Dimša all had fantastic games for LIthuania, because the team winning is the most important thing in our culture, individual stats take a backseat.
There have only been three times in Lithuanian history when they have beaten the juggernaut of team USA , the last time was almost 20 years ago. At that time, Šarunas Jasikevičius almost single-handedly willed his team to victory with late game heroics, a flurry of three pointers off the dribble very much like Ant was doing in this one. It was very much a moral victory for Lithuania only, not leading to a medal. That particular year at the 2004 Olympics, Lithuania missed out on the prize having won three bronze medals in the prior three Olympic Games in a row. I would very much like for history to not repeat itself this time around. Yes, besting USA is a great feeling to be sure, but let's follow up with a shiny medal to take home! I believe we will and here's why.
Balance and Chemistry - the secret of Lithuanian success this year
There is little doubt in anyone's mind that Lithuania has outperformed the wildest expectations of the fan base this year. No one, myself included could have anticipated that a team without half a dozen of their best players including arguably their best player in Domantas Sabonis would have gone on such a perfect run, taking down the number one team and heavy gold medal favorite team USA. If you would have told me this would be the outcome I would have said you were crazy. Yet that version of events is now in the history books. Lithuania has made it to the quarterfinal and now qualifies for the next Olympics at the very least. As great a feeling as it is to witness team USA receive what they've been lacking the most by finally getting some humility, I just don't want to rest on this moral victory like in 2004. I know THIS TEAM is capable of standing on that podium when this is over!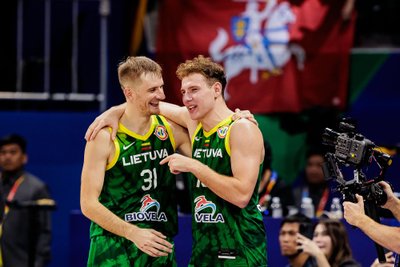 On this version of the team you have literally every role a winning team could possibly have covered perfectly. Rokas Jokubaitis is the "true point guard" Lithuania has been lacking who can equal parts pass and score which means that the rest of the guys know they should put themselves in a position to get some of those capable passes from this young leader on the team. In Jonas Valančiunas you have the dominant big man who is the undisputed king and alpha dog of the team, not someone who has to compete for minutes with Domas and be subjected to the awkward fit of the two of them playing together. In Mindaugas Kuzminskas you have the crafty veteran leader who always makes clutch plays to keep everyone calm when things appear to be falling apart very much like the beginning of the second half against team USA. He's bought into his role as leader of the bench unit that keeps the scoring production consistent when the starters are resting.
You also have Ignas Bradzeikis, who is a fast-paced , highly athletic wing player who changes the tempo so that instead of being dead last in scoring we are now in the top 3 among tournament teams. His personal story is the story of the Lithuanian diaspora itself, sending their talented sons and daughters abroad only to return to their homeland one day and contribute. Then you got Donatas Motiejunas, a capable back up to JV that isn't a threat to his dominance but rather a willing Robin to his Batman. He knows his career arc had taken a nosedive in the past several years and now he's got the golden opportunity to correct course with Domas out. A shot at redemption is a powerful motivator!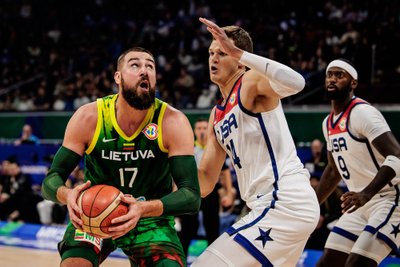 In addition to these key cogs you've got everyone else on the squad, none of whom most casual LT fans had even heard of before like Eimantas Bendžius, Tomas Dimša, Tadas Seskeris and Vaidas Kariniauskas. They have all stepped up to the plate and delivered and we will definitely be seeing them on future teams! Their three point shooting ability is something that Lithuania has not been well known for in recent years. These are the guys we always needed as a supporting cast however to be putting up points on opponents quickly and earning minutes by playing that relentless defense we all know and love from team Lithuania.
The final fulfilled roles on this team are not always the most obvious but intangible ones like great coaching, an unbelievable fan base of support and the chip on the shoulder after being disrespected by not making anyone's top 10 list among tournament teams. Coach Maksvytis was always someone I myself thought was a good coach, just not someone who was capable of adaptation and change the way a Šarunas Jasikevičius would be. I honestly never thought coach Maksvytis would be willing to build a game plan based on the uptempo running and gunning, but he would stick with the old school grit and grind of the slower paced, former Lithuanian teams which haven't gone far lately. I guess he is proving me wrong this year and I'm definitely glad to see that. If we are standing on the medal podium at the end of this I will eat a 7 course meal of crow and admit I was wrong as I lobby for a contract extension for this guy!
All in all we have ourselves in this version a well balanced team that has great chemistry. This is obvious from the players body language on the floor - these guys love playing together for this common goal of national honor! No one could say that about the likes of team USA this year, and THAT is why they lost. Does that mean USA can't find that same mojo and win the tournament still? Not at all. Humility after a loss is sometimes the best motivator and team USA is still the heavy favorite to win a gold in my opinion. Anything and I mean anything is possible when you put 12 NBA stars on a basketball court together. I just hope and pray that Lithuania wins gold instead, I'm perfectly fine with USA getting a silver.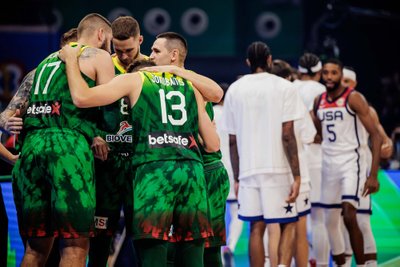 Quarterfinal preview - A slog through hell
Lithuania has proven they are worthy of being among the top 8 best basketball teams in the world, Now it's time to prove they can be among the top 3 and bring home a medal. Their next opponent is Serbia , a team that has beaten Lithuania more often than not lately, however they are missing a very important piece in their NBA championship MVP Nikola Jokič. Despite that, they are still very good. Players like Bogdanovic and Bjelica can do real damage if our defense is lazy. Lithuania needs to bring their A game because it's win or go home now. The key to victory might just be their familiarity with Lithuania as an opponent. Hopefully they expect us to be the same grind you into submission with glacial pace and they really haven't seen what this newer, faster paced version of LT basketball can do. That might just be their Achilles heel and hopefully it will be the edge we need to send the Serbians home this year.
What Lithuania has accomplished in the tournament so far has truly been great. No matter what happens in the quarterfinals this particular year will always be special. I want to win from here on out however so we can go from special to magical. Let's hope the guys are rested and ready to get us back to the promised land of being a basketball superpower again! #MesUžLietuva