Christmas period is a celebration not only for residents of Vilnius, but also an important opportunity for the city to attract foreign visitors. 61% of tourists chose Vilnius as their travel destination for celebrating Christmas and New Year's Eve (a survey of arriving foreigners conducted in 2017-2018). Foreign tourists appreciate the Christmas atmosphere in Vilnius: more than 90 percent of them rated city fairs and decorations as excellent or very good.
Nearly five dozen festively decorated wooden houses at the Cathedral Square, shining domes at the Town Hall of the city, Christmas carols, visitors' smiles and an abundance of delicacies add to an exciting and thrilling adventure.
"This is where time simply flies by. Everyone is in a good, festive mood and smiling in the city. There are many visitors from different countries. Talking to them is very interesting and lots of fun," says Kamilė, selling handmade soaps and cosmetics at the fair.
Two curious ladies from France consented saying "Your Christmas tree is really charming, and the Christmas Town underneath it is very cosy and lots of fun. Very beautiful!"
Christmas souvenirs and gifts offered at the Christmas Town can really make you dizzy.
Darius, who makes unique jewellery from exotic trees (sequoia, eucalyptus, bamboo, beech) together with his family, tells us that each piece of jewellery of a different colour and shape has a certain meaning and can become a unique gift.
The house at the fair selling men's accessories offers a variety of shapes, colours and materials – bow ties, scarves, cufflinks decorated in herbs and berries, fancy ties and even printed plastic 3D bow ties.
For the first time at the Christmas Town of the Cathedral Square there is a house offering a collection of tapestry, namely, tablecloths, napkins, table runners, aprons and cushions, decorated in Christmas motifs highly appreciated by foreigners.
The house of organizations of people with disabilities operating in the city of Vilnius, which sells handmade Christmas souvenirs, invites visitors to share their kindness. The funds raised selling the souvenirs will be used to support various activities for the disabled.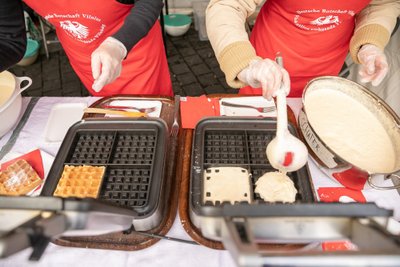 Christmas toys and interior decorations, wooden and glass Nutcrackers, amber jewellery and souvenirs, handmade candles, wax and rubber stamps, custom designer jewellery and ceramic accessories, manually decorated bone chinaware, Christmas decorations and silver fir compositions, sewn dolls and educational wooden toys as well as many other great gifts are truly inviting.
Extraordinary scents of spices and baked goods add to the special magic of the Christmas Town.
Warm and freshly baked traditional Transylvanian cakes "kurtosh kalach" invite to stop by and taste them, complementing them with a white or a black chocolate drink, hot wine, cranberry kissel or a fragrant raspberry tea with honey.
An abundance of handmade lollipops of various shapes and traditional gingerbread and ginger cookies that smell of cinnamon and cloves will also make your head spin.
"Children are attracted by colourful glazed gingerbread cookies, their parents and grandparents prefer gingerbread cookies with names glazed on them, while foreign guests choose gingerbread decorated with Lithuanian accents", the seller from "Meduolių Šalis" (English: Gingerbread Land) observed.
A true isle of joy is a house offering red glazed apples and a variety of chocolate-covered fruits: grapes, tangerines, strawberries, bananas, pineapples, and spicy chili peppers. Apples with a caramel glaze is a must-try of this year.
The town smells of hot donuts, Dutch waffles of 7 flavors, hot ice cream of 4 flavors and coffee, and apple cheese of more than 20 flavours, including cheese with cannabis or garden rhubarb. Cheese Advent Calendar is this year's news.
Each Christmas fair features roasted chestnuts, a traditional delicacy from Italy.
An abundance of hot drinks, including Christmas and herb teas, fruit kissel, hot cider and wine, cocoa, hot chocolate, coffee and Lithuanian acorn, dandelion or carrot coffee made following traditions of our ancestors, will warm you up while walking around the fair.
"There are no coffee trees in Lithuania, so our ancestors used roots and seeds of plants that grow in Lithuania to make hot beverages. They roasted seeds and made healthy drinks that have many special properties," says Laisvė, a Lithuanian tea connoisseur.