Now, at the end of his first year at KTU, Deivid says that he loves Kaunas for its greenery, but misses the food and weather typical to his home, the seaside city of Vlorë.
For the interview, the Albanian student came accompanied by his Lithuanian friend.
"I have many friends, and we often hang out with people from my course," said Mico with a smile, admitting, however, that he has experienced the coolness, usually attributed to Lithuanians.
Deivid does not mind, though – he studies together with international and local students and has enough friends and activities at and outside the University.
KTU was the first and only choice that Deivid was considering for his studies abroad. The University's name came up in the search, while he was looking for engineering studies. He got admitted, then was offered a full scholarship, and looked no further.
"I was mainly interested in engineering study programmes, and aviation engineering is something that not many of my peers think about. I always liked to do something different from others," says Deivid.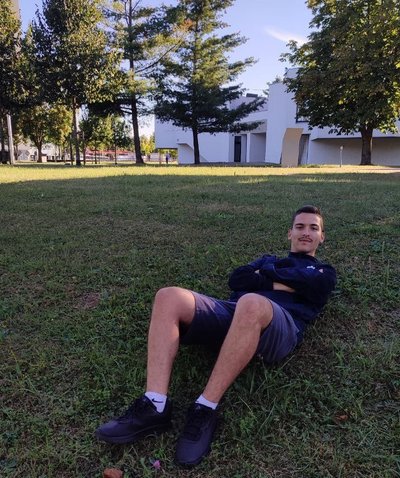 So far, he is happy with the choice. Although, in the first year, the BSc Aviation Engineering curriculum is concentrating on common engineering subjects, Deivid has already found certain topics that are of particular interest to him.
"I love the way most teachers teach here – I find it easy to understand, and this is very different from the old-school teaching methodology that we have at home. Also, what I find especially great is the inclusion of digital technologies in certain subjects. It makes very much sense, as in the future, the majority of calculations will be made by computer rather than a human brain," says Mico.
Although he prefers not to think too far into the future, Deivid is sure that his studies will fit into his career plans. Maybe not at home, as the aviation industry is not much developed in Albania.
However, after graduating with a bachelor's a young engineer considers taking a few years' break to pursue a career in Lithuania or elsewhere in Europe, and then coming back to study for a master's.
Studies at KTU with a full tuition fee waiver
How much his study choice was influenced by the fact that KTU offered a scholarship? This was very important, says Deivid, whose parents could not have afforded his studying abroad.
"My parents were sceptical about me going abroad – firstly, because of economic reasons, and secondly – because I was going to be alone in a faraway place, and they were worried. However, studying at home was not an option for me," says Deivid.
He arrived in Lithuania knowing only that such a country exists, and the name of its capital. Expecting to see a country, which is in a way similar to his native post-communist Albania, Mico was taken aback by how different we are.
"I came here with my father and he was left speechless with the efficiency and cleanliness of public transport, especially trains. This level we didn't expect. Also, I love the student discounts for travelling, they are very helpful," says Deivid.
Living in Kaunas, in a month he spends less than he would spend at home, which was also a very pleasant surprise.
"And I live a decent, very good life," says a KTU student from Albania with a smile.
In his free time, Deivid likes to play pool, table tennis and other games at Student Leisure Centre in his dorm, and now, once the weather became warm and beautiful, he often takes strolls in the nearby park, Ąžuolynas.
"Kaunas is very green, and I love it," Deivid repeats from time to time and says that he plans to visit more of the sites in the city and around the country. So far, he has been to Trakai, which he thought was an amazing place.
From home, misses food and good weather
Cold weather and Lithuanian cuisine are the aspects of his life in Kaunas that Deivid hasn't learned to appreciate yet.
"In winter, it was very, very cold for me here. And, as far as I understood, this wasn't even the coldest winter! However, in temperature and daylight terms, there was a huge difference from home for me," says Mico, admitting that he spent most of the days indoors in winter as it was too cold to go out.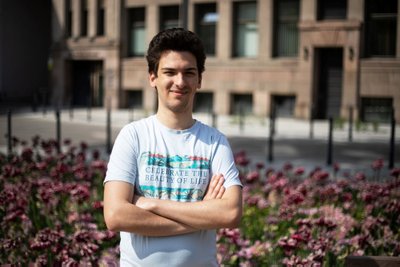 Food presented another challenge – used to a Mediterranean diet, typical for Albania, Deivid misses all the flavours and ingredients that he has in abundance at home. Fish, beef, tomatoes, olives and olive oil, oranges – KTU student lists the food that is not as good as there.
"In the Mediterranean region, we have almost everything. Tomatoes are ripe almost all year round, and coming from the seaside city, I am used to eating fish often. So, it took a little bit of time to adjust to the food here, to its taste and prices – oranges and tomatoes tasted weird, I cannot find good fish, beef is difficult to get and way too expensive," says Deivid.
Upon coming to Lithuania, he brought honey and olive oil with him: "I didn't know what to expect."
While honey for Lithuanians is an important and valued ingredient, unfortunately, our climate is unsuited for growing olive trees.
"Our family has four olive trees, we grow figs and other small fruits, just for our own consumption. The bottle I brought from home is a mix of oil from our garden and from some other olives – it's homemade and fresh," says Mico.
To add a little taste of home, Deivid often cooks food from scratch with Mediterranean ingredients that he can find here.
Experiences exceeded expectations
As the most striking cultural difference between Lithuanians and Albanians, Deivid names the reserved nature of the locals.
"Lithuanians rarely talk, they seem cold to the people they don't know. Back home, we are used to talking to strangers. Then, immediately after you talk to someone, you start being friends. I tried to deploy the same strategy here, but it didn't work very well with some people," says Mico with a smile, adding that a certain coolness of the locals may be related to the climate.
Since there are no direct flights, travelling home takes a whole day. Deivid is already looking forward to going to his native seaside resort in the summer. However, he will come back in autumn and has already recommended KTU to many of his friends.
"I have friends who are still in high school, but are interested in the same field as I. Telling about my experiences at KTU, I told them that everything is far beyond my expectations. Also, Kaunas is not a large city, which means fewer people, less noise, more greenery. That's what I say to people about my studies here," says Deivid Mico from Albania, a first-year bachelor's student of aviation engineering.
Interested in studying at KTU with a scholarship? All international applicants are automatically enrolled in a competition to win a full or partial tuition fee waiver. Choose your study programme and apply by June 30!