aA
Researcher Luis Pinto (52) from Porto, Portugal, is spending a year in Vilnius working on his PhD and conducting research. In his spare time, he enjoys exploring Vilnius and strolling through parks scattered throughout the city.
Unlike Porto, Vilnius has many open and green spaces, he says. "Thanks to Soviet urban planning, you had a lot of green space between buildings. Due to the open spaces, you had the possibility to build bicycle paths," said Pinto whose background is in urban and regional planning.
- Why did you come to Vilnius?
- I am in a joint doctoral programme at the ESAC (Coimbra Agriculture School, Polytechnic of Coimbra). Mykolas Romeris University in Vilnius is a partner, so I decided to come spend a year working on my PhD here. I will stay in Vilnius until next July. There were those in Portugal that asked me why I was going to Lithuania, a not very well-known country. I like to travel and that was one of the reasons for choosing a country outside of Portugal.
- What did you know about Vilnius before coming?
- I didn't know much about Lithuania, but I was quite curious. I had read about Tallinn, so I knew something about Estonia. I knew that the three countries (Baltic) were former members of the USSR, so this made me even more curious to come from a visit. Of course, I knew that Vilnius was the capital.
- What did you notice that was different from Portugal, after you arrived in Lithuania?
- I noticed how green Vilnius truly is. Also, that it is a smaller city than Lisbon. It's small size was also interesting. Also, from what I have seen so far, you use forests in a more "active" way and spend time in the forests. You have beautiful forests. In Portugal we have the seaside and the mountains. Also, I have noticed that there are many bike paths in Vilnius. As an avid bike rider, this is important for me.
- You will stay in Vilnius for one year. Are you taking any Lithuanian language classes?
- Yes, I am trying to learn Lithuanian, but it is a challenge. It's one of the few times in my life when I visit a country that I don't know the language of that country. It has been difficult especially when I was looking for an apartment in Vilnius. All the rental sites were in Lithuanian.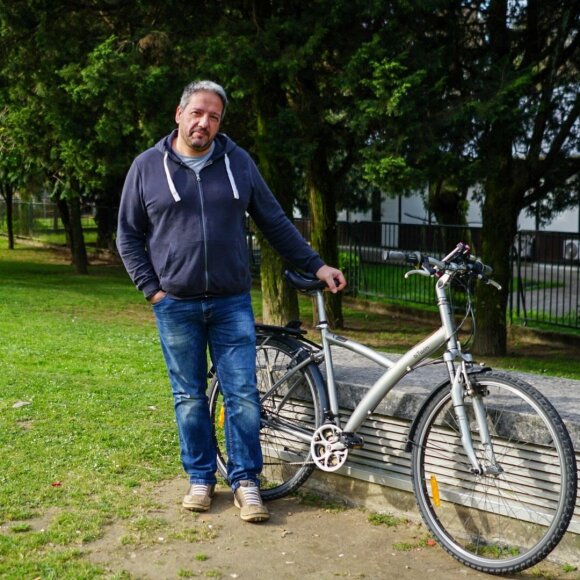 © Asmeninio albumo nuotr.
- How does Vilnius differ from Porto where you have been living for the last 9 years?
- The terrain. Vilnius is almost flat compared to Porto. The density of the city – buildings, is greater especially in the city center. But, I still think that Porto is much more populated. There are also less green spaces in Porto. There is plenty of space here in Vilnius and more trees. Porto is different in that respect. For example, Porto has more hills, so I don't ride a bike in Porto.
- You enjoy exploring cities when you travel. You mentioned, that you have visited the island countries in Africa – Sao Tome and Principle located on the equator. What do you do in your spare time here in Lithuania?
- Yes, I do enjoy traveling and every weekend I walk around Vilnius and explore the city. I passed through the city centre in the late fall last year and went to the National Art Gallery. It is located in a beautiful place along the river where the Japanese sakuras have been planted. I like to watch people and yes, I really do like to walk. On my mobile phone, I photograph some of the places that I visit in the city.
- What do you miss now that you are in Vilnius?
- Of course, my family because my wife is in Portugal along with my children. It was a difficult decision for me to leave them and spend this year in Vilnius. I also miss the weather – the sun. But being here, in Vilnius, is worth it.

It is forbidden to copy the text of this publication without a written permission from DELFI.