She is studying towards her 2nd Master's Degree and she hopes to eventually pursue PhD studies in Lithuania in the future. She agreed to answer a few questions about her first impressions of Vilnius and her studies.
- How did you decide to come to Vilnius and study here?
- I was dreaming of doing my Master's Degree abroad. I wanted to start a new adventure abroad, discover a new culture, new people and learn a new language. At one point, I had even considered studying in China, but due to the pandemic and strict regulations regarding foreigners, I started to look for universities in Europe instead. One of my friends recommended MRU. I found a Master's Degree programme that interested me and applied. MRU replied quickly. Getting a visa to enter Lithuania was the difficult part. I applied at Lithuania's Embassy in Cairo, Egypt. One of the main reasons for choosing to come to Lithuania was that I read that it is a friendly country for Muslims.
- What did you know about Lithuania before coming here?
- I did not know all that much, but I read a lot about the people and the culture before arriving. One of the main reasons for coming to Lithuania was that it is open to Muslims. I also read that the winters here are cold and there is a lot of snow.
- You were waiting for a visa in Cairo. How long did you spend in Egypt?
- I spent a month there. I liked Cairo because I already visited before because I am married to an Egyptian man. I am accustomed to Cairo, despite the fact that there is a lot of noise there.
- Is it difficult to be away for so long from your husband?
- Actually, that is a difficult question to answer. I can't describe how sad I am that he is so far away. It's like leaving your heart behind, but we make sure that we talk to each other every day. He told me to go and pursue my dream of studying in Europe. I hope that we will be able to meet soon - in Europe or elsewhere.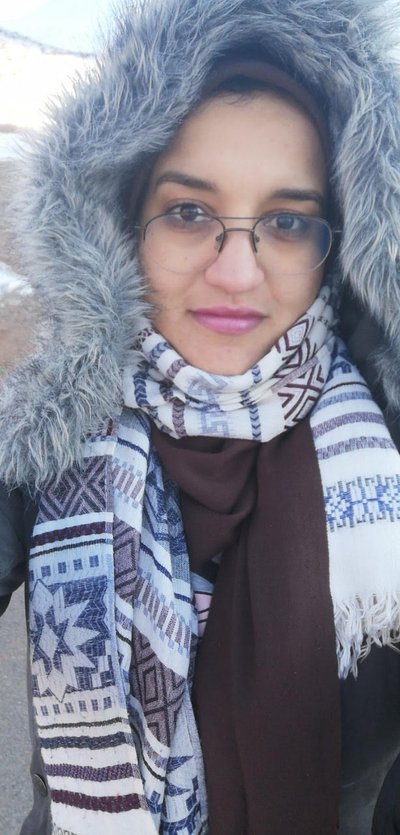 - What were your first impressions of Lithuania?
- The airport was so small compared to other airports like Istanbul, but Lithuania is also a small country. I was lucky that the weather was good and it was not too cold when I arrived in the fall. I also noticed that many people were walking dogs and it seemed like there were more dogs than children outside. I observed that old people don't speak much English, but they do speak Russian and nevertheless, they were helpful and directed me to where I needed to go.
- What are the main differences between Casablanca and Vilnius, your new home?
- Casablanca has about 3,7-mil people –the entire population of Lithuania. It is a louder, more vibrant, energetic city pulsating with life. There are many people on the streets and also more cars, especially in the evenings, when it is cooler and not so hot as during the day. I would say that the temperatures are one of the main differences. Vilnius is more compact, calmer and has fewer people on the street. Restaurants and cafes close earlier here, unlike Casablanca, where they are open until the early morning hours. Also, I would say the food differs as we eat more vegetables, fruits and especially enjoy couscous. As Muslims, we avoid pork and don't drink alcohol. I understand Lithuanians eat a lot of meat and pork. There are some Turkish restaurants in Vilnius and stores where you can buy halal food. We have various options here in Lithuania.
- Morocco is known for its special mint tea? Also, your cuisine is world famous?
- Yes, we drink Moroccan green tea with mint, but we also enjoy coffee. Moroccans prepare couscous with vegetables like carrots. We enjoy harira soup with lentils, tomatoes and grilled fish and sardines with coriander and parsley. Our food is spicy. Casablanca's market offers a variety of spices to flavour any dish that we make.
-You lived in Saudia Arabia before moving to Vilnius this fall. How long were you there?
-I worked for almost one year in Riyadh, Saudi Arabia. I found that the position of women has changed dramatically in recent years as they are now able to drive a car work and leave their homes unaccompanied. I also worked as a procurement manager in Morocco. I hope to land a job here in Vilnius as most of my lectures are in the evening. It will be great if I can combine studies with work and gain more experience.
- Do you plan to learn Lithuanian?
- I am a multilingual person. I enjoy learning new languages. I speak Arabic, French and hope to improve my English, while in Lithuania. Of course, I would like to learn Lithuanian also.
- What do you plan to do after you graduate in 2023?
- I will complete my 2nd Master's Degree here in Vilnius. I already have a Master's in Management of Logistics from Morocco's National School of Business and Management (ENCG) in Settat. I plan to pursue doctoral studies and may study in Lithuania. That is my dream. But first, I need to complete my Master's Degree.