He said practicing yoga helped him stay calm and stress-free about his studies. "We see yoga as a way of life," said Choudhary, who recently passed a series of stringent judicial exams and is now in Delhi as Metropolitan Magistrate cum Civil Judge. Known for his sunny disposition, he has been practicing yoga for the last 10 years. "My enthusiasm comes from yoga," said the judge who also plays the guitar. He had studied medicine, but switched to law as it was a way to "influence a larger population," he said.
- What was the purpose of your visit to Vilnius?
- Formally, I came here to collect data and inputs for my PhD, "Law and Policy Framework in Terms of Language Endangerment." It is an in-depth look at languages on the verge of extinction. I conducted my research at Mykolas Romeris University. Also, I presented a research paper at a conference in Vilnius. I was very excited to visit Lithuania for the first time. I had many good memories here.
- You are from Delhi. How did you find out about Mykolas Romeris University?
- Yes, I am from the capital of India – Delhi, although my ancestors are from northern India. I learnt about MRU from my College and a competition which was organized to select a candidate to come to conduct research at MRU. Only one candidate was selected and that was me.
I chose Mykolas Romeris University for my research owing to its internationalization, research area expertise and good reviews by international students. I am the first person from my university to visit MRU. Since returning to India, I have recommended MRU to many of my friends who plan to come in the coming semester.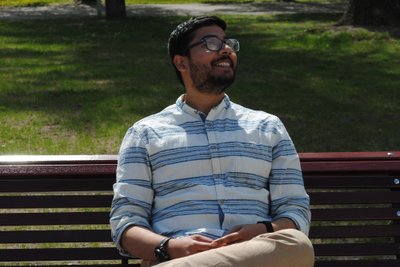 - What did you know about Lithuania and Vilnius before coming here?
- I did know that Lithuania had a long and interesting history. It is part of the Baltic region and is part of the European Union. I also know that the Lithuanian language is part of the Indo-European linguistic family. For example, the word ugnė in Lithuanian means fire and is used as the name of a girl for obvious reasons. In Sanskrit and Hindi there is also a similiar word, which means fire, which suonds much like ugnė.
My love for Lithuania has increased further with distance and time. I miss my Lithuanian food, climate, and friends
- Was this your first time in Europe? Had you studied in Vilnius or elsewhere in Europe before?
- No, this is not my first time in Europe, but it is my first visit to Vilnius. I have been to various countries in Europe and in Scandinavia. I have spent time in several European universities: Universite Paris Nanterre, France; University of Bergen, Norway; and Università degli studi della Campania Luigi Vanvitelli, Italy. I have never studied in Vilnius before.
- What were the biggest differences you noticed between Vilnius and Delhi?
- There were many similiarities and dissimilarities. Similarities in the sense that I found instances which made me believe in humanity. For instance, once I was travelling in a bus in Vilnius with my wallet and Smart phone in the back pocket of my pants. An old Lithuanian lady came to me in the bus and using sign language told me to be careful. There are a lot of dissimilarities also. One thing that comes to mind is the climate. The weather in Vilnius is much cooler compared to Delhi, where temperatures can reach up to 50 degrees Celsius. Another thing is there is much less population in Vilnius when comparing it to Delhi. So, as a result there is less traffic in Vilnius, fewer crowds and one can enjoy the city.
- Did you try any of the Lithuanian cuisine in Vilnius?
- I am a vegetarian who is trying to be a vegan. I am happy that I could find a variety of vegetables, cereals, milk, butter, cheese, breads and bakery products in Vilnius. I experimented with various local products that I could find in Vilnius. I particularly liked the apple baked pastries served in Vilnius, which I tried in Old Town. I ate buckwheat for the first time in my life in Vilnius. I liked sūrelis and the fried bread chips (kepta duona). When I was here, I would usually go to the local farmers market to purchase food products including vegetables. It was my way of thanking and promoting local Lithuanian produce.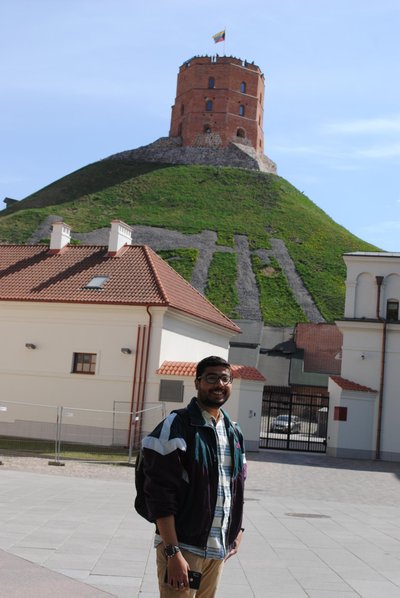 - You are young, dynamic and successful. What is the name of the court you are now working at? Is this a lifetime appointment to the bench?
- Yes, it is a lifetime appointment. I am presently in Delhi as Metropolitan Magistrate cum Civil Judge. It should not be confused with administrative judge. To become a judge in India there is a very difficult competition consisting of various stages – preliminary examination, mains examination and then a personality test. Then you are ranked on a final list. Lastly, depending upon the number of vacancies, a few of the candidates that do well become judges and the rest have to prepare again, if they want to be a judge. I take this as an onerous responsibility on my shoulders to ensure justice.
- How long have you been practicing yoga? How has it benefitted you personally?
- I have been practicing yoga for more than a decade now. There are countless benefits of yoga including better concentration, more energy, more agility. Yes, it has been found by researchers that pursuing a PhD can be very taxing both physically and mentally. Yoga defintely helped me in successfully completing my PhD. To all those interested in yoga I would suggest reading a book, "Autobiography of a Yogi" by Paramahansa Yogananda. The style of yoga which I practice is Ashtanga Yoga given by Patanjali.
- How has the COVID-19 pandemic affected India and the work of the courts?
- In present times of global pandemic, there are a variety of challenges that the justice system is grappling with. In India there are many restrictions that have been put in order regarding physical courtrooms. There is an increase in the caseload and docket explosion. Owing to the arising situation, virtual courts have been established. There is an increase in the use of ICT (Information and Communication Technology) to aid in justice dispensation. I am planning to write a research paper, which explains in detail the usage of ICT and its benefits with regards to the justice system in India. An example of this would be the use of Video Conferencing facility in remand in criminal trials: usage of e-filing system for filing cases online and usage of virtual courts in deciding matters, which fall within its preview, jurisdiction and competency. Similarly, motor vehicle violations cases are already being completely decided using virtual courts and automated software.
- Will you return to Vilnius, perhaps to lecture or share your experiences?
-I would love to come back to Mykolas Romeris University as a guest lecturer in comparative law. My experiences both as a judge and as a comparative law student, who has spent about a decade in studying law, will definitely be of value to students at MRU.
I am reminded of John Keating in a movie called, "Dead Poets Society" where he says, "I stand upon my desk to remind yourself that we must constantly look at things in a different way." Sometimes, newer perspectives about law including inputs from other legal systems can initiate one to appreciate the complexity in the field of law and various invisible dynamics, which influence it. I miss Vilnius. It is said that "only in the agony of parting do we look into the depths of the love."
My love for Lithuania has increased further with distance and time. I miss my Lithuanian food, climate, and friends. When I return I have to explore more including visit Klaipėda, Nida and other cities