The exchange student at Mykolas Romeris University said the coronavirus allowed him to meet fellow students, cook meals together and perfect cooking techniques as well as learn about other cultures. Food is a big deal during quarantine and so is cooking, he said. The Paris native, whose parents hail from the western African country of Benin, said that Vilnius has much to offer – including calm, that big cities like Paris do not have anymore.
- Why did you choose to come to Lithuania for studies?
- I wanted to live an adventure and to be out of my comfort zone, which is Paris, where I am familiar with my surroundings. I wanted to discover a new place, a new country and a new culture. I had applied to several universities to spend an Erasmus semester abroad including Nijmegen, Netherlands and Leuven, Belgium. I had lived in Belgium, when I was young so it was not interesting for me. The Netherlands is also not far from France. Then I happened to see an ad to study at Mykolas Romeris University in Vilnius. I just said "Vilnius – Let's go!" I sent my documents and got accepted. I also had talked to a student who had been to MRU and they were positive about the University and Vilnius.
-What did you know about Vilnius and Lithuania before coming here?
- I knew that Lithuanians love basketball. I knew that Vilnius is the capital. I knew that you are a Baltic country
- You were here during the coronavirus pandemic. Was it difficult for you as a student to stay inside the dorm during this period?
- No, I would not say it was difficult. We were living in this huge house called the dormitory. We started to live here and cook together – several of us students from Slovakia and Turkey. It was a good time to meet and mingle with other students over a meal. Also, we watched many cooking TV shows such as "Hell's Kitchen" with Gordon Ramsay and others. Cooking shows are extremely popular in France and many people watch. I learned to cook watching these cuisine TV shows. During quarantine food is a big deal and so is cooking.
- So, it was a time to meet others and spend time with fellow students?
- Yes. It was also a time to spend alone, - introspection of myself. Being here helped me. Everything was new, interesting. I had less stereotypes. It would be different if I had gone elsewhere. I had heard good things about Vilnius before coming. So, I made the right decision in coming here.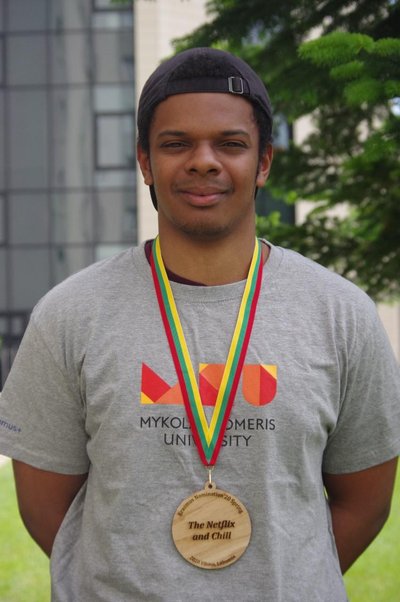 - What are the differences between Paris and living in Vilnius?
- Nature is one of the biggest differences. There is more space here in Vilnius for people than in Paris. In Paris people are always together – stuck together you could say for lack of space. Also, people differ in their mentality here from those living in France. Here they are more closed, less talkative, somewhat colder I would say. However, they are very nice people – the Lithuanians. When I got to know Lithuanians, I found them very kind.
- Is there anything you miss in France, while you are here in Vilnius?
- I miss croissants with chocolate, some of the French cuisine, French tacos with melted cheese.
- You are known as a good cook at the dormitory. What do you cook? Where did you hone your cooking skills?
- Yes, I like to cook pasta with the Philadelphia cream cheese and with either chicken or salmon. I like to watch some of the popular cooking shows in my country. TV shows like Master Chef or Gordon Ramsey's cooking shows are also very popular and I like to watch them. I like cooking fried chicken the most but also I learned to cook Italian tortillas, sushi, pizza, Mac'n Cheese while in Vilnius.
- Have you tried any Lithuanian dishes while you are here?
- Yes, I did try kibinai in Trakai, which I enjoyed. I like the fried bread with garlic. I have not, however, tried the pink beet soup, but there is still time before I depart from Vilnius to do so.
- What are your plans as you return to Paris this summer?
- I will go on vacation with my family. Then I will try to devote time to my main interest – music. I would like to be a singer. I have recorded some songs where I rap. I sing in French and write my own words and music. It's something I like to do and my friends, who have heard me sing, encourage me. I will do my Master's Degree. I would like to find a formation where I could bring together my studies in economics and business with my passion for art and music.