In the Macedonian game, while JV was negated by his fellow NBA player Nikola Vučevič and couldn't really get going until garbage time when the result was clear, it was Jokubaitis and Kuzminskas who took over. The team ended their time in the first stage of group play a perfect 3-0, setting the stage for the next round matchup against Greece. Lithuania was not even in the top 12 of FIBA power rankings going into the tournament, but they seemed to have found their mojo now as the commentator noted after the Macedonian match. We have earned our respect!
Balance and team chemistry: Lithuania's success formula
In the recent 2022 EuroBasket tournament, when Domantas Sabonis and Jonas Valančiunas were forced to play together because neither one was deserving of being subordinated to a bench role, we had the good problem of two extremely talented big men that just did not have good chemistry playing together. I don't care what basketball league you are in, it is very rare that two centers can play extended minutes on the court together unless one is particularly fast and can space the floor with a three point shot. In other words, a power forward/center combo player. Although both Domas and JV have flashes of perimeter shooting and Domas is quite agile, both players do most of their damage within spitting distance of the rim. It was just too cluttered in the paint for either one to get going and the team didn't quite live up to the expectations in EuroBasket 2022.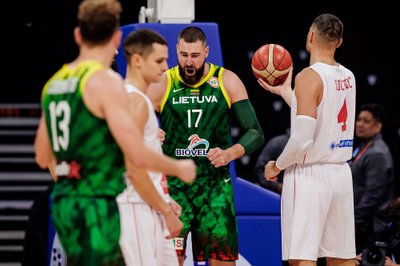 Fast forward to today, where Domas is taking a break from the national team to recuperate from injury leaving JV the undisputed king of the mountain and alpha dog in the paint of the LT National Team. It's ludicrous to say this is addition by subtraction, the phenomenon where removing a player helps the team, because if it was Domas in the middle and JV was out the same thing would likely happen. It is definitely not a knock on Domas whatsoever, who is arguably becoming as good as even his legendary father as evidenced by his stellar NBA play of late. JV as the primary center on this squad is performing like we all come to expect from a player of his caliber. It is just human nature to do better when you have a clearly defined role on a team. Right now JV's role is to dominate in the paint. Period. He's doing that.
Rokas Jokubaitis - stepping into the shoes of great LT point guards
The balance on this iteration of the national team is seemingly calibrated near perfectly. What makes it work so well is not just the awkward fit of JV and Domas front court being removed from the equation, it's also the rise of Rokas Jokubaitis. This is a player who has taken a gigantic leap forward under the coaching tutelage of one of the all-time greats of Lithuanian basketball in Šarunas Jasikevičus on their championship winning club in Barcelona this year. To be brutally honest, Lithuania hasn't had a point guard this good since Šaras himself suited up. Mantas Kalnietis was an outstanding shooting guard who the coaching staff for Lithuania kept trying to put a round peg in a square hole at the point guard spot. It really only worked one year in 2015 when team LT took silver at the EuroBasket by Mantas going insane and being a top three scorer in the tournament that year. The rest of the time it has led us to good teams, just not great ones much to the dismay of the throngs of die-hard Lithuanian basketball fans like myself.
This time around, Jokubaitis is one of the tournament leaders in both scoring and assists, as I said he is quite a double threat. Šaras has really helped him develop this past season and it shows. You pair his ability to get deep into the paint for dish outs to JV and it's a Stockton/Malone 1-2 punch tandem indeed! You pair his ability to get deep inside then kick out to capable shooters then it really is a powerful floor spacer. I can't emphasize enough how the rise of Jokubaitis could very well be the turning point for the LT national team in the future. And that bright future (fingers crossed) might just be NOW!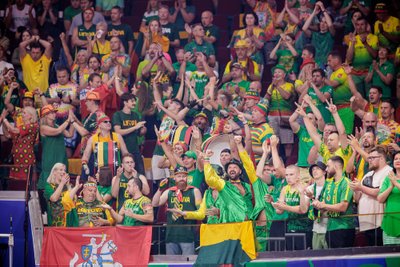 Ignas Bradzeikis and Mindaugas Kuzminskas - experience and youth at the forward spots
These versatile forwards are a big part of the success we have seen so far in the tournament. In the match up against a tough Macedonian team, Kuzminskas came into the game off the bench when LT was down in the early going and he almost single-handedly righted the ship, calmly making a couple critical three pointers and putting LT back into the driver's seat. His veteran leadership as the oldest player on the team truly helps when the chips are down. I always thought he should be a starter and have criticized the Lithuanian coaching staff about this in the past, but now I honestly don't know if I agree with my former assessment. He seems to relish his role as the hot hand, microwave scorer off the bench and it seems to work. If it ain't broke don't fix it as any good basketball coach would say.
Ignas Bradzeikis is also making a name for himself in the tourney this time around. He earned his spot on the squad by helping the team get to this World Cup in his debut in 2022 during the qualification tournaments. After starting his pro career in the NBA before dropping back down to play last season for his hometown Kaunas Žalgiris team, he truly has something to prove if he wants to get back to the top world league and the fame and fortune that goes with it . Where I truly think he helps the Lithuanian National Team is bringing the faster NBA pace to this version of the squad. In so many years past we kept playing without that sense of urgency, methodically grinding the other teams down with our big men and their elite rebounding ability along with suffocating defense. This time around however, we got the hot three-point shooting role players who run and gun, which definitely puts points on the board for us in a hurry. Iggy is a crucial piece of this early success in the tournament and I predict he will continue to improve going forward as this fierce basketball nation takes their wayward Canadian son back into their arms.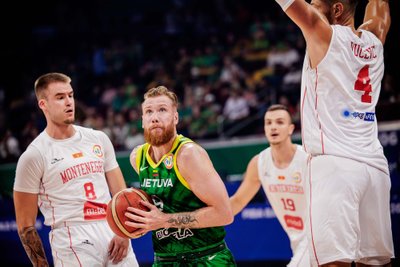 Donatas Motiejunas and the "redeem team"
Donatas Motiejunas started his basketball career in the NBA with so much potential and promise of what he could become as a versatile big man in the modern game. The Houston Rockets parted ways with him when he didn't quite live up to that potential and D-Mo found himself playing in overseas leagues ever since trying to redeem himself. As primary back up for JV at center this go around, he is starting to show flashes of his former potential. The best thing about him is he knows he's not going to take JV's spot at the starting center spot unlike Domas might have, therefore he is quite content playing his role and doing his job off the bench. He is truly helping the team by limiting the drop off when JV takes his rest off the floor. The versatile big man can play all the way out to the three point line, draining an important one versus Macedonia off a kick out pass. This floor spacing helps in so many ways. He's also a good pick and roll finisher, converting nicely on a beautiful dish from Rokas Jokubaitis in the very same game. Who knows, perhaps NBA scouts might be taking a second look at D-Mo if he continues to impress on this version of the national team?
Honorable mentions go to the rest of the guys on the squad, almost all of which were not top-tier talent but more or less fill ins, Euro league club players who filled the void with so many of the main players out this time around. Tadas Seskeris , Vaidas Karinauskas , Tomas Dimša and others are playing well with this new style of fast paced Lithuanian basketball, not afraid to take three pointers and running out on the fast break. Their defense is solid too. Of course we can't have a Lithuanian basketball team without a defense-first identity, that's a vital part of the Lithuanian basketball tradition which is often the unsung hero! These players all add to the highly balanced, floor spacing, fast paced and defensively aggressive version of the squad that is poised to make a deep run based on what we've seen so far. The irony is the fact that there's so many formerly unused Lithuanian players might be helping the team with all their extra effort as they try and make a name for themselves.
Going forward - the next round and possible medal podium?
This version of the team has put themselves in a solid position to make it to the quarterfinal if they can win their next match against Greece, matches that are both are not going to be easy but are both winnable for the Green Machine. If they have to face the juggernaut team USA later down the road so be it, Lithuanians have never been known as a people who shrink from an epic challenge. Ask Šarunas Jasikevičius how team USA did at the Athens Olympics in 2004! Maybe history will repeat itself almost 20 years later. There's quite a few other good teams in this tournament like Canada and Germany so LT has to keep coming together with the team chemistry that they've shown so far if they want a shot at a medal. We will hope and pray that they can keep rolling after this great start with a highly balanced and extremely interesting team dynamic. As always, Lithuanian basketball is making itself worthy of international respect which is the real goal outside of standing on that medal podium. I guarantee you I will be watching every step of the way… Mes Už Lietuvą!