In a world that is changing at lightning speed every day, it is vital for children not only to learn to manage information themselves, to adapt to a changing environment, but also to be able to find areas where they can best improve their potential. No less important for a young person is developed emotional intelligence and communication skills that facilitate the young person's daily life and lay a solid foundation for adult life and a successful career.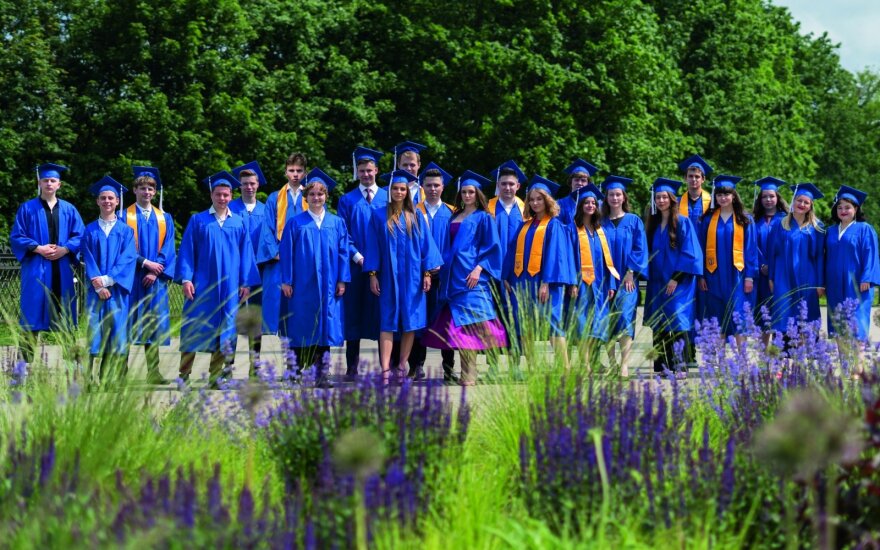 Representatives of the American International School of Vilnius (AISV), founded 28 years ago, talk about the basis of the curriculum and communication in this educational institution.
Academic achievement and wellbeing work together
According to school director Stephane Ruz, the AISV learning environment implements a strong value foundation for children: fosters respect, equality and an attitude that every student can be successful and find the university that best suits his or her needs and desires. S. Ruz emphasizes two features of AISV that distinguish the school from others.
"First of all, AISV has a very strong community spirit: it is important for us that all members of the community are involved in the learning process - children, parents, teachers. Second, students must always, without exception, be listened to, feel important, and receive personal attention. Therefore, at the school we foster a safe and supportive environment for children, so that they can succeed not only in lessons, but also in their emotional and social life," says the head of the school.
The most important academic values in an American school
AISV Deputy Director Sheryl Salem reveals three important academic values that reflect the American experience inspired AISV learning environment.
- Active, student-centered learning. With our standards-based, inquiry-driven curriculum we design personalized and meaningful opportunities that allow students choice and voice in what and how they learn. Through academic challenge and developmentally responsive teaching, students are guided to reach their personal potential.
- Social and emotional well-being. We know that students learn best in an environment in which they feel safe and supported. We empower students to take risks, adopt a growth mindset and interact socially and academically with all members of the school community, not only classmates.
- Respect for diversity. As members of an international community, we believe diversity makes the world stronger and more interesting. Approximately thirty-five different nationalities are represented among the students and teachers at AISV. Through the interactions we have inside school and with the larger community, the books we read, and the activities we participate in, we strive to understand and appreciate perspectives that are different from our own.
Personalized learning
We recognize that all students are individuals and support growth for all learners by personalizing instruction and assessments. This means that often students have choice in exploring their interests, choosing strategies to develop knowledge and skills, and demonstrating their learning. The Student Support department, which includes Inclusive Educational Needs and English as an Additional Language teachers, Tech integrationists and counselors, works with students and teachers to meet individual needs and to develop strategies and skills that build personal confidence and independence.
The school offers many extracurricular activities to encourage students to develop leadership, social and communication skills and explore their different interests. Students can join both sports teams and activities such as Model United Nations, Student Council, Speech and Debate, Math Counts and Robotic competitions among others. The school is a part of the Central Eastern European School Association (CEESA) which provides opportunities for students to connect, compete and participate with other member international schools in those activities.
Teachers are a key factor to the learning that happens at school. AISV teachers are hired with the help of Search Associates, the world's leading recruitment agency for international schools. All of our teachers are certified experts in their subjects, competing in the job market internationally. So the school brings together experienced educators who have worked in America and other leading international schools from around the world that share the same values. Many of our teachers have master's degrees from top universities like Oxford, Emory, Stanford, University of Michigan, University of Houston, University of Arkansas, and many others.
The International Baccalaureate program is the way to the world's universities
At the International American School in Vilnius, students are educated according to the IB Diploma Learner Profile. They earn an International Baccalaureate diploma that is recognized by all universities around the world. This program teaches children to think critically, expand their skills and knowledge, and develops their independence. Universities from different foreign countries highly value this program, as it prepares the young person for a challenging further academic path. Students also earn the US High School Diploma which is recognized in the US and at US style universities around the world. AISV also benefits from being evaluated by international accreditation agencies (NEASC, CIS, IBDP) to ensure academic excellence and the highest standards of education.
Claire Ruz, College Counselor at AISV, supports all students in a career and guidance class to explore career opportunities, research universities and their programs, and learn about the application process.
Students and their families can consult in person and get help choosing a university or program to find out exactly what it takes to make a young person's dream come true.
Sofia Segedy, IB coordinator, tells us that last year AISV students had a 100% pass rate on the IB exams and 80% were accepted to one of their top 3 choices of university. Students from the class of 2020 went to universities in 10 different countries. Students' top destinations for higher education include the United States, the United Kingdom, and the Netherlands, and have included universities such as NYU, Harvard, Yale, Brown, University of Southern California, UCL, LSE, University of Edinburgh, Science Po, McGill and the University of Amsterdam. The overall results of AISV students in the IB exams are usually 4-5 points above the global average, which makes us particularly proud of the students' hard work and success.
Užsakymo nr.: PT_86589781