"This is also a part of propaganda, a part of hybrid war – to spread this unchecked vaccine and to say that Russia is always willing to extend its helpful arm in order to treat the world while their aim is the opposite," Zhovkva, who is also deputy head of the Office of the President of Ukraine, said in the interview.
In his words, the authorities in the occupied eastern Ukraine say they are successfully using this vaccine and this information is spreading in Ukraine fast, therefore, Kiev expects more support from the European Union.
"You can't check it, you can't verify it, but it spreads immediately in Ukraine. And people may start to finger point – look the Russian vaccine is already being implemented, what about the Western vaccine, where is it?" he said.
Other key interview topics:
* Ukraine wants to attract the attention of the European Union and others to the human rights situation in Crimea.
* Talks on war solutions in Eastern Ukraine have stalled and the situation in the region is not promising.
* The country is ready to continue implementing reforms to become an EU and NATO member and also expects fair progress assessment and Lithuania's mediation.
* Ukraine is not only seeking support in the form of COVID-19 vaccines but is also offering to use the country's potential.
* Lithuania and Ukraine could have a closer partnership in the area of technology.
– Ukraine started vaccination against COVID-19 later than Lithuania and other Western countries. What were the main obstacles to this process in Ukraine?
– Really, we started the process of vaccination in Ukraine not so long ago but the main thing is that we started. Believe me, the authorities in Ukraine, especially the president, pay their utmost effort to bring as many doses of vaccine to Ukraine as possible. You know the situation with COVID-19 in Ukraine doesn't differ much, probably, from most of the European countries – we have these declines and increases of new cases.
But the death toll is rather low, and this is optimistic at least in these kinds of circumstances.
So, we started vaccination with the AstraZeneca vaccine, produced in India, at the Serum Institute of India. We received the first amount of vaccines and about to receive more – up to 12 million doses. We are negotiating also some contracts with some other leading companies.
But, unfortunately, as far as the vaccine from the COVAX system is concerned, nothing has been received in Ukraine for the time being – neither Pfizer, which we were promised, nor AstraZeneca. But we just heard again the promise and news that in March we will receive up to 1.8 million doses from the COVAX.
So, we are moving slowly but gradually. Yes, we would like to speed up the process. And we hope that we will be at the same pace with the rest of EU states.
– But what were the reasons for Ukraine lagging behind for some time?
– It's hard to identify the main reason or some reasons. Definitely, we do understand that this is a competitive market. And this is where the ministries, first of all, the ministries of health, have to compete. As far as our diplomats go, they got involved in this process practically last summer when this issue started. I can't say there was one person to be blamed for. Maybe our minister should have done his work better in the beginning, but, believe, me, everyone combines their effort to get the result.
– In general, what is the public mood on vaccination in Ukraine?
– Well, like, probably, in many countries of the world, not all people are willing to get vaccinated. Well, the numbers are differing, and again, that's where I find appropriate the responsibility of the authorities to explain to the population why vaccination is needed.
And again, that is what the president is doing himself. You have probably heard that he got vaccinated on the front line, by the way, together with soldiers because he is commander-in-chief. He got vaccinated during his trip to Eastern Ukraine.
Then, he personally explains the need for vaccination. Several weeks ago we started this set of public forums to mark the 30th anniversary of Ukraine's independence. The first public forum was devoted to vaccine, vaccination, fighting COVID, and the president himself expressed the need.
I see here the responsibility of the authorities, and I think we will convince people that it is needed in order get this collective immunity and be able to keep the same pace with other European states.
I think that majority of Ukrainians are willing to get vaccinated, then the rest of the population, some are still thinking, some say: OK, let's wait and see. Some of them say "never", and they have their right to.
But again, if you are a doctor or nurse working at public hospitals, if you are a public servant working with people, you definitely have to be vaccinated.
– Lithuanian intelligence services have recently stated that various theories about the vaccination process pose the biggest threat to successful control of the pandemic. This kind and similar disinformation is significantly influenced by the Kremlin propaganda, they say. Do you notice the same in Ukraine?
– We are on the frontline of fighting Russian propaganda because we are in hybrid warfare with Russia. Russian propaganda is the key element in this war in Ukraine. We know very well what Russian propaganda is and what does it mean. It's very strong, it's very influential, unfortunately, so that's why we should join our effort to fight it.
Speaking of vaccination, yes, disinformation and theories about the dangers of being vaccinated are spreading via Telegram channels and some media websites.
Even more dangerous in this regard are Russia's attempts to introduce its own vaccine, the famous Sputnik, in Ukraine, starting with the uncontrolled part of Ukraine – occupied Donbas, Crimea.
Unfortunately, we witness cases when the so-called authorities of the so-called republics claim that they started vaccination with the Russian vaccine, that it is successful, that it saves people or whatever. You can't check it, you can't verify it, but it's immediately spread in Ukraine. And people may start to finger point – look Russian vaccine is already being implemented, what about the Western vaccine, where is it?
This is also very important, that's what my president explains to his fellow colleagues, leaders of European and not only European states.
This is also a part of propaganda, a part of hybrid war – to spread this unchecked vaccine and to say that Russia is always willing to extend its helpful arm in order to treat the world while their aim is the opposite.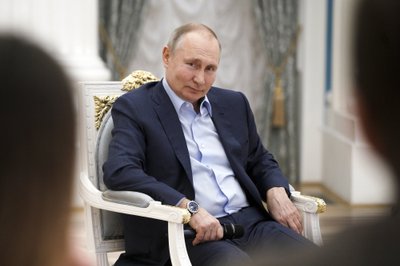 We share the position of Lithuania, where, as I understand, there is no will to take the Russian vaccine, unlike in other Baltic states.
– As I understand, this is the main reason why you refused to buy Sputnik V.
– Because, for the time being, it's unchecked and this is far from help. This is a part of Russia's hybrid war against Ukraine.
We do believe that there are far more effective and trustful vaccines produced by Western companies and that's the stance we take.
– Do the Ukrainian authorities expect and seek vaccine supplies and donations form Lithuania and other EU countries?
– Yes, yes, there is a mechanism, as we were explained in Brussels, that there is a mechanism where members of the EU – be it Lithuania, be it Poland or any other state, if this member has a surplus, it can donate, or share, or sell it to countries like Ukraine, like Eastern Partnership countries via the European Commission. The so-called trilateral mechanism. So, yes, for the time being, we do count on the support of the EU.
Another story is, if we are talking about some countries in the EU that are doing research on their own vaccine, this is where Ukraine offers its possibilities. For instance, we have at least four huge pharmaceutical plants that are ready to produce vaccines.
Another thing, we are offering our, for instance, airlift capacity in order to transfer huge amounts of doses from European countries to other parts of the world.
We are not only asking, we are willing to give our help.
Maybe in several months we will have plenty doses of vaccine and will be ready to sell it. But for the time being, we have a shortage, so every possibility offered to us definitely will be used in order to save people's lives.
– The UN has expressed concern about the increase in security incidents in recent months at several hotspots in Eastern Ukraine. UN officials say the situation in the region remains fragile until a sustainable political solution is found. What are the latest developments in this region and what are your expectations for the nearest future?
– Well, unfortunately, the situation on the front line is far from optimistic. The ceasefire regime we managed to establish from July 27 last year, it lasted for some period of time. Then shellings resumed, people started to die. Just last week – from the 23rd to 28th of February – three Ukrainian soldiers died.
As far as political regulation of the war goes, unfortunately, we have a practically blocked process in the TCG (Trilateral Contact Group on Ukraine). So, none of the four subgroups, that are under the TSG, is working properly. I mean the political and security subgroups are being blocked for longer periods of time, the economic and social also are far from being effective, so the process has practically stopped.
And again, why it is stopped? Because Russia wants to present the so-called republics as part of this process and Russia being a mediator. That's a simple story.
Definitely, neither Ukraine, nor our Western partners would allow Russia to do this.
This coincides with the situation in the Normandy Format. We had a summit more than a year ago. Unfortunately, almost nothing from the Russian side has been delivered. The only partial delivery is this ceasefire regime that has been violated by the Russian-oriented proxies.
So that's why advisors of the heads of state regularly meet, but even the last meetings were unfortunately far from being productive. Again, because of the position of the Russian side as it is unwilling to fulfill commitments from the Paris summit, unwilling to take part in the next summit.
We are doing our part of work, we are talking to our partners, and we are offering our proposals in every format we have.
– Following his recent meeting with Ukrainian Foreign Minister Dmytro Kuleba, Lithuanian Minister of Foreign Affairs Gabrielius Landsbergis said that evidence from Ukraine would prompt Lithuania to raise the issue of EU sanctions over human rights violations in Crimea. Could you clarify what kind of evidence the minister was talking about and which individuals you think should be put on the sanction lists?
– That's a good question and a very good position of your foreign minister because we are talking about occupied Donbas in several formats, but we unfortunately practically are not talking about occupied Crimea in any format.
We appreciate the EU and US's coordinated sanctions introduced recently due to the case of Navalny. We appreciate it, but cases of violations of human rights are witnessed practically every day in occupied Crimea. But the problem is that nobody knows about them because Crimea became a separate territory in the middle of Europe, turned into a nuclear military base without anyone knowing what is going on. The Red Cross is not admitted to the occupied Crimea, the OSCE is not allowed to operate in occupied Crimea, at least, they are allowed to operate partly in occupied parts of Donbas.
In response to that, my president introduced the Crimea Platform initiative – a tool not only to talk about the occupation of Crimea, which is a very important task, but also to witness the existing situation.
People disappear, people get arrested, people get put into custody. They might be arrested in Crimea and put into custody in Moscow or somewhere in Rostov. We have those cases, we regularly show them to the Russian side – the lists of imprisoned Crimean Tatars, for instance, but not only Crimean Tatars, also Ukrainians, other nationalities.
We give them the lists and they say they will look into them and then do not get back to us.
That's why we want this permanent platform to be established with people working 24/7 in Ukraine, working on that issue. Not only in Ukraine, worldwide – collecting information, sharing, introducing additional sanctions in case it is needed.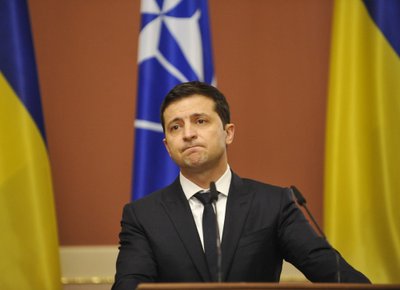 The idea is to hold the inaugural summit of the Crimea Platform on August 23, ahead of our 30th independence anniversary, and to invite all our partners and friends, including the president of Lithuania, to sit together, to think of the instruments how could we de-occupy Crimea, how could we preserve humans right of people who live in Crimea.
– Lithuania is calling on Ukraine not to buy electricity from the Astravyets nuclear power plant. What is your response to this?
– Our response is that we certainly abide by the rules of the International Atomic Energy Agency. So definitely, any electricity should be produced at properly certified nuclear power plants only, in order not to endanger people.
We do have our strategic aim for our electric energy system to be synchronized with the electricity system of continental Europe ENTSO-E. We are ambitious in this regard. We want to get connected to the ENTSO-E by 2023.
Then all those issues, I think, will automatically disappear.
– The fourth Ukraine Reform Conference was scheduled to take place in Vilnius last year. Unfortunately, it was postponed until 2021 because of the pandemic. Do you believe it will take place this year?
– We are hoping. Our cabinet of ministers is already working on that, our president office is working on that. The president will be pleased to come to Lithuania to talk about the progress of Ukrainian reforms, to talk about the support of our EU partners.
– What outcomes and specific commitments do you expect from it?
– We would expect fair evaluation of the progress of the economic reforms in Ukraine. Because sometimes Ukraine is criticized for not being that quick, not being very quick in the reform process. But more often, especially for the past year and a half, we have been showing really good reform progress. Again, just to use Charles Michel's visit as the latest example when he praised Zelensky for the judicial reform, for the agricultural reform, for the banking reform. These are the reforms that no president did at all.
We count on fair evaluation of the process. And we count on help to Ukraine to continue this reform path. Believe me, this president will never divert from the path of reforms.
– What is your action plan for EU and NATO membership? Are there any realistic dates regarding integration?
– We are absolutely willing to become both a NATO member and a member of the EU.
You know, for your country it was much easier in the beginning, probably, for us it would be much more difficult, unfortunately. But we are going very seriously on that path. You know, with NATO we got huge progress within the last year, we gained the EOP status, we now utilizing it. So, yes, we are putting on the agenda the issue of Ukraine's Membership Action Plan. And we are doing everything to do this.
We do understand that we have to make our homework, including reforms in the security and military sector of Ukraine. We are doing this. Just recently my president spoke to Secretary General Stoltenberg, it was a very good conversation and very good evaluation of our reforms.
As far as the European Union is concerned, I think it could be high time for Ukraine and we use this opportunity to speed up our integration process. Again, a lot depends on reforms, and we understand it.
But not everything depends on Ukraine, we do understand that. A lot depends, but not everything. So we will do our homework, but we really count on Brussels' support, which is very important, but also on member states. And here, by the way, Lithuania's role is very important because I hope that Lithuania has unanimous support for Ukraine's EU and NATO membership. So, you should spread your effort to your fellow partners, friends and colleagues to convince them that Ukraine is worth being part of these institutions.
I hate naming dates but we are very optimistic that in the nearest future we should make the next steps required for European or NATO integration. So, in case of NATO, it's Membership Action Plan. As far as the European integration is concerned, to become a candidate country, we'll have to definitely cope with the implementation of the Association Agreement. But just recently, we reached agreement with the EU, and it allows starting the process of renewing the Association Agreement because it's already outdated.
– Where, do you think, Lithuanian-Ukrainian relations could be deepened?
– Our political relations are wonderful. You are more than strategic partners of Ukraine, you are strategic friends and brothers of Ukraine. The economy is the sphere where we could be more advanced. Yes, we understand that 2020 was a bad year, for the economy, for trade relations. But as my president always says, COVID, this pandemic, this disease should not be an obstacle for speeding and increasing our trade.
We should find new areas for cooperation because traditionally Ukraine was considered an agrarian, industrial country. But we all know that Ukraine is a country of IT specialists. We all know in Ukraine, and you should know, Ukraine is advancing, for instance, in the area of artificial intelligence. So we have to cover new, technological areas of cooperation. So, I think, again, maybe, being optimist, that 2021 would bear fruitful results for the economy both countries.
– What role does the heritage of the Grand Duchy of Lithuania play in the Ukrainian self-consciousness, identity, and politics?
– Well, a good question, I mean, we all know and love our common history, and really, we were a single state with single documents, the statutes, which were written in the same language – we still have many common words in our two languages.
I would answer like this: we should value our history, this is important, but we should look into the future. We had very good cooperation back in the medieval years, we supported each other. Why not boost it today and use this momentum. We are true European nations.
If you ask me about the identity, I would say that Ukrainians are really a European nation. We are not a member of the EU but we are not less Europeans than members of the EU. We feel Europeans, we share the same values, we want to support each other and this is where we should come all together.