aA
StrategEast has released the new edition of Westernization Index, which assesses the processes of adherence to the Western values in post-Soviet countries outside of Russia across five dimensions – political, legal, economic, cultural, and lifestyle.
The Index assesses 14 countries, which proclaimed or restored their independence after the collapse of the Soviet Union (Russia as the successor to the Soviet Union is not considered in the Index).
The first Westernization Index by StrategEast was published in 2018, StrategEast writes in a press release.
The Westernization Index 2020 demonstrates generally positive dynamics in the westernization of the region: a significant decrease in the level of westernization is observed only in Kazakhstan, Tajikistan and Turkmenistan. In other countries, the Westernization Index indicators either increased or remained unchanged. Like two years ago, the Baltic states – Estonia, Lithuania and Latvia occupy top three positions.
Full report can be found here.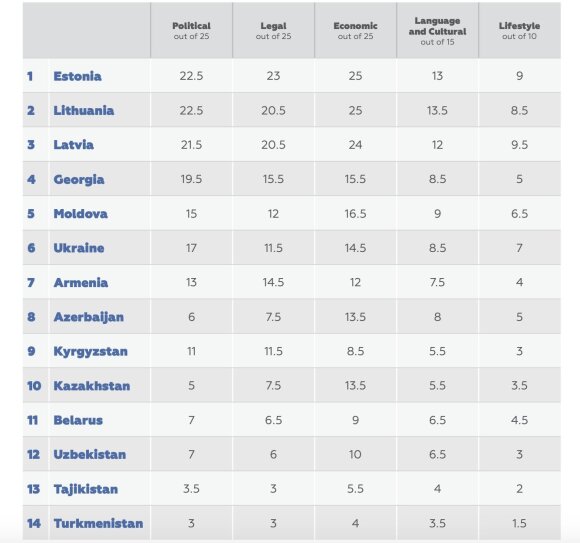 © Organizacijos nuotr.

It is forbidden to copy the text of this publication without a written permission from DELFI.