During recent years, Klaipėda University has embraced its potential and strengthened the direction it is heading to. "Klaipėda ID" talked with Sonata Mačiulskytė, Vice-Rector at Klaipėda University about the talents it creates for Lithuania.
- How would you describe Klaipėda University?
- Established in 1991 with the purpose to strengthen Lithuania's maritime position, KU is one of a kind. It has highly specialized maritime programs to prepare young professionals for their journey into the still vastly undiscovered aquatic world. Surely, the biggest underwater discoveries are still ahead of us and KU hopes to play a significant part in revealing them.
Klaipėda University's second important mission is to ensure the social and cultural development of Lithuania's Western region. The exclusive geographic placement of Klaipėda's University provides the grounds for such unique study programs as shipping and port engineering, hydrology and oceanography, biology and maritime biotechnology to flourish. In addition, the university has one of the best scientific research and study bases in the Baltic Sea region - the floating science laboratory called "Mintis" ("Thought"), which already participated in various significant scientific projects in Poland, France, Great Britain, Netherlands, Germany, as well as in a project in Lithuania geologically mapping the sea near the Curonian spit from Juodkrantė to the border with Russia. Not to mention Klaipėda University has the best IT and mechanical engineering programs in Lithuania according to the studies' quality index.
- Which Lithuanian cities and foreign countries do the students come from?
- The majority of Lithuanian students come from the Western region of Lithuania. As for the overseas applications, Klaipėda University receives study requests from Ukraine, Kazakhstan, Georgia, Italy, Spain, Turkey, as well as from neighbouring country Latvia. Though the biggest part of the international community striving for a higher education diploma comes from India and Bangladesh, with an increasing number of students from Africa. Of course, over the years Klaipėda's University was home for students from all over the Globe. The search for a specific PhD brings people to our university mostly from EU and North Africa, Morocco to be specific.
- What kind of traits KU students acquire during the academic years that make them competitive in the job market?
- Students have a wide range of exclusive possibilities to experience real-life practical problem solving first-hand. Working in small tight-knit groups, students receive personalized direction and help of the university, opening the way for individuals to flourish to the limits of their imagination. The greater part of our students starts working while still taking classes and successfully continues on after graduation with a diploma in hand.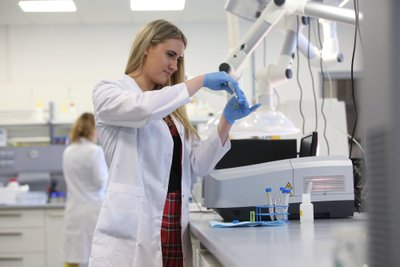 - What career paths do KU students usually choose?
- In recent years the biggest part of students has chosen and received degrees in health sciences. Some start their carriers after completing the bachelor's degree programme, some continue on with masters. A significant part of students finds a study-related job while still learning due to close cooperation between Klaipėda's University and virtually all of Western Lithuania's public and private equity companies. Having an internship-based glimpse of the inner workings of a company, students not only expand their resume, acquire related work experience, but also are searching for their future employer. There are career opportunities in international companies like Philip Morris, MARS, DFDS, Yazaki, Linström, that have their branch offices in Klaipėda, as well as companies from Spain, China's LNG clusters and more.
- Is it easy for graduates to find a job in the field they have studied?
- It is natural that not every single student finds a job in the corresponding study field. Nevertheless, we can proudly say that each and every public and private sector company has at least a few employees who graduated from Klaipėda's University. Sectors like social services, education, healthcare, Klaipėda's seaport are maximally saturated by graduates from Klaipėda's University.
In the 30 years of its journey, Klaipėda's University has proudly prepared almost 34 000 young professionals, and the majority of them have settled in the companies of West Lithuania and its regions.
- Do your graduates stay in Klaipėda after the studies and what are the reasons?
- The tendencies are clear – the majority of graduates keep on living in the city they studied due to the ecosystem they have created around them. It is usually the friends they made along the way, the jobs they started, the cultural life they became accustomed to that encourage them to put down their roots. Of course, a part of graduates returns to their hometowns, while others are eager to search for happiness in other bigger Lithuanian cities, sometimes travelling far beyond the Lithuanian borders.