aA
Two Belarusian sound engineers have fled to Lithuania in fear of repression by the authorities for playing Viktor Tsoi's Peremen (Change), the Soviet perestroika-era song adopted as an anthem by Belarusian protesters, at a pro-government event in Minsk.
Wladyslaw Sokolowski, 30, told BNS he had left Belarus because he feared getting a lengthy prison sentence after being threatened during his arrest and questioning at the Interior Ministry.
Sokolowski and Kirill Galanov, 27, came into the spotlight after they played the iconic song through the loud speakers during the concert organized by authorities loyal to Alexander Lukashenko's regime on August 6.
The next day, a court jailed them for ten days on administrative charges of hooliganism and disobedience.
"Back on August 6, when we played the song, the Lithuanian embassy offered help. They contacted us again after we were released from custody. We were offered help and we decided to use it," Sokolowski told BNS in an interview on Wednesday.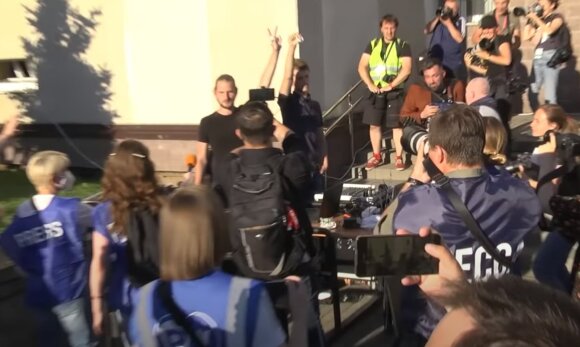 © Stopkadras
He arrived in Lithuania on August 22.
"I want to thank Lithuanians for their support, especially those who helped and sheltered us. Actually, we have received more help than we expected," the Belarusian said.
It is prohibited to copy and republish the text of this publication without a written permission from UAB "BNS".