aA
People returning to Lithuania will continue to be subject to a mandatory 14-day self-isolation at home and COVID-19 testing, Health Minister Aurelijus Veryga said on Wednesday.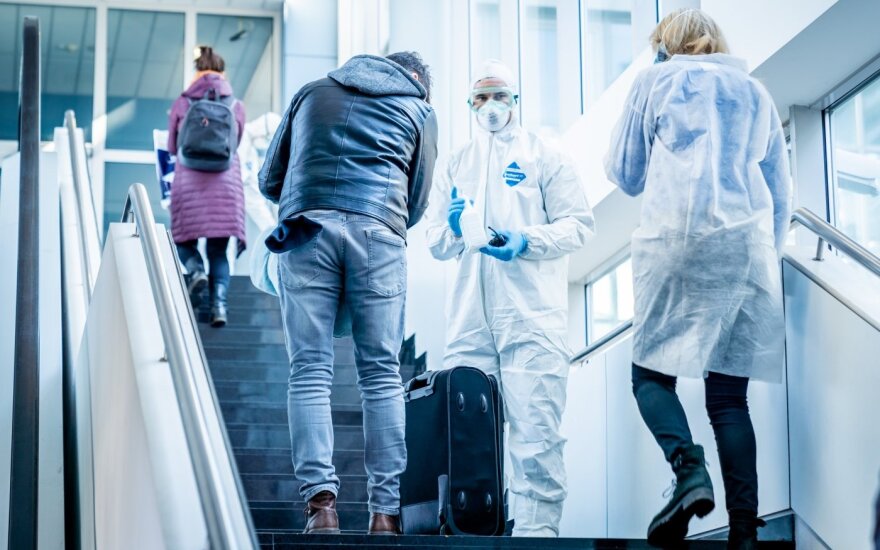 The Baltic countries are reopening their internal borders to each other's citizens from May 15, but people returning from other countries will continue to be required to self-isolate, he said.
Returnees are advised to fill in an online questionnaire on the website of the National Center for Public Health in advance and agree to adhere to the isolation restrictions, or they will have to do so in the airport upon arrival.
Those who refuse to fill in the questionnaire and observe the restrictions, will be isolated in premises provided for the purpose by municipal authorities, the Health Ministry said.
Arrivals from other countries will have their hands disinfected at the arrivals terminal and their temperature checked, and asked questions about their health.
Any suspected coronavirus case will be immediately isolated in a separate room and an ambulance will be called for them.
All arriving passengers will also be required to register with a drive-in COVID-19 testing station within the next 24 hours.
All passengers must wear medical masks or respirators on planes and at the airport and strictly follow social distancing and other safety guidelines, the ministry warned.
The 14-day isolation requirement does not apply to foreign citizens transiting through Lithuania, healthcare workers who come to provide transplant services, members of official delegations, diplomats and special couriers, as well as Lithuanian and Polish citizens returning or arriving for work, business or studies, it noted.
It is prohibited to copy and republish the text of this publication without a written permission from UAB "BNS".