Part of the Prime Minister's diplomatic offensive is the exchange of ideas and strategic vision for the further development of the EU with students and academics at Heidelberg University, joined by representatives of German political bodies and media from Europe. In his speech he contributed to the tradition of addresses on the future of Europe by European leaders - German Chancellor Olaf Scholz (2022) and French President Emmanuel Macron (2017).
Speech on the future of Europe
In light of current challenges, Polish Prime Minister took a chance to elaborate on the question whether European values will endure in the face of the Russian invasion. Mateusz Morawiecki guided the audience through the dilemma of whether European countries will counter Russia's insatiable appetite for domination and concluded with ideas on what must be done to restore security, stability and peace in Europe.
Mateusz Morawiecki talked about the four most important issues for the future of Europe: what the history of Europe teaches us, the importance of Ukraine's fight against Russia, what European values are and what threatens them at present and finally - how Europe can adopt the role of a global leader.
"We have been neighbors for over eleven centuries. We have lived, worked, worried about and solved our problems not only side by side but often together. (…) Today, Poles and Germans work closely together economically, which creates interdependence" said the Prime Minister.
But the Polish-German history and some unsettled issues are still a thorn in our relations: "While western Germany was allowed to develop freely, Poland lost 50 years of its future as a result of World War II. (…) Poland never received reparation from Germany for the crimes of World War II, for the destruction, stolen property and treasures of national culture."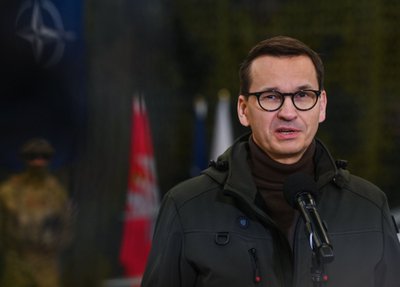 "Full reconciliation […] is only possible when there is a recompense. We need such reconciliation more than ever, because the challenges that face us are grave" - argued the Prime Minister.
Now the biggest challenge is security. The war in Ukraine threatens not only Ukraine, but also whole of Europe and European values such as nation state, freedom and solidarity. And today, our Eastern neighbours are fighting in the name of these principles: "The struggle of Ukrainians for the right to national self-determination is yet another heroic manifestation of the defense of the nation-state and freedom".
Therefore, Ukraine's fight for these values will determine the future of the whole continent – "Today, Ukrainians are fighting not only for their own freedom. Since February 24, 2022, they have also been fighting daily for the freedom of all Europe. And it is also our future that depends on how this war unfolds. The defeat of Ukraine would be the defeat of the West".
Russia's neo-imperialism threatens the values of Western civilization and the rich diversity of our nations: "Today, Europe is witnessing crimes committed in the name of an anti-national ideology. This is what motivates Putin: the desire to eliminate all difference, destroy all national identities and melt them into the great Russian empire" said Mateusz Morawiecki.
Europe must not surrender to an identity crisis. He reminded that we cannot turn our backs on the values that underpin our European family. "Europe should be a cathedral of good and a university of truth!" – he argued.
Diversity and unity are features that have always strengthened Europe, determining its phenomenon: "We should also protect our spiritual heritage, which consists of dozens of different cultural and linguistic traditions. Europe's strength over the centuries has been its diversity. We share common values, but each nation has its own identity".
Prime Minister said that he "often hear that the EU needs reforms if it is to enlarge. This is very often a camouflaged proposal of federalization, de facto – a proposal of centralization. This is because the slogan of "federalisation" is a top-down imposed concentration of decision-making. According to the authors of this centralisation called "federalisation",-- the decision-making process must be changed by moving away from unanimity to qualified majority voting in a number of new areas."
What is needed to strenghten European position?
Prime Minister Morawiecki offered real solutions to strengthen Europe's position. He gave a thesis that: "Europe's strength comes primarily from the strongest foundation, which is its robust middle class." And also: "a world in which the richest 1% accumulates more wealth than the remaining 99% is outrageous. And this is happening today." He remembered that tax havens could be called tax hells, because they rob the middle class and the state budgets of Germany, France, Spain and Poland.
Polish PM Morawiecki underlined the importance of fighting inequalities. A conviction that prosperity and growth can be shared not only by a group of rich, but by society as a whole - has been the driving force behind the development in Europe. "This conviction is disappearing and we must reverse this process's", he said.
Prime Minister warned: "We can easily fall down - strong cultures and harsh dictatorships from other corners of the world are waiting for this." He desire for the countries of Europe is to be so militarily strong that they do not need outside help in case of an attack – but that they can provide military support for others.
Morawiecki reminded how import ant is energy independence and Europe must maintain wise Alliance.
Europe as a global leader
Polish Prime Minister is an advocate of a strong and competitive Europe. He believes that "cooperation combined with competition is the best way for Europe to succeed in the global world" and transatlantic cooperation and NATO. "It needs to be strengthened and developed. At the same time, we must build our own defence capabilities."
Therefore, Morawiecki champions for changes that will make the EU more cohesive inside and more impactful outside. He outlined the need for the balance of power between all the EU countries and for completion of the integration with the Western Balkans, Ukraine and Moldova. He emphasized that pro-Europeanism is expressed by our mindset of enlargement, not in focusing on ourselves and the centralisation of the EU.
During his speech, Morawiecki encouraged the EU competencies should be limited to those actually explicitly named in the treaties, maily in the Treaty of Rome. The Prime Minister also warns that the decision-making process within the EU cannot be transferred to "headquarters in Brussels" or "coalitions of power" and calls for more democracy: "Let us review the areas under the authority of Brussels and guided by the principle of subsidiarity, let us restore a better balance. (…) Let us reduce the number of areas under EU competence, then the Union, even with 35 countries, will be easier to navigate and more democratic."
According to the Polish leader "there is no end of history. History is accelerating and bringing challenges of unlimited proportions!". Yet, during the speech he mentions that "Europe is not yet lost. As long as we still live. But she is not yet victorious" but he is convinced that "if we work hard – Europe will prevail. Europe will be victorious!".