aA
Chief of Defense of Poland Lieutenant General Rajmund Andrzejczak, currently on a visit to Vilnius, has vowed to consider using the Patriot air defense systems Poland is now buying to defend objects in Lithuania.
He said he discussed the issue with his Lithuanian counterpart Jonas Vytautas Zukas.
"We are NATO members and have one airspace, so for us, there is no border in our consideration – no border for training, no border for military operations," the chief of the General Staff of the Polish Armed Forces, said in an interview with BNS Lithuania on Tuesday.
"Of course it depends on the planning. If the system is effective enough, we will be able to discuss how to synchronize our air defense systems in Poland and in Lithuania," the lieutenant general added.
In March, 2018, Poland announced its plans to purchase American long-range anti-aircraft and anti-missile systems Patriot for 4.17 billion euros, with the first systems due to be delivered by 2022 and the remaining ones by 2024.
By integrating Patriot into Lithuania's airspace defense, Poland would close one of the largest gaps in the country's defense. Lithuania itself cannot afford long-range missiles but has short-range missiles and is now buying medium-range missiles.
According to Andrzejczak, specific plans regarding the integration of the Patriot systems will be possible once Poland receives the first missiles.
"There is a matter of mission command systems, how to communicate quickly, and also about the national regulations because airspace should be managed in a very proper and effective and safe way," he said.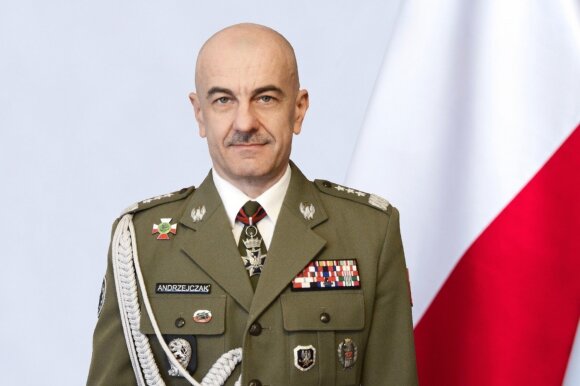 "But, technically, if this is possible from the operational point of view, we will be more than happy to discuss with the Lithuanians how to secure our strategic threats with no problem," the Polish chief of defense said.
In February, Lithuania and Poland reached an agreement on the creation of safe communication to exchange radar data.
Joint defense of the Suwalki Corridor
Lithuania and Poland have also agreed to accredit a brigade each to the Elbląg-based Multinational Division North East Command to ensure protection of the Suwalki Corridor. It means that in case of a crisis, at least two brigades would be responsible for the defense of the strategically-important small territory on the Lithuanian-Polish border, and they would be under the command of the mentioned division.
"We have a multinational division certificated in good opinions (...) and now we want to give them real troops," the Polish army chief said. "Also we are talking to other nations, if anybody wants to be a part of this team."
The Suwalki Corridor is an around 100 km-wide territory on the Lithuanian-Polish border, bordering Russia's region of Kaliningrad in the west and Belarus in the east. Its takeover in case of war would block land access for NATO allies to the Baltic states.
Andrzejczak also said he and Zukas also discussed possibilities for the two countries' troops to train under "as complex and sophisticated scenarios as possible" as they will have no time to prepare in case of a crisis.
"If they train daily, they know each other, synchronize their systems, (...) the time of activation and our deterrence aspect will be achieved," Andrzejczak said.
In his words, Poland is concerned watching Russia's military buildup in the Kaliningrad region.
"The increasing number of troops and also the modernization in the Kaliningrad area is a signal of Russia's very aggressive performance," the general said.
Lithuania's intelligence services say the old infrastructure is being upgraded and new military infrastructure is being built in Kaliningrad in recent years, new units are being formed, new weaponry and military equipment is being supplied, and intensive military training taking place at land and navy training areas.
It is prohibited to copy and republish the text of this publication without a written permission from UAB "BNS".