A number of Boxer IFVs are currently being delivered to Lithuania. Renamed "Vilkas", or "wolf" in Lithuanian, the vehicles will be provided to two battalions of the Iron Wolf mechanized infantry brigade, in Rukla and Alytus, in the next few years.
The brigade's two other battalions, in Rukla and Panevezys, will continue to use old M113 armored personnel carriers, with plans to replace them with more advanced vehicles by 2030.
"We'll definitely have to speak to the ministry about whether there are possibilities to replace their platform earlier than planned," the general told BNS in an interview.
"Plans call for doing so in around 2030 but everything depends on financial resources. There won't be any drastic decisions to replace the acquisitions that we are already planning now," he added.
Rupsys, who currently commands the Lithuanian Land Force, will take over as chief of defense from Lieutenant General Jonas Vytautas Zukas in late July.
The Seimas approved his appointment on Thursday.
- What will you seek to do during your five-year term in office?
– I'll be very glad if the operational control and command system is functioning well. I'll say with confidence that I've done everything (I could) if the Iron Wolf brigade is in high combat readiness, re-armed and equipped with new equipment and weaponry.
I want to complete the formation of the Zemaitija (motorized infantry brigade) to ensure that the Aukstaitija brigade is functioning and we are able to efficiently supplement it with mobilization reserves, and, finally, I'll pay particular attention to ensuring that units are manned by motivated, trained personnel.
– What are the mechanized infantry brigade Iron Wolf's further mechanization plans following the acquisition of the Boxer IFVs?
– The continuity of the Iron Wolf's mechanization will remain as the Algirdas battalion and the Birute battalion in Rukla and Alytus will be supplied with the Wolves, and their machinery will go to other units. These battalions will be further supplied with universal armored SUVs JLTV. Then, we will look for long-range anti-tank systems, and then we will introduce a reconnaissance platform at the brigade level. We will have to incorporate the medium-range anti-aircraft system NASAMS and short-range systems into the military training together with the Iron Wolf brigade.
My goal is to have in five years a high-readiness brigade with a well-functioning command capable of executing command and control, as well as the two mechanized battalions we are re-arming and they will be interoperable with other NATO units.
– What about the other two Iron Wolf's infantry battalions, the King Mindaugas Hussar Battalion and the Lithuanian Duke Vaidotas Mechanized Infantry Battalion? What are the plans regarding them?
– They will differ in the way that they will continue using the main M113 platform. I also do not discount the possibility and we will definitely have to talk and discuss it with the ministry the possibilities to change their platform earlier than planned. Under the plans, it should be done by around 2030 but everything will depend on the financial means. There are no radical decisions to change the now planned procurements.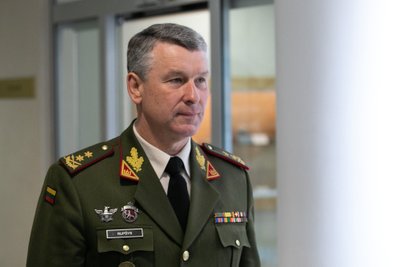 – There are plans to supply them with caterpillar infantry fighting vehicles, aren't there?
– Yes. My key plan and idea are to have battalion-size units as independent as possible, meaning, that they should be capable of acting as a unit and be as little dependent as possible on the higher echelon supply, support and other things.
– In the existing geopolitical situation and having the resources we have, the echeloning from the division level and downwards in military terms would be possible, especially in cooperation with allies.
But if we are talking about independent defense, we have to be very flexible. I don't want to go into detail as these are operational matters, but the idea itself and my understanding are that we would pool everything into one unit, including combat support, logistics support, maintenance, catering and other resources.
– Does the Iron Wolf brigade need tanks?
– Being aware of our means and financial capacity, I don't dream about tanks right now. We don't have such plans.
–Do you dream about fighter jets in the Lithuanian army?
– No, I don't today. I am a realist and don't dream about things we cannot have.
– What kind of military helicopters do you plan to acquire? There's a plan to sign a contract in 2022, as far as I know?
– We need multifunctional helicopters for two main functions, including search and rescue and, second, for carrying personnel. In terms of the fire support function, there will be further discussions. No decisions have been made yet on the model to be acquired.
– Two batteries will now be supplied with these NASAMS systems. I understand that they will not be enough to create the area defense umbrella for a large territory. How their operations would look like?
– Any commander never has enough resources to complete the tasks set for them. All troops can confirm that. I know one thing and that is that you cannot be everywhere at the same time. We are concentrating our forces where the biggest need is. Of course, these air defense systems will be used to ensure protection and cover for our military units.
– Do you have plans to step up recruiting of professional troops?
– The existing pace is very good, and about 25 percent of conscripts want to stay after their service. There are clear plans on how many professional troops we have to accept, and we are sticking to this plan. The pace will not be stepped up further.
– Will you propose to the Ministry of National Defense to increase the number of conscripts?
– No, not now. Now we have the optimum number in terms of the number of units, and infrastructure and the commander-to-private soldier ratio.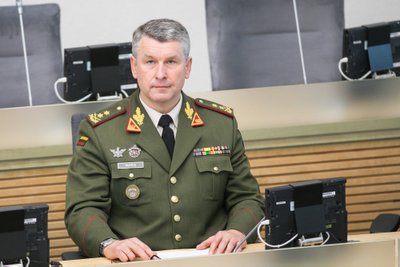 – Do you think Lithuania needs to introduce universal conscription in the future?
– Universal conscription is more of a political decision. But at the moment, when I say I need a specific number of troops for one or the other thing, I get it. As a commander, I am satisfied with the existing situation.
In terms of how much that conscription system could be fairer, so the Ministry of National Defense and the political leadership, on the whole, should decide on that.
– Should the constriction lists include young women?
– I believe we should maintain the existing situation when young women should be conscripted voluntarily. It's hard to create conditions for a larger number of female conscripts as we need separate premises and hygienic conditions and other things.
The young women who come now, they perform their duties just like young men, doing great, but in some of the units, we focus on performing duties that need more of men's physical force.
– Are there many of those "manly" jobs in the army?
– There are a few. We can have a look basically at the infantry unit and we have machine-gunners and grenadiers. I think they require much more stamina and physical force. Yes, we can find strong women but in this case, nevertheless, we need more of a man's force in here.
But if we look at signalers, air defense specialists, so girls can perform those functions and even do them better. I feel the utmost respect for those girls who come to the army, and I am grateful to them for their service. They are very motivated and responsible and can be an example for even men.
– Now the highest rank to have been granted to a woman is that of a lieutenant colonel. There are 13 of them. Do you have the goal of having more women with higher military ranks during your term?
– I believe we have gender equality if we look at possibilities. If they meet the requirements, and there's a need to fill one or the other positions, I will not look at whether its' a man or woman. I will not initiate it artificially as I need to have the duty performed, and I don't care if it's done by a man or woman. Sitting here now, I can say and I feel that quite a number of women will have the possibility to become colonel over the next five years. We now have women lieutenant colonels and majors who really perform their duties equally with men and they will become colonels one day.
– Poland's Honor Guard Regiment has women members. Do you think we should also have women in our Honor Guard Company?
– I will be honest with you and say I have not thought about this although it seems an elementary question. There will be no discrimination definitely in my answer if I will say that the company must be maximally equal. If visually the line-up looks nice, it doesn't matter for me if it has men or women. I have no intention to do that intentionally as these are differences in height, body composition and figure proportions.
– Let's move to several international matters. Is Lithuania seeking more detailed NATO defense plans right now?
– We are really working on the defense plans. We already have them, they are regularly reviewed and they are under review now. Lithuania is very active on this issue. The defense plans are always adapted to new situations, new decisions and emerging new capabilities.
– Will you propose sending special operations forces to Syria in response to the US request?
– It's too soon to speak about this issue and I would like to refrain from discussing it.
– Would that be good combat experience for Lithuanian troops?
– Combat experience is always good when going to any country. But we should not raise our hand just to acquire combat experience as it contains more important tasks and higher goals. If we speak about Syria, that issue is under discussion and a number of politicians have already talked to me about this. But I would not like to provide any details to the press on what is under discussion.