- Minister, this is your first trip to Lithuania. What is the purpose of your visit?
- It is my first trip as Minister for Europe and Foreign Affairs, but I did visit Vilnius as Minister of State for European Affairs. I am very happy to be here again. France is very close to Lithuania, a partner country in the European Union and NATO, on strategic issues. Today, our relationship is multifaceted, as we can see with the engagement of our pilots and Rafale aircraft in Šiauliai, to defend the Lithuanian and Baltic skies, as well as the deal signed in late 2022 between the Lithuanian and French Ministers of Defence for the purchase of Caesar howitzers.
I will be received by Prime Minister Ingrida Šimonytė, and will also have in-depth discussions with my counterpart, Gabrielius Landsbergis. Strategic and European affairs will be central to our discussions, with of course unwavering support to Ukraine, which will last as long as necessary, to defeat the Russian military aggression. By coming here today, and in the context of the war in Ukraine, I wish to reiterate our solidarity with Lithuania, first and foremost by commending the exceptional show of solidarity by Lithuanians for Ukraine, and also with regard to the Belarusian situation and concerning developments in recent days.
We will also talk about the European sovereignty agenda for a stronger Europe, and the preparation for the NATO Summit, which will take place in Vilnius in July, and which President Macron will attend. I also have in mind other topics that we should speak about as close allies, in particular the situation in the Indo-Pacific, relations with China and also Iran. We will not want for topics to discuss!
In addition to our strategic partnership concluded in 2009, we have considerably strengthened our relationship with Lithuania, in particular on the economic, educational and cultural fronts. Our two countries celebrated the centenary of their diplomatic relations last December. A Lithuanian culture season will be held in France in 2024, with a French echo in Lithuania. It will be a time for celebration, of great importance and much awaited in our bilateral relationship. Today, I think our relationship has never been as dynamic, as evidenced by the numerous bilateral visits, including President Macron's trip to Vilnius in 2020, President Nausėda's visit to Paris, just over a year ago, and Prime Minister Šimonytė's visit last October.
Furthermore, to highlight our cooperation among allies, tomorrow I will visit the air base at Šiauliai, where our French troops and our Rafales are completing their rotation as part of NATO Air Policing in the Baltic States. Another French military detachment is expected to return to Lithuania next December, for a new deployment. Through their action, these patrols help strengthen the protection of the Alliance's Eastern Flank, alongside our Polish friends. They are demonstrating France's solidarity with Lithuania. It is a strong signal of our will to defend NATO allies against the Russian threat.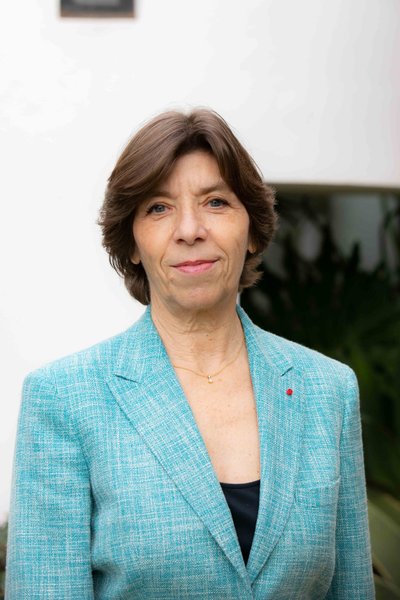 Lastly, I was also keen to speak with Lithuanian students from the University of Vilnius during my trip, because it is essential that we share our joint interests, including with the younger generations.
As the Belarusian aspect is currently a key issue, I will also meet the representative of the United Democratic Forces of Belarus, Ms Svetlana Tsikhanouskaya, to reiterate to her France's support for their combat for democracy and peace. This will be our third meeting.
- On several occasions, President Macron has declared that the war in Ukraine must end via negotiations, while he himself is often criticized by Ukrainian and European leaders for holding discussions with Vladimir Putin. However, Emmanuel Macron announced that he intended to rescind the highest distinction awarded to Mr Putin, the Grand-Croix of the Legion of Honour, and that he is simply waiting for the appropriate time to do so. Is France's attitude to the Russian aggression in Ukraine changing? If so, how?
- With regard to rescinding the Grand-Croix of the Legion of Honour that was awarded to President Putin in 2006, which you mentioned, President Macron has been very clear: he said that this decision, while symbolic, was no small matter, and remained on the table.
I think that France's attitude, from the outset of the conflict, has always been the same. President Macron repeated that once again in February: there is an attacker, Putin's Russia, and a victim, Ukraine. I wish to point out that France, during its Presidency of the Council of the European Union in the first half of 2022, played a key role from the very first days of the conflict in the firm, united and swift response by the European Union, with in particular the adoption of the first seven packages of sanctions against Russia and the awarding of the candidate status to Ukraine.
Today, it is clear that there is no room for dialogue. Because Russia is continuing with the war, making the decision to intensify it and commit war crimes. Today, the priority is therefore to strengthen our support to Ukraine, in particular our military support, in order to support the resistance of the Ukrainian people and army. President Macron has said that we will support Ukraine for as long as it takes. Second, negotiations may be envisaged at the time and under the conditions chosen by the Ukrainians. This phase of dialogue is included in the final point of the peace plan proposed by President Zelenskyy.
France's priority today is therefore the same as it was at the beginning of the war: we must help Ukraine to defeat the Russian aggression militarily, because that is the only way to achieve just and lasting peace.
- The International Criminal Court announced that an arrest warrant has been issued for Vladimir Putin for the forced removal of children in the occupied regions of Ukraine. Do you think that it is realistic to believe that those guilty of war crimes will end up in the dock?
- There can be no peace without justice. This decision by the International Criminal Court is therefore essential, because it means that no-one guilty of war crimes or crimes against humanity can hope to escape justice. This first decision should encourage a certain number of leaders to reflect on the consequences of their actions, and that is why it can change the course of events. The simple fact that the International Criminal Court decided to issue an arrest warrant for these crimes is proof that there is indeed an international order, a rules-based order that the international community strives to enforce. That is important, because it means one cannot believe that these events can occur without consequences, and because it is a warning to all those who are links in the war crimes chain.
For justice to be done, we must simultaneously collect evidence of the crimes committed. This precise work by the international justice system is essential. The forced removal and deportation of children, for example, is horrific; it must be documented. We have condemned it in the strongest terms; I did so myself, and too many atrocities have been committed by Russia in Ukraine, day after day.
That is why France, like Lithuania, provides material and human support to the International Criminal Court, including by sending officials to gather evidence of the crimes in the field. Indeed, on 22 September last year I was honoured to chair the special meeting of the United Nations Security Council dedicated to the fight against impunity of crimes committed in Ukraine, and inviting the ICC Prosecutor, Karim Khan.
- How will victory be achieved in Ukraine? How does France imagine Ukrainian victory will unfold?
- The priority is that Ukraine wins this war, and fully recovers its sovereignty, and that the Russian troops retreat as the United Nations General Assembly once again demanded on 23 February 2023. What is at stake here is first and foremost the sovereignty and independence of Ukraine, but it is also our European security and the stability of our international order.
Today, that means intensifying and accelerating our military support. As President Macron has reiterated, France responds to the needs expressed by the Ukrainian authorities, with whom we maintain constant dialogue. Today, the priority for Ukraine is a need for munitions to withstand the massive offensive by the Russians, who are firing almost 10,000 shells a day. That is what the Ukrainians are asking us for. Last week, the European Union adopted a very important decision in that regard, with the aim of supplying one million rounds of artillery ammunition to Ukraine in a year. France, meanwhile, is supplying Ukraine with anti-air defence equipment, ammunition and maintenance support, in addition to armoured personnel carriers, light tanks and Caesar howitzers.
We must also, collectively, build our effort over time. We must both maintain our unity, which is essential, and our ability to massively reinvest in our defence. We must therefore see how, among Europeans, we can produce more, and faster.
That is how we can help Ukraine to change the balance of power and defeat the Russian aggression.