Her comment comes as Lithuania is seeking to secure the bloc's financial support for a fence it is erecting on its border with Belarus.
EU leaders had a lengthy discussion on the issue of funding for border barriers in Brussels last week, according to the commissioner.
"There was a very long and deep debate on this in the European Council on Friday last week," she said in an interview with BNS. "From what I have been told, it was clear that this [non-funding of physical barriers] is also the position that the majority of member states support."
Johansson said that the European Commission supports the protection of the bloc's external borders through the deployment of Frontex officers and the financing of other types of protection measures.
"Some member states are financing and building physical barriers. It is their decision to do that," she said.
Lithuania, Latvia and Poland are facing an influx of irregular migrants from Belarus. Around 4,200 migrants have arrived in Lithuania so far this year.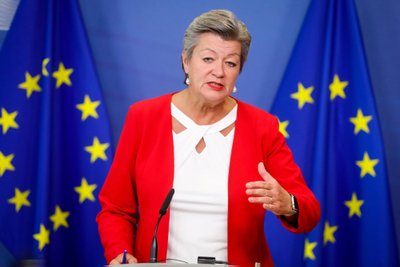 In response to the crisis, the government has decided to build a fence on the border with Belarus, with 152 million euros to be allocated for the project.
– In the middle of October, you said you were very concerned about reports of people stuck in the forests on the Belarus-EU border and you also invited the Lithuanian, Polish and Latvian ambassadors to discuss possible ways to move forward. As far as I understand, you met last week. What was your message to Lithuania and other countries?
– Well, first, we are in a situation that is really dangerous and this is a hybrid threat that Lithuania, Latvia, and Poland are facing from the Lukashenko regime and he's using people in an unprecedented and very, very dangerous way, where people are being lured into a trap at their external borders. So the blame is, of course, on Lukashenko and his regime, but at the same time, we see that there's a huge humanitarian risk at the borders and we have already seen people losing their lives and this, of course, is something that we need to discuss.
Actually, there was a meeting last week with the ambassadors and their services and representatives of the Commission. I was not present myself, but I very much welcome the conclusion from the European Council at the end of last week, where they ask for tougher sanctions, more measures against the Lukashenko regime and also for reaching out to the third countries to stop this transportation of people.
What I also think that we should try to do is to see whether it is possible to reach out with humanitarian aid to the people that are actually trapped at the external border. We know that the Belarusian border guards are changing their nature – first, they facilitate people and when they are on the external border, they change their attitude and they prevent people from going back.
– There have been growing reports of EU concerns over how Lithuania treats migrants at the border and also about how Polish and Latvian officials treat migrants at the border. Can you make it clear: do you support Lithuanian border guards' actions at the border with Belarus?
– I've been following Lithuania since this started and I put a lot of energy into it and I must say that I think the Lithuanian government, Lithuanian authorities have been acting very well in this situation with their response. They have immediately asked for support from other member states; they have been very transparent; they have welcomed Frontex; they welcomed EASO; they've welcomed support from other member states, working very closely with the Commission. And we have also been supporting the Lithuanian government with a lot of money, 37 million euros extra, and a lot of equipment.
So I think that overall Lithuania has responded very well to this and are helping migrants now with the [return] processes and [ensuring that they] have proper facilities.
I also understand that this is a very difficult situation that Lithuania is facing and it is also a new situation. This is an unprecedented thing that has never happened before. So, of course, it is also difficult and there could also be mistakes that are being made and have to be looked into, but overall, I think that Lithuania is handling this very well.
– On the other hand, last week you said that pushbacks in the EU should not be legalized and should not be normalized. How does this fit with your support and saying that Lithuania's authorities are handling this situation well?
– Well, pushbacks are not legal and should not be legalized and, of course, it's my role as the guardian of the treaty to make sure that the member states comply with the EU Acquis and if it is not so, of course, that has to be looked into and changed. So I can't, of course, give a carte blanche to everything that might happen or has happened at the Lithuanian borders. I am very concerned about reports of pushbacks, but overall, I must say that, in my view, Lithuania is really trying to comply with the Acquis and really trying to do the best and are trying to be transparent here.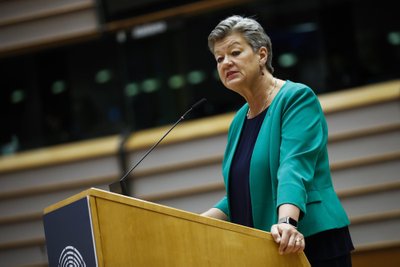 Actually, I can also see a difference with the attitude from the Polish government that has been less transparent and that has now adopted a new law that, in my view, may not comply with the EU Acquis and there is a lack of access towards this emergency. So if I compare, I must say I think of Lithuania as really trying to do its best in this very, very difficult situation. And, of course, it is important to put the blame where it should be – at the Lukashenko regime.
– But regarding the debate which is going on in Lithuania and, I believe, in other eastern members of the bloc as well, basically, do you consider Lithuania's actions as pushbacks or not?
– To be honest, I don't have enough information to answer that question. And that is, of course, for the Lithuanian authorities to investigate and to make sure that they comply with the Acquis. Taking into account also that it is a difficult situation and I am very convinced that the Lithuanian government want to comply with the fundamental rights and, of course, it could sometimes be difficult, mistakes can be made, but it is important to try to comply with the fundamental rights when you are protecting your borders.
– Ms. Johansson, in the same statement you made last week, when you said that pushbacks should not be normalized or legalized, you mentioned Poland and said that Poland is doing pushbacks. What do Polish border guards do differently from Lithuanian border guards that leads you to conclude that Polish officials are conducting pushbacks and Lithuanian officials are not?
– No, I think you are wrongly informed here. I have not put that kind of accusation towards either Poland or Lithuania. I don't have enough knowledge to say that, but what we need is transparency and what I am asking from the Polish government is to be more transparent, and I think this is also the way to deal with reports. If you are saying that you do comply with the EU Acquis and the fundamental rights, it's good to be transparent and to show that.
– Could you comment further on the information provided to us by the officials that so far one migrant has asked for asylum at Lithuania's border checkpoint with Belarus and two migrants have asked for asylum in the Lithuanian embassy in Minsk. These are two alternatives Lithuanian officials provide when they are redirecting migrants back to Belarus. So there are three migrants who have asked for asylum in these alternative ways that Lithuanian officials provide them. What does the exact number tell us about the effectiveness of that mechanism?
– I don't know whether these numbers are actually telling us something, but what is important to say is that according to the EU Acquis, my interpretation is, that we don't have open borders, people do not have the right to enter the Schengen territory in an EU member state wherever they want. They have the right to apply for asylum and they can do that at EU border crossing points, but they don't have the right to enter wherever they want, because we don't have open borders and we should not have open borders.
– President von der Leyen reiterated on Friday that the EU would keep to its long-standing position of not paying for the barriers on the bloc's borders. Why is the Commission not reconsidering this position?
– I think there was a very long and deep debate on this in the European Council on Friday last week. From what I have been told, it was clear that this is also the position that the majority of member states also support. [...] It is important to say that the European Commission is supporting member states in their way to protect external borders both by Frontex and by funding of different kinds of border management, but it is not only the European Commission that is funding or facilitating the protection of external borders, member states are also responsible. Some member states are financing and building physical barriers. It is their decision to do that. [...]
– There are growing voices in Lithuania that the Commission is not overthinking its decision to not finance border walls. Also, the Commission's position on pushbacks is quite clear: the Commission does not support them. But what solutions to the crisis do Eastern members of the bloc have to deal with this crisis effectively? Could you name at least three things the Commission deeply supports to handle a crisis like these?
– First, I must say the Commission have the position of the treaties and the EU Acquis. And that is our role. We are guardians of the treaties, so if we have a clear stance in the treaties [...], it is our role to defend it. And that is what I am doing. [...]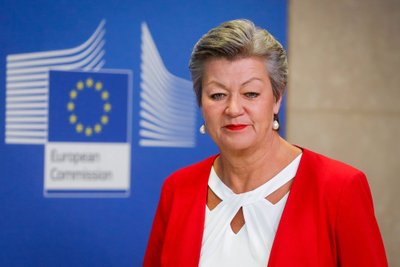 What is the most important thing to deal with the crisis that we are facing, the hybrid threat from Lukashenko's regime is to go against Lukashenko. We have to step up our sanctions towards Belarus and I am very happy that the European Council focused on that in the conclusions.
We also need to do even more to prevent flights with people that are coming to Minsk that are facilitating this hybrid threat of Lukashenko. We should do that both by reaching out to third countries to stop the flights and by reaching out to individuals who are actually being lured into paying a lot of money and then they are being trapped in a difficult situation.
And the last thing I would mention: we need to see over the possibilities to facilitate humanitarian aid to people that are trapped in a dangerous and increasingly colder situation near the external borders.
– The Commission was tasked last week by the European Council to propose necessary changes to the EU's legal framework to combat the crisis even better. Could you provide me with more details on what changes the European Commission will propose and how much time such a process will take place?
– The European Council conclusion was [announced] last Friday, so it is a bit too early to say that I have the solution now, but, of course, we are looking into all means to support and halt the pressure of Lithuania, Poland and Latvia are facing.
Bet let me also say that the legislative process in the European Union is quite a slow process. When it comes to migration, [...] we also know that this is not a quick solution. So that is why we are not looking only at legislation, but the most important thing now is to step in to put more pressure on the Lukashenko regime and also to stop the flights.
– Could we please go back to the start of our interview where you said that Lithuania is more transparent than Poland in its actions against the migrants at the border. Could you dive a little bit more into details and say where Lithuania is more transparent?
– I really appreciate the approach of Lithuania from the very start. Lithuania reached out to the Commission. [...] We are still in very close contact with things that are happening. Lithuania reached out to the member states – they have been supportive. They have reached for support in Frontex and now we have more than 100 Frontex officers deployed at the borders. We also have EASO officials deployed in Lithuania.
So, European agencies are present, and there are also possibilities for the media and NGOs to be active. So I think this is the right thing to do, to be transparent.
And then, of course, there will sometimes be a debate. That debate has to be carried through and misconduct has to be investigated, but my overall impression is that Lithuania really tries to follow the Acquis, the values, and is showing transparency and a cooperative attitude towards European agencies and member states, which I really appreciate.