According to the minister, preparations have been non-public thus far and the concept of the plan should be worked out in the near time.
"I will not provide any details now since the discussion has not been public so far. I just want to say that we are working in this direction," the minister said.
The Minister of National Defense also answered questions about the role of the armed forces in managing the pandemic, the outlook of universal conscription and the construction of a new training area in his first extensive interview since taking the office.
– I would like to begin from the issue of the pandemic: do you consider reviewing, in one way or another, the contribution of the national defense system to the management of the pandemic?
– This emergency has allowed testing the actual provision of support to civil institutions by the national defense system, as prescribed in legislation. Support was provided in time and it is being provided now, amid the second wave. It is not limited to those several people seconded to the Ministry of Health as it involves all those people who help trace the origin of coronavirus cases at the National Public Health Center (NPHC). We have 70 volunteers working there on a rotational basis hence there are hundreds of troops actually involved in this task.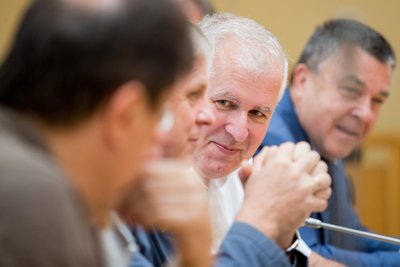 Is it possible to expand that support? I think that is possible. If the Ministry of Health asks us to get involved in the process of vaccine transportation, distribution or anything else, that support will be provided, for sure. I have agreed with the chief of defense that support will be provided if requested.
– Let's move on to other issues of the national defense system. The 2018 agreement on defense between the political parties states that decisions on a possible introduction of a universal military service will be adopted in 2022. Will there be a substantive decision made on this issue next year?
– We, as a party, have spoken in favor of that, I have also stated that, we support that measure. However, a political will needs to be underpinned by resources. The national defense budget has not been increased substantially amid the current situation. Appropriations have been increased but this money is intended for social needs, which is also important.
The outlook of the military budget will be clear in fall, perhaps somewhat earlier. We need resources not just for taking in an additional number of people. We also need to provide for them, to provide for military units. Military structures cannot recruit for the only purpose of reaching a certain mass of people as they draw detailed plans for several years ahead. Let me put it frankly: if military planning were to be adjusted in the light of such a political decision, the demand in resources would increase by several hundreds of millions [of euros].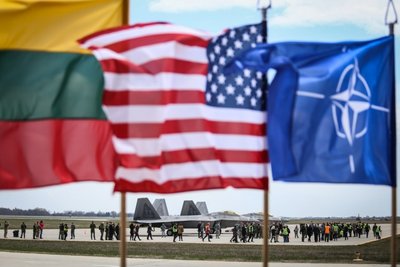 The armed forces would like to get the capacities that are currently scheduled. We have not yet received some arms purchases and, as regards those, which have been received, we have not yet fully absorbed those capacities. The armed forces need to actually receive what has been planned so as to be able to be fully operational with those new arms, new supplies, and to function according to their plans. Hence the matters pertaining to a draft for military service need very careful coordination in particular as the number of draftees has now been increased to 4,000 and may change each year. In my view, we even have to take into consideration the drafts in the neighboring countries, when the draftees are mobilized and when they are demobilized … Hence there are many aspects to consider.
– Certainly, this will have to be considered by the Seimas, the government. However, are you, as a minister, determined to make such a proposal, are you still open on that issue ?
– I am certainly open, in particular as we should also take into account the military advises from the military officers. I am open to discussion but I find it inseparable from the issue of resources. The principle itself is good and I think that, if the demographic situation in Lithuania remains unchanged, we will actually move to that universal conscription in the near future, whether we want it or not, but the number of draftees will most probably be very similar to what we have now.
– In your personal view, should conscription be only mandatory for men, or also for women?
– That's a good question... Of course, the rights are equal. Women comprise 12 percent of army officers corps. As regards volunteers who join as conscripts, that share is growing steadily. Hence there are women in the army. Whether they could be part of universal conscription, for instance, as in Israel, is also an issue for consideration, but we cannot impose that from on high. I think it is also something for the public to decide on. We are aware of very controversial opinions on this issue but if the society finally resolves that the rights are equal and that's it, then the answer would be 'yes'. However, I do not see that resolution so far.
We need to talk about both duties and possibilities. For instance, certain weapons, such as grenade launchers or machine-guns, have to be carried on the shoulder, which requires physical capacity. We can make the rights equal but we would still have to divide certain tasks between men and women in the armed forces. Women in military structures often work as specialists as there are many administrative posts in the army, loads of administrative work that also has to be done.