aA
To mark the occasion of the 100th anniversary of the independence of the Republic of Finland a brief Flag Raising ceremony took place at noon-time in Lukiškių Square (Lukiškių aikštė) in the centre of Vilnius in the presence of the Speaker of the Lithuanian Parliament (Seimas) Viktoras Pranckietis joined by the Finnish Ambassador, Christer Michelsson.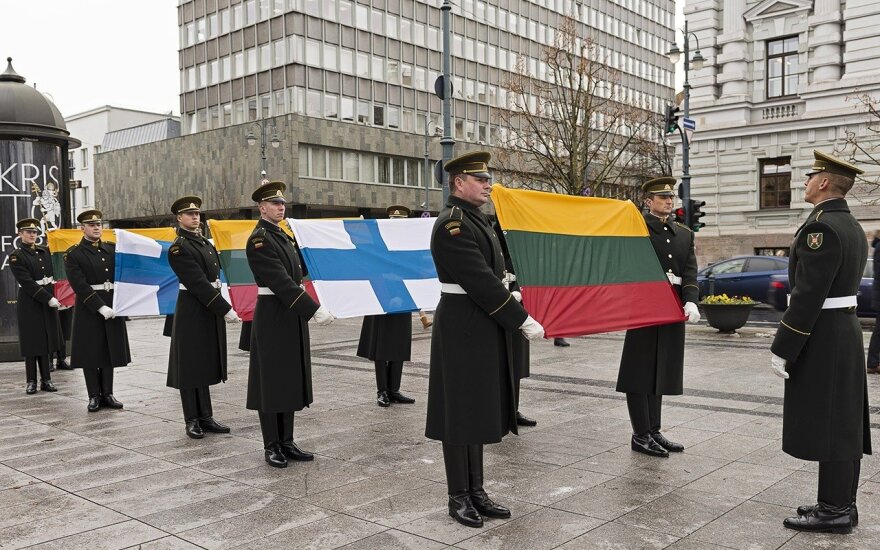 The dignitaries were joined by the Latvian Ambassador Einars Semanis, Siim Krispin, the First Secretary at the Estonian Embassy, and Albinas Zananavičius, the Lithuanian Vice Minister of Foreign Affairs and other officials, Members of the Lithuanian Parliament, and well-wishers.
Soldiers of the Gediminas Staff Battalion of the Lithuanian Armed Forces stood guard in honour whilst the flags were raised and the Lithuanian Army Orchestra playing the national anthems of Lithuania and Finland during the short ceremony.
After the colourful ceremony, Ambassador Michelsson said, ''This is a happy moment to celebrate the 100 years of Independence of our country, which comes after 109 years of autonomy. Now we are happy to be members of the European Union alongside Lithuania.'' Viktoras Pranckietis, Speaker of the Lithuanian Parliament, was asked what Lithuania had in common with Finland, except for the cold weather. A smiling Speaker Pranckietis pointed out that, ''The two countries enjoy very warm relations and that there is growing collaboration in many areas between the two countries.''