70th Anniversary of India's Independence will be celebrated on 15th of August not only all over the country but also abroad, to pay tribute and honor fighters of freedom. This year, celebration of is going to be different and special, various events dedicated to the commemoration of the 70th Anniversary of India's Independence will be held throughout the country in August, for example, a six-day long 'Bharat Parv' festival at Rajpath near India Gate in the national capital will begin on 12 August, the India Gate will be illuminated with the Tri-colors during the festival period, musical extravaganza will be presented by the Armed forces, festive processions and a spectacular fireworks shows will take place. The celebration of 70th Anniversary of India's Independence is a triumph of patriotism and national pride when citizens and leaders of the country once again show gratitude for those who contributed to country's journey to freedom.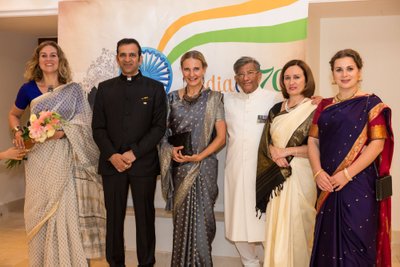 This year not only the 70th Anniversary of India's Independence is celebrated, but also the 25th anniversary of the Lithuanian-Indian diplomatic relations. Two countries, that base relations on the mutual trust and democratic values, not only are successfully strengthening cooperation in education and culture, economic relations between the countries are also developing rapidly – bilateral trade volumes are increasing each year.
"Every year, an increasing number of Indian students are coming to study in Lithuania, the Center of Oriental Studies at the Vilnius University has modern Hindi and Sanskrit languages teaching classes, a growing number of various cultural initiatives are being created and the societies of our countries are becoming more and more interconnected. Classical Indian dance lessons are taking place in Lithuania, ayurveda, yoga studies are opened," in the interview said Wing Commander (Retired) Rajinder Kumar Chaudhary, Honorary Consul of India to Lithuania. "I am glad that traditional practices of India that promote wellness and healthy lifestyle like yoga are gaining popularity abroad. Yoga in India has traditions of almost 7000 years and, because of its promoted philosophy of the purification of body and mind, is becoming increasingly valued in different parts of the world, 21st of June is even declared an international yoga day by the United Nations.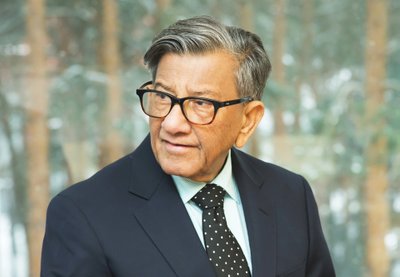 The connection between Lithuanians and Indians is also reinforced by cultural similarities such as the preservation of family values, respect for the elders, an open mindset, also Lithuanian language has similarities to Sanskrit and Hindi. I am sure that our countries will only grow even stronger communion in the future."
This year 70th Anniversary of India's Independence will also be celebrated in Vilnius during a solemn reception hosted by India's Ambassador to Lithuania Ajay Bisaria who during his nearly three years of stay in Warsaw has held such receptions in Vilnius and made many visits to Lithuania. Among the festive event attendees, there will be Ministers, Diplomats, Lithuanian and Indian business elites, famous artists and public figures. Also, the exclusive fashion show will be presented by internationally acclaimed Indian high fashion representatives – designer duo "Shantanu & Nikhil". During the festive evening, the finest collection of wedding dresses by Indian designers "Silver Tulip" will be presented topped by the extraordinary beauty of traditional Indian jewelry. "Shantanu & Nikhil" will introduce the 2017 autumn/winter collection, entitled "The Regiment", which pays tribute to the defenders of the country as the collection takes its inspiration from the Indian Armed Forces uniforms and addresses three strong virtues of the – Discipline, Pride & Togetherness.
"I myself have served 23 years in the Indian Air Force," said R. K. Chaudhary. "I have participated in the journey of free, independent India since 1947 when the Tri-Color flag of our country fluttered in my hands. As a student, I also traveled forty kilometers by bike to observe the festive processions of military forces during the Independence Day celebrations. I was a passionate patriot for all my life and I am delighted that Indian artists, designers are willing to convey country's valor, fight for its beliefs, its citizens' dedication and love for the homeland, through their art work. I am proud of the achievements that our country has managed to implement over seventy years of independence –country's GDP grows by more than seven percent each year, more and more young people in India are getting an education, more jobs are being created, while Indian professionals have achieved such career heights as CEO positions in global corporations as Google, Pepsi, Microsoft, and MasterCard. With such potential, diligence and dedication, cherished long-lived values, love for the country and the great international partners as Lithuania, I sincerely believe that the future of modern India is truly bright!"