The second match last night happened to be in Lithuania however, and judging by the nearly forty point beatdown Lithuania inflicted on them, the Latvians must have forgotten that Lithuanians are an intensely proud basketball nation! In other words, the home team came into Šiauliai Arena tonight with something to prove to the thousands of green-shirted , screaming Lithuanian fanatics, and brother did they ever prove it!
As I said before, after the loss in game one at the hands of a skilled and determined Latvian team with NBA talent of their own, this was the BEST thing to happen to a newly formed Lithuanian squad where few players had played together before. The loss served to light that proverbial fire under their collective butts so they could be motivated to come together as a cohesive unit and create something special. That appears to be exactly what they did in the four days of practice leading up to the re-match!
From start to finish, Lithuania was in the driver's seat for this one. Even though Latvia suited up their NBA stud Davis Bertans from the Dallas Mavericks, fresh off a Western Conference Finals appearance, he was almost a non-factor. He hit one three pointer early on then couldn't hit the broad side of a barn after that with smothering Lithuanian defense on him.
Ignas Bradzeikis on the other hand, Lithuania's very own NBA player, made his debut in front of the Lithuanian home fans in a remarkable fashion, just as I knew he could do! In my previous article, I mentioned Coach Kazys Maksvytis needed to unleash him to play aggressive pick-and- roll like he is used to in the NBA, instead of the slow and methodical Lithuanian league style of feeding the post then kicking out repeatedly.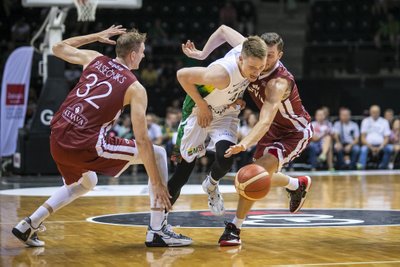 The reason being, that when you don't have an elite big man like Jonas Valančiunas or Domantas Sabonis playing, feeding the post is rather pointless because the opposing defense isn't very worried about it.
Ignas was allowed to do his NBA pick- and-roll this time to deadly effect and he scored 10 quick points in the first quarter alone!
Essentially this NBA style of play just puts the ball in the hands of the most athletic and skilled offensive creator on the team. Once he gets the initial screen, he then attacks the basket which in this case led to several quick layups right away. Then the Latvians were forced to collapse their defense so it wasn't so easy to score, leading Ignas to prove that he can be an excellent passer too. Instead of forcing the issue he played smart and started getting assisted buckets to his teammates so they could get buckets and build up their confidence early on as well. After that, they sagged off Ignas in order to pack the paint, trying to completely cut off their inside attack. The match then simply became a carnival game of whack-a-mole, leaving Lithuanian snipers open from beyond the arc where they made Latvia pay dearly by raining down death on them. Gytis Masiulis was one of these sharpshooters and he had a terrific game, making three pointer after three pointer to rip open the lead for LT. Ignas as a ball dominant player like he was tonight is truly a "triple threat"– either as a passer, driver and finisher, or three point shooter. Looking forward to the future of Lithuanian basketball, he is definitely a building block that could very well be the missing link which leads the national team back to the promised land of medals!
Everyone else on the team chipped in too, with notable contributions from team captain Marius Grigonis who had a decent game despite not starting the second half and playing somewhat limited minutes. As team captain, he is the leader and linchpin holding this squad together. Vytenis Čižauskas, Tomas Dimša and several others pitched in as well, proving once again that Lithuania's core strength is truly their unselfishness or in Lithuanian– "komandinis žaidėjas"(team player). This has always been a core principle of the Lithuanian way, and it doesn't appear to have changed at all with this young team!
The most interesting observation in this game was the fact that Lithuania played intense defense that shut down their Latvian opponents almost completely from beyond the arc. As I said before, their normally extremely accurate NBA player Davis Bertans only could manage a couple threes and not much else. Players on the Latvian team just seemed unable to hit anything either for almost the entirety of the game. Lithuania took care of the ball too, committing very few turnovers, which is also remarkable for such a young team which can be known for not being so careful. They fought hard on the glass tonight too, out-rebounding the Latvians this go around.
The Lithuanian Way-a three-legged stool
The three legs of the stool upon which Lithuanian basketball philosophy is based is team play, intense defense, and the "sixth man" which is the energy of the Lithuanian fans themselves! I guess nobody in attendance got the memo that this was supposed to be a "friendly game" which didn't count towards qualification in the World Cup. They were screaming like it there was a gold medal on the line! It's like you felt the pure energy from a whole nation of basketball fanatics , especially in a small arena like the one in Šiauliai. When the smoke cleared , LT had cleaned LV's clock to the tune of a 36 point victory 98:62. Just to digest this...they put up 98 points! By the last possession, the crowd was going nuts chanting "šimtas!!!" (go for a hundred). As a sign of respect to their beaten opponents, the guys just opted to dribble out the last possession to end the game with a shot clock violation. It is sometimes not wise to anger the basketball gods by humiliating a beaten opponent. There are unwritten rules and Lithuanians know about respect and honor very well.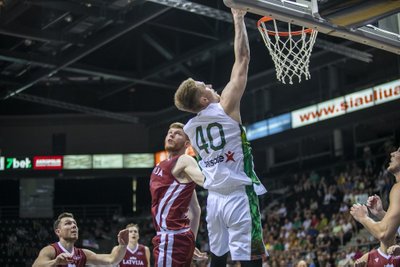 It definitely seems as though Lithuania has cemented their team chemistry, which after only two games is really quite astonishing! They were like one solid fist tonight instead of individual fingers like in game one. The next test will be against Bulgaria on Friday. This will be the first match to actually count for qualification in the World Cup so this team building in these friendly games had to happen quickly. After that, they will face a very tough Czech team which will probably prove to be the most difficult match up. Difficult, but definitely not impossible, Lithuania has beaten them before!
I'm really starting to believe in this team. Tonight's performance went a long way towards convincing me this can be a good team. I admit after the game one loss doubt started creeping it's ugly head in,NOT ANYMORE! I guess I had forgotten for just a brief moment that we are Lithuanians, and basketball is just what we do!