This March he returned to Lithuania with his Lithuanian girlfriend and settled in Vilnius. Now a U.K. national, he has applied for Irish citizenship due to Brexit.
- You are living and working in Vilnius now. How was it working remotely from Scotland?
- I live in Vilnius, yes that is true. But for the last several months I was in Scotland visiting family. I teach Business English and Spanish to Mykolas Romeris University (MRU) tourism and linguistics studies students online now. I was away from Vilnius for several months trying to avoid the Lithuanian winter.
The residency situation is a little unclear after Brexit. So, currently I'm in the process of applying for Irish citizenship. My family hails from Ireland and that is the reason why I am applying for an Irish passport.
- How did you get a job in Vilnius?
- After moving back from living in South America, I moved to Edinburgh and started working as a director of studies at a language school, while I studied at another school.
During that time, I met my Lithuanian girlfriend and we started living together. When the combination of Brexit and coronavirus caused both the school where I was working at and the one I was studying at, to close down, I was left unemployed.
At this point, my girlfriend suggested that I apply for jobs in Vilnius. I sent out e-mails contacting universities in Vilnius. I heard back from MRU and decided to move to Vilnius before the start of the semester last year. I started working at MRU in September of 2020.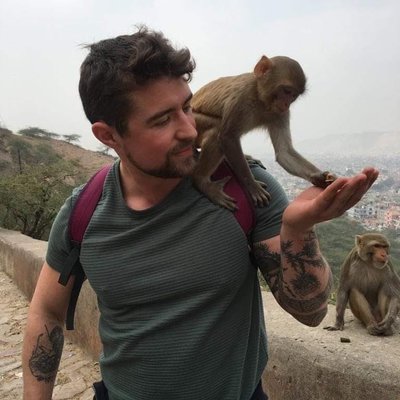 In October I began teaching remotely and have been working online ever since. I had quite a lot of prior experience in online teaching in various other jobs. But large group class teaching was a bit of a new experience for me - an adjustment.
- What differences do you see between Vilnius and Glasgow in terms of customs, people and/or their habits?
- I find it fascinating to observe the cultural differences between the two cities. I would say that due to my short time here in Vilnius, and the lockdown, my experience so far has been limited.
From what I have observed, Lithuanians are somewhat more reserved than people in Scotland, particularly in the famously friendly city of Glasgow.
However, I have found Lithuanians to be kind and helpful people with a welcoming attitude towards foreigners. One noticeable difference is political. I find that people in Scotland are much more politically active than in Vilnius, with people more likely to take part in environmental or political action for example. Though, this may also be changing in Vilnius, which I see as a positive trend.
- What do you like most about Vilnius?
- I think Vilnius has great nightlife. In the summer it seems to have a constant array of interesting activities and concerts to check out. Lithuanians seem to spend loads of time outdoors in the summer, which is great to see and to be a part of.
I really look forward to the start of this spring and summer. I've been buying some gig tickets for the summer and crossing my fingers that they'll go ahead.
I think Vilnius has a cool, modern vibe with a sense of things improving and developing quickly. Young people often seem hopeful about the future.
- Is the weather similar in Scotland to Lithuania?
- Lithuania has a really extreme climate compared to what I'm used to back in Scotland. You have much hotter summers and colder winters. We never get down to less than -6 C in Scotland. So, the idea of -20 C in the winter in Vilnius – or even colder, is quite scary for me
The advantage for Lithuanians is really the guarantee of a decent summer, whereas a Scottish summer can be overcast, rainy and with barely a glimpse of sun.
- When you are in Lithuania, what do you miss about Scotland?
- I quite like Lithuanian food, but I really miss Indian food. Funny enough but Scotland, and in particular Glasgow, is obsessed with Indian food. We really have some of the best Indian-British restaurants in Europe. It's something I haven't seen much of in Lithuania so far.
I also miss the quality of the Scottish seafood, since Vilnius is pretty far from the coast. You have great kebabs though. I like the soup, šaltibarščiai, with beets. I also miss mountains.
Lithuania is way too flat for me.
- Lastly, (don't laugh), have you seen the Loch Ness monster?
- I haven't actually seen Nessie for a few years now. I think she'll probably have the confidence to make an appearance when Scotland becomes independent. In the meantime, we have to make do with big, hairy cows and the occasional unicorn.