That can be daunting for any first time visitor to Vilnius. "Most surprising was that Vilnius bus drivers went out of their way to help me and explain where I needed to change buses. That was a very positive, first experience for me in Vilnius," he said.
- Why did you come to Vilnius?
- I came as part of an exchange programme to present lectures at Mykolas Romeris University. At the same time, I was looking at ways we can collaborate and partner with the University. One of the areas that I see some possibly collaboration is in the internal workings of the European Union (EU) and the African Union. I presented a lecture to students on this topic.
- Your areas of research are very broad.
- Yes, sometimes I feel that I am all over the place. There are many areas of research that I am interested in. Currently, I teach a course on Chieftaincy and Development in Africa to undergraduate students. During my lectures I respect my students by turning off my phone, so I expect students to pay back and respect by turning off their phones also.
After the course ends, I often find students thanking me for all they have learned. Some say that if they had access to their phones, they would not have heard what I was lecturing about.
- You have traveled widely in the U.S., the African continent and Europe. This is your first time you are visiting Lithuania, the Baltics?
- Yes, it is my first time in Lithuania. I did my PhD at the University of Leiden in the Netherlands so I did spend some time in Europe during my studies. However, I have never been in Central Europe or the Baltic countries. This is a new country for me so I am excited to find out more and explore.
- Does anything surprise you in Vilnius?
- The transport and buses are cheaper here than in many European capitals. I noticed that immediately. There is much less traffic on the streets here than in Accra. Also, the Vilnius bus drivers are very helpful, which impressed me – especially the bus drivers that stop at the Vilnius Airport. They answered my questions and helped me to get to the University without any problems.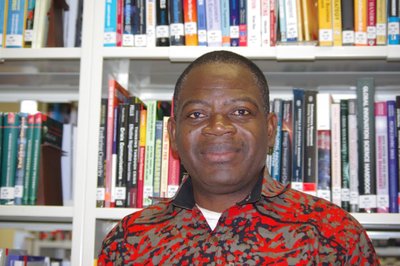 - Is there anything else that you noticed?
- Well, less people on the street here than in Accra, so it's not so crowded. Also, the price of food or eating out is cheaper here than elsewhere in Europe.
- You mentioned that there are some similarities between Africa's colonial past and the occupation of the Baltic countries by Russia.
- Yes, I am finding out more about your history and your past and I see that we have more in common than I thought. I was lecturing to students about colonialism and the African Union and asked them if African countries were justified in fighting for independence.
You see, once you are under occupation, you fight for independence. That is the way of things. I see that this has happened in your country as well. I am learning about this. It's a process. I plan to visit the KGB Museum in Vilnius. I think in the future perhaps we can do research in these areas and find additional similar experiences.