"Science is global. It's not only in Lithuania. It's all over the world," says Pereira, who is fluent in Lithuanian. The charismatic professor has just published his latest book, "Soil Degradation, Restoration and Management in a Global Change Context" and is busy conducting research.
- How did you end up in Lithuania?
- I've been here for 10 years. I came here accidentally. I love the country, nature, the people, the city of Vilnius, - especially the city. It's a cozy city. Everything is close and the historical center is amazing. The climate is ok. If you like to see the forests, it is the place to be.
- You are known as a workaholic and prolific researcher publishing 1-2 books each year. How do you keep up this pace?
- I love the job that I do. I have great conditions to progress with my career at Mykolas Romeris University. I'll be here for a long time. I'm free here to conduct research and work with whom I want. I plan to be here for a long time.
- Was it difficult to learn Lithuanian?
- There were many challenges. I listen and pay attention to what people say. You listen to how the language is spoken, then you practice.
- Why did you learn Lithuanian?
- To become part of this society. I have come to Lithuania. I have to respect the culture, the people, the traditions and the language. Being in a place means respecting and adapting. I'm Portuguese, but I'm a global citizen. I can be anywhere, but I am happy here – in Lithuania.
- So for you conditions are better here in Vilnius than elsewhere in Europe?
- Yes. I have so much freedom here and people are also important for me. What I do here, my efforts will have a bigger impact here in Lithuania. Other countries may have better conditions. Lithuania doesn't have the same resources. But, our efforts here – what we do, give us a better feeling and make you feel better about what you are doing.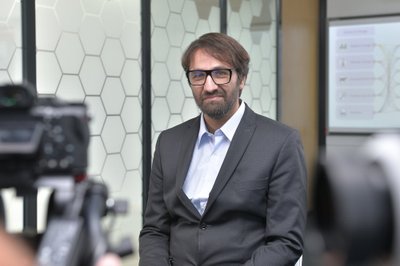 - You are working with Chinese PhD students now.
- Yes, I was invited to teach in May 2019 at China's Beijing Normal University. There I have 3 PhD students. China is a beautiful country. It's important to learn from other cultures.
I don't understand why in a country where the population is decreasing, the building of housing is increasing.
-You are vocal in your opposition to the continuous building and urban sprawl around Vilnius.
- Yes. People are defending the animals but are not defending the habitats where they live. This housing boom is a great business for real estate industries, but not for individuals and society. If there are more urbanizations far away from the city center, more investment is needed in infrastructure such as roads. This increases traffic circulation and pollution. People come and go to their houses and this causes traffic jams. This is not good for the environment: more roads, more cars, more traffic jams, which are the worst because they impact the health of people and cause stress.
Urban sprawl is bad from the social, economic and environmental aspects. People, in general – those that live outside the city, are more obese because they need a car and walk less in their daily activities. Just like in the USA. Several studies point this out.
- But people in Lithuania, in Vilnius, often dream of moving into a new home?
- Yes. For many to buy a house in the city is a dream. The time that they spend in the house, the quality of time is very little, especially because we spend more and more time in our workplace. It's a phenomenon all over the world. Once you build a house, you destroy the soil and the goods and services that they provide. In Lithuania, the biggest problem is urban sprawl. I don't understand why in a country where the population is decreasing, the building of housing is increasing. It is true that the urban population is increasing, but does not justify the enormous urban sprawl. This is in the interest of some, but it will affect all of us.
- Let's start with pollution. If there is more housing outside the city, there is more pollution, stress on individuals. The environment is still not one of the priorities for people in terms of well-being. This is extremely sad. The younger generation, in this respect, is more active. We have the perception that we have a good environment in Vilnius. But, if you look at the expansion of Vilnius, the urbanization…construction, and all the housing that is being built around Vilnius, then you will see that housing expansion is an enormous problem. It has a big impact on ecosystem services. Urban sprawl is a local problem and one of the biggest problems in Lithuania. Climate change, on the other hand, is a global problem, but still important for Lithuania.
- So what solutions do you see?
- As for housing, I think we should restore the old houses in Vilnius and not be so quick to build new ones. Restore more and expand much less. Restoring is the future.