Das spends even his weekends in Vilnius conducting research, writing and collecting information. More surprising is that he has managed to publish 42 scientific papers, while still writing his PhD: "Urban Ecology and Well-Being in Indian Cities-Kolkata," which he expects to defend later this year.
The Indian researcher came to Vilnius to conduct research at Mykolas Romeris University's (MRU) Environmental Management LAB headed by MRU Prof. Paulo Pereira. It is his first visit to Europe. His published papers, relating to climate change, the environment, urban ecosystem services, and the impact of COVID lockdown on domestic violence (DV) in India, have been published in leading research journals. Das hails from Kolkata and discusses some of his experiences and how he is adjusting to a different way of life in Vilnius in this article.
- What did you know, if anything about Vilnius before coming here?
- I knew very few things before coming to Vilnius. All I knew I found in literature I read. I came to know that Vilnius is a very green city and now I am experiencing the green environment. I walked along the river here just a few days ago with my colleague and it a very nice environment. I am really happy to be here and to experience the diversified flavors of the city.
- What are the biggest shocks for you coming to Vilnius and Lithuania?
- I would say, it is not a shock for me at all. I am really privileged to be at MRU and working with Prof. Paulo Pereira. I am grateful for giving me opportunities to carry out my research with researchers not only from Lithuania, but also from Spain, Portugal and Germany. It was one of my dreams to continue my research work with researchers and scientists in Europe. It's a great opportunity.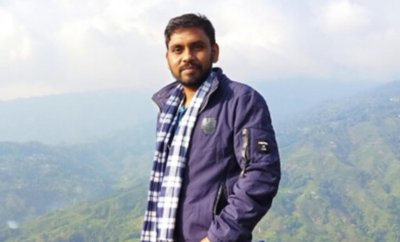 - What are some of your first impressions of Vilnius? I think you already mentioned cold and snow.
- I would say, of course it a new experience for me to be here. I am experiencing a lot of things here while visiting the city and outside the Vilnius area. In case of foods, I would say everything is an experiment to me. But, the foods are very tasty and healthy I feel. One of the challenging things for me is to remember the names of the foods. But,I hope that soon I'll be familiar with these names.
- Can you compare Vilnius and Kolkata. How do these cities differ - aside from weather?
- Yes, it is true that the cities in the Europe are different from the cities in India in many contexts. For example, the cities in India more crowded than the Vilnius. You can see people everywhere in India. Not only Kolkata, most of the cities in India are full of people and crowded. But, here in Vilnius I see most of the streets are empty and at the city centre I can see people. It is a fact that Indian cities are more populous than the cities in Europe. I would say, there are many differences between the cities in India and here Europe in terms of population, cultures, and foods. More importantly the weather is a kind of challenge for me here. But, I am enjoying the snowy environment as I never experienced such environment before coming here. Also many Indian cities are polluted. Unfortunately, air pollution plagues many cities in developing countries like India's capital New Delhi, which is one of the most polluted cities in the world. In Delhi you have to wear a mask, particularly during the winter months. The pollution level reaches above the bearable limits.
- What is surprising for you in Vilnius?

- The parks and the nature are a welcome surpise. It's very rare to feel the nature in a city like you can in Vilnius. One can "feel" the natural environment in the city. I am really attracted by the city's natural beauty. Green spaces, urban parks, open spaces, attract me here. Whenever, I get time, I try to take a walk in the city. I hope to explore more of the city. Green spaces or open spaces are needed in cities to enhance the physical and mental health of citizens there. We realized the importance of green spaces during the recent crisis period. During COVID-19, the problem was highlighted when people stayed home and did not go out much. As a result, mental health of individuals suffered. Thus, if you spend time outdoors – in nature, it helps reduce mental health problems or keep them at bay.
- How long do you plan to spend in Vilnius conducting research?

- I will be spending the next few years conducting research in Vilnius as well as collaborating with researchers from abroad. My PhD topic is, "Urban Ecology and Well-Being in Indian Cities-Kolkata." I was invited here to conduct research. I am working on the Europe Horizon SELINA and "InBestSoil" projects that the LAB is involved with. It's a new experience.