aA
Vilnius is a very clean, modern city serving as an example for Serbia, especially in the area of electronic services, he said.
Lithuania offers special incentives for those driving electric cars. These cars also exist in Serbia, mostly in Belgrade, but are not as popular yet.
Also, impressive is Lithuania's mobil accessible car rental network via smartphones that have yet to reach Serbia, he notes.
Mobil phone payments, even credit cards are not as widely used in his country as in Lithuania. Serbia is in electronic development. It's just starting out with what is already in place in Vilnius, said the 22-year-old Law student from the University of Niš. He's spending an exchange semester at Mykolas Romeris University.
- Why did you decide to come and study in Vilnius?
- I study law and hope one day to be a lawyer. I had the opportunity to spend an Erasmus exchange semester abroad and Lithuania, Germany and another country were among the options. Lithuania's Mykolas Romeris University is one of best Law Schools in Europe.
That's why I came here. The main purpose of the Erasmus project is community and relationships with other students from other countries. Only a small number of Serbians come to Lithuania. Vilnius is a really good place for me.
- What did you know about Vilnius and Lithuania before coming?
- I knew about the "Lietuvos Rytas" basketball team because I am a big fan of basketball. I even played basketball when I was younger.
"Lietuvos Rytas" is one of the best teams in Europe for basketball. I knew about the "Žalgiris" basketball team too. Also, I had heard that this winter in Lithuania is one of the warmest on record in about 50 years and that's it.
- What do you think of Vilnius?
- It's a very clear, clean city with no trash on the streets. It's a very well-managed city with good transport, good policies. Vilnius has many museums. The Old Town with its cobblestone streets is very beautiful. During the weekend, I like to go to Old Town and spend time there.
- As for Lithuanian food, have you tasted any of the typical dishes?
- Well, I don't like the pink soup. My absolute favourite food is chicken in any shape or form. I like kibinai with chicken. I like the chicken burger offered in Vilnius at the fast food restaurants. I eat so much chicken that my classmates call me "Chicken Boy" for short.
- You keep talking about how modern Lithuania and Vilnius are. How so?
- Well, I can say that Lithuania is an example for Serbia. Lithuania has the fastest internet in Europe. We have a lot to learn from Lithuania. I have a feeling that every citizen in Lithuania respects the law.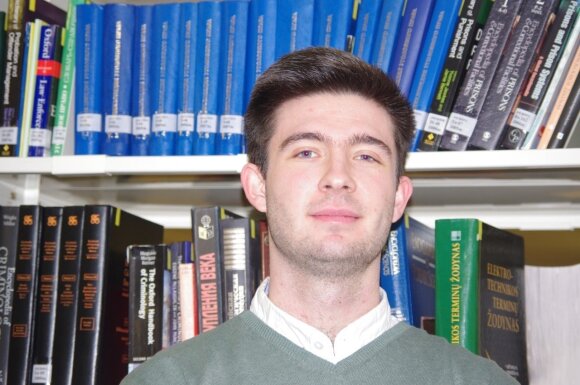 © Organizacijos nuotr.
- What similarities do you see between your country and Lithuania?
- You celebrate your Independence Day on Feb. 16th. Our Statehood Day is Feb. 15th, when we celebrate.
- You have met and made friends with students from throughout Europe?
- I have friends from France, Germany, Belgium, Austria, Italy, Czech Republic, Spain, Slovakia, Ghana and Ukraine. There are students from 33 countries here at Mykolas Romeris University. That's the most important thing. Maybe in 10-15 years, we youth will be the main people – leaders in our country and try to make good relations with other countries for a better world.
- You talk like a politician or someone that is getting ready to enter politics?
- Yes. Sometime in the future, I would like to enter politics. But first, I want to be a lawyer and practice law for some years. Also, I am thinking of doing my Master's abroad, perhaps in the U.S.

It is forbidden to copy the text of this publication without a written permission from DELFI.