He calls Vilnius a magical city with an incredible energy and speaks with great fondness of the helpfulness and hospitality of Vilnius residents.
- Why did you come to Vilnius?
- I was studying in a joint Master's Degree programme, "European Legal Practice Integrated Studies" (ELPIS) organized by several universities including Mykolas Romeris University. I completed my Bachelor's Degree at the Federal University of Pernambuco in Brazil. I wanted to focus on International tax law and came to Vilnius to explore a different part of the world. My Master's is a joint degree programme with the University of Lisbon and Mykolas Romeris University. In addition, the studies subjects available at MRU were also a factor to come study here. I could have gone to universities in France or Germany, but decided to come to Vilnius. In addition, after studies, I did an internship in a private company in Vilnius in my area of tax law.
- What did you know about Lithuania before coming?
Lithuania for me before I set foot here was a big mystery. I had no idea what to expect. Maybe the surprise of finding such an amazing place contributed to this magical feeling that I have about Vilnius now. Vilnius is indeed a magical city due to the peacefulness and the green parks and forests and beautiful Old Town.
- So what are your impressions of Vilnius?
- First of all, I loved Vilnius. The energy of the city is incredible. It mixes a peaceful atmosphere – with lots of green areas and a vibrant, interesting and cool environment – especially for youth and students. I loved living in Vilnius because it has so many great aspects of a capital and keeps some aspects of a countryside town. The hot air balloons in the sky during the warmer summer days and all the white in winter - the landscapes are special. It is hard to put what I feel in words.
Vilnius has an atmosphere that I have not seen in other places I have visited. The people of Lithuania made me feel at home. When Lithuanians would find out that I came all the way from Brazil, they always suggested interesting things to do in Vilnius or helped me with the language. I think Lithuanians are very kind people. They are the Latins of the Baltics, as I was once told.
- How does Vilnius differ from your home town of Recife in Brazil?
- The rhythm of life is the first aspect. We have huge traffic in Recife, several tall skyscrapers and lots of noise. There is almost no green areas or parks in Recife. In Vilnius, I can say that I feel more at peace. I felt I could enjoy more time outside here (even during the cold winter months).
I loved the parks in Vilnius. My favourite parks in Vilnius would be near Balsio ežero or Žalieji ežerai as I knew it from some of my friends. Although advised many times to go to the Bernardinų sodas, I never did. So that is a good reason to return to Vilnius soon.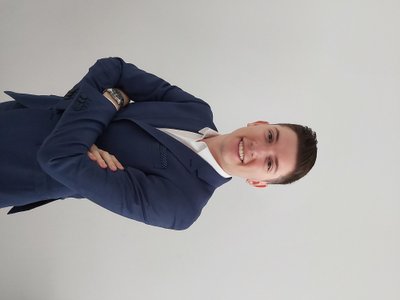 I did enjoy going to Lukiškių square. It is in a good location next to Gedimino prospektas and the events held there were very attractive. The weather is a big difference. The coldest that it gets in my home town of Recife is about +20 on a cold winter night. I found out that +20 is beach weather for Vilnius – or lake weather. Vilnius is also an incredibly clean city. I haven't noticed violence in the streets in Vilnius. Unfortunately, violence is a big issue in Brazil.
- What about the food? Does it differ so much? Did you try coffee in Lithuania?
- Yes, the food is another big difference. I did try the šaltibarščiai (pink soup), but I must confess I have no idea how Lithuanians love it? I think I would say that cepelinai would be my favourite Lithuanian dish. I missed the tasty Brazilian red meat (ox) that you can not find in Lithuania. As for coffee, as a good Brazilian, I am addicted to coffee. The regular "espresso" in Lithuania is not easy to find, but you have several interesting cafes making good latte or other variations including the cafe at MRU.
- What else did you enjoy about life in Vilnius?
- I enjoyed, as I already mentioned, the green parks and spaces. I also liked traveling around Lithuania and getting to know your historic sites. In the winter, I like to play curling, a nice winter sport that is impossible to practice in Brazil. I found some places in Vilnius for curling. I was even listed as a participant at the National Curling Championships.
- So you have plans to return to Vilnius?
- I hope to return to Vilnius many, many times in the future. My parents visited Vilnius last year and they loved it too. Now you have an entire family fan club of Lithuania. I hope to return for studies at Mykolas Romeris University in the future and of course, for tourism.
- Did you manage to learn any Lithuanian?
- I speak very basic Lithuanian. It is a completely different language for me, although I speak Portuguese, French, Spanish, English and a little German. The Lithuanian language classes with Mykolas Romeris University Prof. Violeta Janulevičienė were particularly helpful and very interesting. I learned so much.
- You have made many international friends while in Vilnius. From which countries?
- The atmosphere at Mykolas Romeris University is very international. I made friends with students from Italy, Spain, France, Germany, and Japan. We still talk a lot and keep in touch. Universities are a great way to connect with students from all over the world.
- You were known as an avid traveller when not studying?
- Yes, I visited so many places that were unexplored by me. They included Belarus, Estonia, Poland, Latvia, Finland, Sweden and Spain. I took cheap flights, buses and even did some hitchhiking.
- You managed to hitchhike across Europe? Where did you go?
- There was a competition organized by the Erasmus Student Network (ESN) at MRU where the winner would be the first group to get to Riga only by hitchhiking without paying a cent. We had to arrive at a famous statue in the very center of Riga to win. So, we found a guy travelling alone to Riga, but he was going to a place far away from the city center. When he heard about the competition, he decided to go all the way to that statue and leave us there. He even asked for a photo with us!
Another time we went for a weekend with a friend to Kirdeikiai (at the Aukštaitijos National Park) and took a train to Ignalina. We misread the distance between these two cities and thought we could walk or bike from one to another. It is about 14 km from Ignalina to Kirdeikiai. It was almost night and no one was at the train station in Ignalina when we left the train, except for a couple. We asked them how we could get to Kirdeikiai and they told us that, it would be hard now to get there. They asked us if we wanted a ride in their car. The conversation was so good that they offered to drive us back to Vilnius at the end of the weekend. We even had dinner with their family on the way back at their house. Amazing!
- What are your plans now that you have defended your Master's Degree?
- At the University of Lisbon, Portugal, I have recently defended my Master's thesis. It presents my ideas on how to deal with the tax challenges of the digitalization of the economy. This involves discussing how countries should tax profits derived from activities developed without having a physical presence in a place. I plan to pursue a PhD and to become a professor in the field of European and International Tax Law. I am applying to several universities related to my topics of interest. I will surely return to MRU and Vilnius to conduct research, take more courses.