aA
Claire Lignières-Counathe is the Ambassador of France to Lithuania. In this interview, she discusses various topics: from the visit of the French President Emmanuel Macron last September to the successful Lithuanian startup Vinted and the impact of Covid-19 on the Institut Français (French Institute).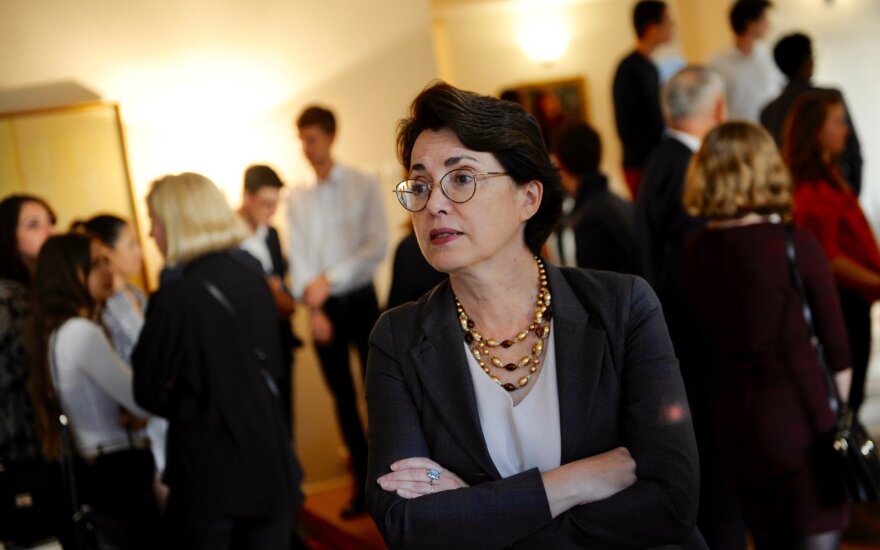 - Emmanuel Macron, the French President, undertook an official visit to Lithuania at the end of September 2020 – the first visit of a French President in 19 years. According to you, is it a sign of closer relations between France and Lithuania?
- This visit of the French President of the Republic shows the strong relationship between France and Lithuania and our common will to strengthen it. Our two countries are members of the European Union and NATO, which also explains the strong ties between us.
We can call this visit a great success. France and Lithuania are linked by a strategic partnership and we have updated its roadmap. Our relations cover a broad range of fields: the cultural field is often the most apparent, but we would like to foster political links – we already do – and economic ones – this is a component that needs to be further worked on.
- Was the Paris meeting of Foreign Ministers of Lithuania, Latvia, Estonia and France on January 26 a continuation of this first event?
- It is one of the continuations since it was not only a bilateral moment but also a Franco-Baltic one. However, of course, it indicates that we pursue this political dialogue on a close and regular basis. We hope to see other ministerial trips on both sides. For the moment, rather, the pandemic is hindering.
- How does the Embassy tackle the bicentennial of Napoleon's death? It is located in the building where members of Napoleon's army stayed in Vilnius, right?
- The army didn't live there, but people accompanying Napoleon's army may have resided in this building. Anyway, it is not the only building in this case: at that time, the Napoleonic armies travelled through several countries in Europe.
We haven't planned any official event for this bicentennial. This is also linked to the fact that there should be few official commemorations in France. As being said, we hold many commemorations at the French plot in the Antakalnis Cemetery, where remains of Napoleon's soldiers exhumed in the early 2000s are buried.
- Could France learn anything from Lithuania about startups, or more broadly about economics? What about the example of Vinted?
- Vinted is a symbolic startup in our relationships, a mainstream link between France and Lithuania: a Lithuanian unicorn whose first market is France. Other Lithuanian startups operate on the French market: NordVPN, Tesonet, a delivery startup (mobility aggregator), others in the biometric technologies.
Lithuania is also famous for fintech (companies specializing in new financial technologies). At the time of the President's visit to Lithuania, we signed a Memorandum of Understanding to promote cooperation between France and Lithuania, especially in fintech, but not only.
In Lithuania, there is a will to develop some niches – although not in the case of Vinted. For example, the government assists fintech, biotech, as well as startups working in education. This somewhat more specialised ecosystem could be an inspiration for France. Likewise, Lithuania could draw from the French incubators model. I think there is much to be learned from both sides.
- What is the Embassy's role concerning the Institut Français (French Institute)? Do some decisions solely depend on the Embassy?
- The Instituts Français are public institutions with financial autonomy: their funding comes partly from French courses income, but also endowments from the Embassy. The Institut Français de Lituanie (French Institute in Lithuania) is connected to the Embassy, its Director is also the Cooperation and Culture Counselor of the Embassy.
The French Institutes conducts various missions: the promotion of the French language, the academic and scientific cooperation, the cultural action strictly speaking (including performing and visual arts: music, dance, opera and cinema), and lastly the dissemination of knowledge and the debate of ideas.
It enjoys certain freedom of action but draws up its program following an action plan approved by the embassy. Everything is done in close coordination, also in partnership with Lithuanian ministries as well as cultural institutions: museums, opera, philharmonic, film festival organizers, cinemas, also private partners like art galleries… The goal is to be fully integrated into the Lithuanian environment.
- How did you adapt to the pandemic at the embassy and the Institut Français?

- Within a few days after the beginning of the pandemic, we adapted the French courses online. We noticed that we were reaching new audiences, for example, those who lived too far away from Vilnius. But at the same time, other audiences became bored: someone who works all week on the computer may not want to attend online courses. Somehow it balanced out.
We kept organizing conferences online. This can also bring in new audiences. We are currently considering what to keep from the experience of the pandemic. The theme must be chosen in light of the online conference offer, to ensure interest.
One of the conferences, organized as part of the Francophonie month, even garnered five thousand views! This was the one of Simona Liukaitytė-Suszczinska, a young Lithuanian scientist who participated with the CNES (French National Centre for Space Studies) in the Perseverance robot mission to Mars.
- Vilnius International French Lyceum (LIFV) recently expanded to the city centre. Is this a sign of a Lithuanian attraction to French culture or "French-style" education?
- There is an interest in French culture among many Lithuanians, no doubt about it! France is often related to culture. Moreover, in today's fast-changing world, many parents want to prepare their children to grasp this world. Often they believe that it is interesting for children to be enrolled in international schools.
Not all Lithuanian families who enrol their children at the LIFV are French-speaking, by no means... in general, they are not! They probably see the school as both a French school and an international school which also guarantees Lithuanian language learning.
This Lyceum has another advantage: it is part of the Agency for French Education Abroad (AEFE). When your children are enrolled in a school of this network and if you have to leave for another country, children can automatically continue their education in another French school of the network present in that country.

It is forbidden to copy the text of this publication without a written permission from DELFI.