The film, which was made 35 years ago and has never been screened in the Western countries before, was screened at the festival's program "ABSURDISTAN: Central European Cinema of the Absurd", which focuses on Central and Eastern European films from 1950-1989s.
The event marks the 30th anniversary of the independence of post-Soviet countries and focuses on the surrealist films of that era. "March! March! Tra-ta-ta!" - a film full of political parody and grotesque - was screened together with other Ukrainian, Romanian, Polish, Hungarian, and Czech films.
The film's plot takes place at the frontier of two non-existent countries, Centia and Groshia. Lovers Zigmas and Jadzė, live in the neighbouring countries that are at constant disagreement. Their romantic relationship is not acceptable, so they secretly visit each other by crossing the border at night.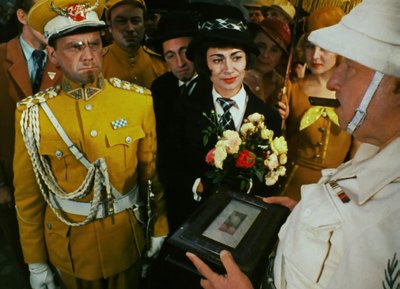 However, one morning, Groshia's Major Varnalėša accidentally falls into an open sewer pipe in the street. As he searches for the guilty ones, he blames Zigmas and Jadzė, and thus a military conflict between the two countries starts. Known for his innovative ideas, Raimondas Vabalas also appears in the film as a director, constantly reminding the viewers that what they see is not realistic.
According to film critic Gediminas Jankauskas, the film should be called a pamphlet because, as dictated by the rules of this genre, it mocks specific historical events or individuals without directly naming them. "The film received serious criticisms in its time. But we should not forget that the pamphlet is a rare phenomenon in the world cinema, therefore Lithuanian filmmakers should be praised for their courage and inventiveness,"- says G. Jankauskas.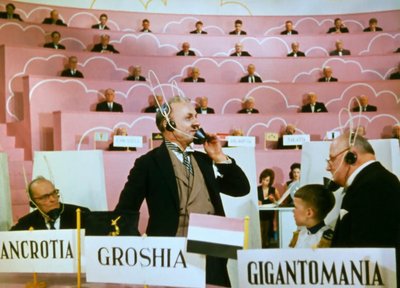 Cinema researcher Anna Mikonis-Railienė agrees with this idea: "Today the film feels like an attempt to deconstruct the postwar totalitarian system and the behavior of its ordinary citizens. In the political-satirical pamphlet, the director depicted the conformist behaviour of the characters. Vabalas used military satire as an excuse to ask the basic question: What does it mean to live heroically in war? Is it worth fighting if every fight is just an imitation of the theater of the absurd? If wars are caused by a wild hare that crosses the state border and two people in love? The film, based on Brechtian aesthetics, can be interpreted as an audiovisual commentary on a previous (as well as present) political situation."
The film will be later presented in Europe.