aA
RAF Typhoon jets have intercepted a passenger flight and diverted it to Stansted Airport, BBC news portal reported this as a breaking news.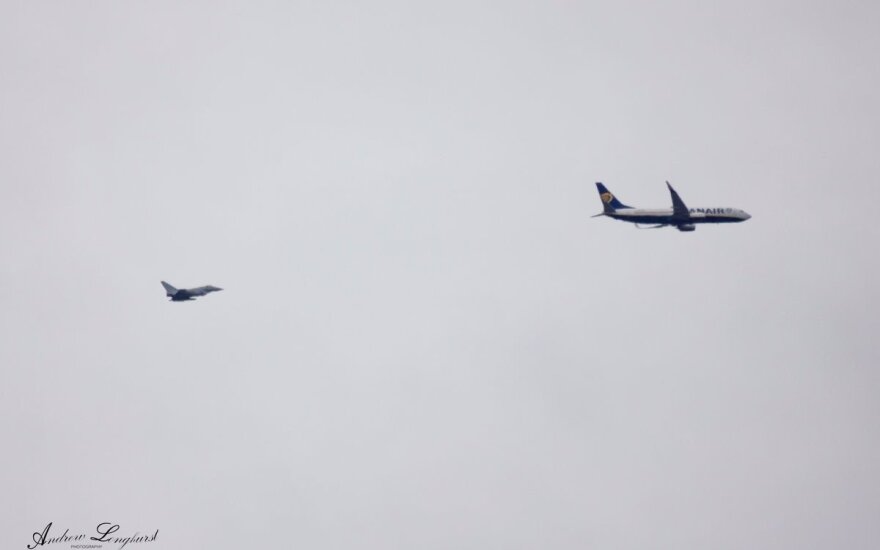 The RAF said to BBC that its quick reaction typhoon aircraft had been deployed this morning and had safely escorted the plane to the airport near London.

We are currently on scene at #StanstedAirport after a flight from Kaunas to Luton was diverted. We'll bring you more updates when we can. pic.twitter.com/77irdE72zE
— Essex Police (@EssexPoliceUK) October 4, 2017
According the Essex Police tweet 'the plane landed safely at around 8.55am and passengers being safely brought off. The runaway was closed for a short time but has now re-opened'.
Everyone had to drop hand luggage and back of plane pic.twitter.com/k74fQD765z
— JZ (@zulu_wooloo) October 4, 2017
BBC understands the plane was a Ryanair flight from Kaunas in Lithuania that had been diverted away from Luton, following a security incident.
@BBCEngland Not a sight you see everyday. Ryanair flight being tailed by a fighter plane. Something going on? Hope all is well over Suffolk pic.twitter.com/4yFTom2lMF
— Andy Longhurst (@AndyLonghurstUK) October 4, 2017
Joris Gintilas, the director of the Lithuanian Civil Aviation Administration told DELFI that they don't really know what had happened. However he said that 'we only know of a certain hypothesis from a few non official sources that, possibly, the Kaunas airport received a message about an explosive devise either in the airport or in the jet. Apparently this information was regarded as a hoax and not serious and the jet received a permission to proceed with the flight.'
'The flight was delight for about an hour, I was not anxious, only after we started to approach the airport we were informed that we are about to land in another airport and that we should not leave the plain and remain seated. After the jet landed passengers were asked to leave the plane and put their personal belongings on a ground near the jet,' DELFI reader from Vilnius said. According to the passenger they could keep only their mobile phones. Then the passengers were taken to the bus and taken to away. The passenger from Vilnius guesses that the bus is taking them to a place where the search will continue. The conversation took place at 12 am Lithuanian time.
You can see below the route of the escorted plane.
#QRA - Ryanair FR2145 escorted into Stansted by RAF Coningsby Typhoons pic.twitter.com/B8T5dKBOyf
— CivMilAir ✈ 🚁 (@CivMilAir) October 4, 2017