The residents always commemorate important dates at the Independence Monument created by sculptor Robertas Antinis in 1931. On February 15, they surrounded the monument with a live chain of people and turned on the lights, which will remain turned on the remainder of the centenary year.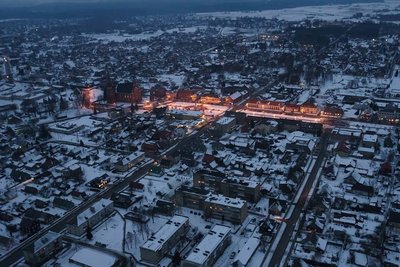 Later on, with the help of riflemen volunteers they lit 200 torches and in a procession carried the symbolic light to the newly established Centenary Square. Up to now, the square was named after Soviet Union hero Yakov Smushkevich.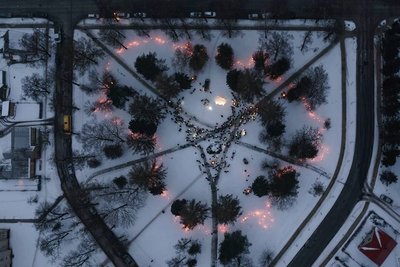 As per a ruling of the Rokiškis region municipal council, the name was changed to Centenary Square, land developers are creating a plot of land, which reflects the contours of Lithuania. This unprecedented plot is a gift from Rokiškis residents on the celebration of the centenary. The points of the Centenary Square map which precisely match the locations of the major Lithuanian cities – Vilnius, Kaunas, Klaipėda, Šiauliai and Panevėžys, as well as Rokiškis had bonfires lit on them. The celebration was organised by Rokiškis region public and youth organisations, culture institutions.