aA
This year, the Lithuanian cosmo-biologist Eglė Čekanavičiūtė, a researcher from NASA, will speak at the International Conference Open Readings 2021 for young researchers organized by the Faculty of Physics and the Centre for Physical Sciences and Technology of Vilnius University.
Čekanavičiūtė completed her neurobiology studies at Harvard University and earned her PhD in neuroscience at Stanford University.
The researcher has achieved her childhood dream of working for NASA and is currently researching the human central nervous and immune systems at the Space Biosciences Research Branch of NASA Ames Research Centre.
Her work focuses on ensuring optimal health for astronauts returning to Earth after space flights. Her field of research interests includes neuro-immune and neuro-vascular disorders caused by cosmic radiation, to which the astronauts travelling to the Moon and Mars will be susceptible.
- Could you briefly tell us about your scientific journey – what paved your way to NASA?
- I have been obsessed with space exploration since childhood, and I dreamt of working at NASA when NASA and California seemed about as far away as the Moon. Of all the scientific fields I was most fascinated by biology, especially neurobiology, which was not taught in Lithuanian universities back in 2003, so I applied to US universities, hoping to get full financial aid. I was accepted after two years of trying and got my Bachelor's in Neurobiology at Harvard, followed by a PhD in Neuroscience at Stanford, and continuous dreams of NASA. Finally, during my postdoc at UCSG I realized that my expertise in neuroimmunology is highly applicable to space biology, and was invited to join the Radiation Biophysics Lab at NASA Ames Research Center, where I have been working for the last four years.
- What research are you focused on right now?
- Currently, I am studying how deep space radiation (the kind that will affect astronauts on lunar and Mars missions) affects the brain, and especially the brain vasculature. For that, we build tissue and organ models, simulate radiation using particle accelerators and investigate the changes at both the cellular level and at the level of the brain's blood vessels. We are studying how the adverse effects could be mitigated to reduce the health risks.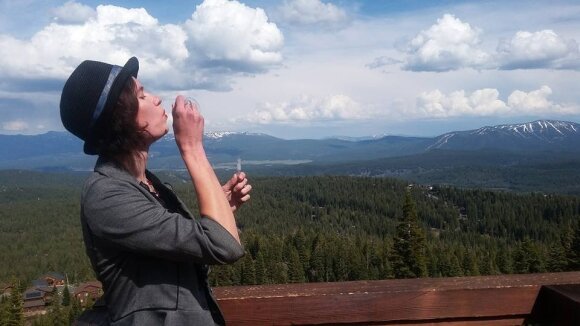 © Asmeninis archyvas
- What has given you most joy in your work, be it something constant or a one-off discovery?
- Personally I find the most joy in working with students and young researchers, who are just beginning their careers in science. I find it incredibly fulfilling to work together, to look for answers to their questions and watch them build new experiments, give awesome talks at conferences and have their first article published. I am very proud of all my students and I try to continue supporting them even if they no longer work with me.
- What do you think matters most in pursuing a career as a scientist – being able to deal with failures, complete dedication to one goal, inspiring work environment, or something else?
- I will answer from my own perspective: what has mattered the most in pursuing my own career. Probably, perseverance and the courage to try something completely new and unknown (an experimental technique, a scientific field or even teaching my first students) and to learn by doing. In addition, I can't say how much my unquenchable enthusiasm has helped my career directly, but it has certainly assured that I am happy to go to work every day.
- Our conference is primarily focused on young university students. If you could give them one piece of advice, what would it be?
- I would say to them that no matter how difficult the daily experiments may get, no matter how many failures you may face, do not lose the simple scientific curiosity and the joy of discovery.
As scientists, you are working for the future – you are building the collective human knowledge even if by the tiniest piece at a time. I honestly cannot imagine anything more exciting or more inspirational.
You can listen to dr. Lectures by Eglė Čekanavičiūtė on 19th of March 9 a.m. on YouTube channel.

It is forbidden to copy the text of this publication without a written permission from DELFI.