In late 1906, Čiurlionis received an invitation to participate in the First Exhibition of Lithuanian Art. That event would be a pivotal moment in the young artist's life. He would participate in the exhibition, become involved in an art movement and meet his future wife.
Lithuanian composer Mikalojus Konstantinas Čiurlionis had been identified at an early age as a prodigious musician receiving support from the Polish elite, first to study in Plungė and then in Warsaw. After completing his music studies in Warsaw and advanced composition classes, he increasingly turned his attention to painting and drawing.
Rather than concentrating on composition, orchestration, and performing, he used income from private music lessons and conducting a choir to attend drawing and painting courses in Warsaw. He would refer increasingly to himself as a 'synthesist', perceiving colours and music simultaneously and the two art forms would cross feed each other.
Čiurlionis had a prolific output during his short life. Four hundred musical compositions and 300 paintings. In addition to that, he wrote several literary works, including an unpublished, somewhat Kafkaesque novel that, sadly, disappeared with many other artefacts in fire and as a result remains unpublished.
In the immediate period following the first Russian Revolution in 1905, Mikalojus Konstantinas Čiurlionis' awareness of his Lithuanian identity took shape. It was an environment at the crossroads of events that would create the modern Lithuanian state.
In early 1907, Čiurlionis left the School of Art and he became one of the initiators and participants in the first Exhibition of Lithuanian Art in Vilnius. He showed some of his own works, including the Creation of the World and Storm cycle. Soon after this event, Čiurlionis with 18 others participated in the constituent assembly of the Society of the Lithuanian Art, was elected to its executive board.
During this critical year in his short life, Čiurlionis painted a massive number of new works, 50 in total, and he completed the orchestration of the symphonic poem The Sea. He started working on the symphonic poem Creation of the World.
It was at a dress rehearsal for Gabrielius Landsbergis-Žemkalnis' drama Blinda that he met the writer and art critic Sofija Kymantaitė (1886–1958). Sofija was not only a writer but also an activist in the campaign for Lithuanian cultural independence. Following this meeting with Sofija, 31-year-old Čiurlionis started to improve his Lithuanian language skills. Later that year Čiurlionis moved into the backroom of the house on Savičiaus Street 11 in Vilnius that now bears his name and that has become a major centre to promote his work and legacy.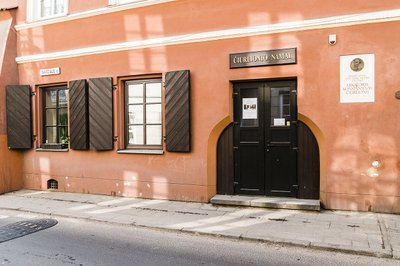 The pianist Rokas Zubovas, the composer-painters' great-grandson, is now the custodian of the house owned by the city of Vilnius.
Although Čiurlionis lived only a short time, less than a year, in the house on Savičiaus Street, it would be significant in his life as it is the only remaining building where he lived in Vilnius that survived Lithuania's tumultuous history. During his stay in Vilnius, he led the Vilniaus Kanklės choir, gave a concert with the choir and performed as a pianist. Assisted by Sofija Kymantaitė, Petras Rimša, and several other enthusiasts, he put on the Second Exhibition of the Lithuanian Art in Vilnius and Kaunas, creating the cover design for its catalogue, and exhibition poster.
The same year, Čiurlionis joined the discussions in Viltis regarding the founding of the House of the Nation. He campaigned to raise the funds for its establishment and promised to donate all his works to it.
On 30 May 1907, Čiurlionis' cantata De Profundis, his graduation work in Warsaw, was premiered in Vilnius, conducted by the composer. In June during his stay in Druskininkai, he painted Sonata No. 3 and No. 4 and during the summer in Palanga with his fiancée Sofija Kymantaitė, he painted Sonata No. 5 and the diptych Prelude and Fugue, and the triptych Fantasy.
Čiurlionis and Sofija made a plan to write an opera Jūratė (The Sea). After the summer holidays, the couple visited Sofija's parents in Kuliai and Karklėnai, and then returned to Druskininkai.
Upon the advice of the Vilnius-born artist Lev Antokolsky, Čiurlionis went to St. Petersburg, hoping to find a more regular source of income and to take part in exhibitions. St. Petersburg, a Russian port city on the Baltic Sea, was then and now an important art centre in Russia. On the second trip to that northern Russian city, the artist Mstislav Dobuzhinsky introduces him to Russian artists who accepted him into their association. Čiurlionis started to give private lessons again, and he received help and support of Lithuanians living in St. Petersburg.
Meanwhile Čiurlionis kept on making musical arrangements of Lithuanian folksongs for the Vilniaus Kanklės. He was also writing music for the opera Jūratė, based on the libretto sent by Sofija, and painted sketches for the set and curtain. At the end of December, he re-joined his fiancée, Sofija, and in early 1909 the couple got married in Šateikiai, a small town near Plungė. After the wedding, they went to St. Petersburg, where Čiurlionis exhibited some of his paintings.
This was a tumultuous period in Čiurlionis' life. The love and support of his wife, Sofija balanced the personal struggles dealing with poverty and illness. Later in the spring of that year, Čiurlionis' works were displayed at the Salon exhibition in St. Petersburg.
During the first spring exhibition of the Vilnius Society of Artists, three of his works were shown at the sixth exhibition of the Russian Association of Artists, among them one of his major works Rex, which was painted in St Petersburg. He sent several of his paintings to the 13th exhibition of the Sztuka Society of Art Lovers in Krakow.
His piano works were performed at a concert in the series Evenings of Contemporary Music in St Petersburg in January 1909. In February, his works were performed at a concert held by the Salon exhibition, along with the compositions by Alexander Scriabin, Nikolai Medtner, Igor Stravinsky and Sergei Rachmaninoff.
At the end of March, the couple returned to Druskininkai. They would go to Vilnius to take part in the organisation of the Third Exhibition of Lithuanian Art. Čiurlionis designed its poster and the cover of the catalogue. He displayed more than 30 works at the exhibition, including Sonata of the Serpent, Sonata of the Sea, Sonata of the Stars, Fairy Tale of the Kings, and the triptych Fantasy. His paintings were displayed at the exhibition to mark the fifth anniversary of the Warsaw School of Art.
In June, he and Sofija painted the stage curtain for the Rūta Society's hall, and he appeared as a pianist in concerts held by the Society. During the summer and autumn, Čiurlionis and Sofija lived in Plungė, where he painted 20 works including The Altar, Angels (Paradise), Lithuanian Graveyard, and writing a large number of sketches and vignettes for folk songs.
Together with his wife, Čiurlionis wrote a book of critical essays In Lithuania. In a general meeting of the Lithuanian Society of Science, Čiurlionis was elected the member of the committee for collecting and notating songs.
In late 1909 Čiurlionis travelled with his paintings, once more, to St Petersburg. He received a proposal to lead the Lithuanian Society's choir in St Petersburg.
However, on Christmas Eve, Čiurlionis fell into a profound depression as his passionate creative work and constant material deprivations had seriously undermined his health. The neuropathologist and psychiatrist Vladimir Bekhterev diagnosed him with exhaustion. On the professor's advice, Čiurlionis' wife took her sick husband back to Druskininkai, only to have him admitted to the "Czerwony Dwór" (Red Manor) sanatorium in Pustelnik near Warsaw.
Although there is some speculation as to the extent of his illness, neuropsychology was still in its infancy, it is clear that the constant struggles had taken its toll. Čiurlionis had been offered an academic position, a strict environment that he had rejected to expand his interest in visual arts. The struggle and lack of recognition for these divided loyalties between painting and composition led to financial difficulties. That at a time when he had gotten married and his wife was expecting their first child.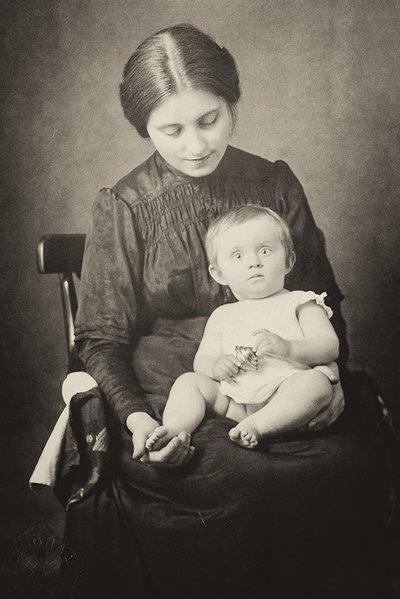 In 1910, the paintings Noah's Ark, Angels (Paradise) and Ballad (The Black Sun) were shown at the Seventh Exhibition of the Association of Russian Artists in Moscow and some of his works were displayed at the Seventh Exhibition of the Association of Russian Artists in St Petersburg. Nine of his paintings were shown at the Fourth Exhibition of Lithuanian Art in Vilnius.
During the same spring of 1910, 28 of his works were shown during an Exhibition of Lithuanian Art in Riga. At yet another exhibition of the Association of Russian Artists in Kiev, several other works were displayed. On 30 May 1910 Čiurlionis' daughter Danutė was born, months after his hospitalisation near Warsaw.
During the summer, 7 works by Čiurlionis were shown in Paris at an exhibition of works by Russian artists. Sofija Čiurlionienė's book In Lithuania was published in Vilnius. Čiurlionis' health improved, and he was allowed to paint and play in moderation.
In the autumn of 1910, he received a belated invitation to participate in an exhibition of the Artists' New Congregation in Munich. Čiurlionis was elected a member of the newly established society Mir Iskusstva (The World of Art) in St Petersburg. His wife received a card, dated 5 November 1910, in which he expressed hope to see her and his daughter soon.
In early 1911, Čiurlionis' paintings were displayed at Mir Iskusstva exhibitions in St Petersburg and Moscow, and four of his works were shown at an exhibition in Minsk. Twenty-eight of his works were displayed at the Fifth Exhibition of Lithuanian Art. Clearly he was recognised as a significant artist. His health was gradually improving, but at the end of March, he caught a cold and contracted pneumonia during a walk.
On 10 April 1911, Čiurlionis died of pneumonia, 35 years old in the Czerwony Dwór sanatorium in Pustelnik. He was buried at the Rasos Cemetery in Vilnius. He never saw his daughter.
Already in the year of his death, a first posthumous exhibition of Čiurlionis' art took place in Kaunas and Vilnius. There was also an art exhibition in Moscow. A year later, in 1912, another exhibition of his works took place in St. Petersburg.
In 1921, the M. K. Čiurlionis National Museum of Art was established in Kaunas and the first exhibit of Čiurlionis works took place in 1925. The Lithuanian community in Chicago opened a Čiurlionis Art Gallery, hosting collections of his works. In 1963, the Čiurlionis Memorial Museum opened in his hometown of Druskininkai.
On September 22, 1995, the M.K. Čiurlionis House in Vilnius was opened, it functions as a research centre and organises exhibitions and cultural events. Then as today there is a real effort at all levels of Lithuanian society to preserve and promote the work of one of Lithuania's most famous sons.