While many of us consider ourselves to be film connoisseurs and dedicate our free time to the cinema, only a few had an opportunity to lift the veil of the film industry and get behind the scenes of this – at first glance – romantic work. Film producer Lineta Mišeikytė and head of Kaunas Film Office Aurelijus Silkinis tell us about the process of making a film that makes you fall in love with cinema once again.
When rushing to work, many Kaunas residents don't raise their eyes to look at the buildings on the central streets of Kaunas, but filmmakers from all over the world admire the greenness of the city and our interwar period architecture. Cinema lovers might have seen the latter in, perhaps, the most famous mini-series filmed in Lithuania Chernobyl (2019). Watching the Moscow scenes, sharp-sighted viewers could recognize the exceptional art deco building located at Vytauto Ave. 58, as well as the former 8th building of Kaunas University of Technology.
Kaunas constantly plays various roles in feature, documentary, television, and short films. According to Aurelijus Silkinis, the head of the Kaunas Film Office, Kaunas, or more precisely its buildings have repeatedly reincarnated into Moscow and Germany; they also became sceneries of Israel, Sweden, Finland, the UK, sunny Spain and Italy, and even Japan. M. K. Čiurlionis National Museum of Art, for example, was turned into the halls of Tokyo Trial (2016). Let's not forget the abundance of Lithuanian-made films in Kaunas – from the first full-length Lithuanian comedy Annie and Johnny (1931) to the recent ones Emilija (2017), Ashes in the Snow (2018) and Nova Lituania (2019).
Even with strict restrictions imposed on filmmakers due to coronavirus, the cameras do not stop rolling. Currently, the filming of a documentary film about the Lithuanian Constituent Assembly is underway in Kaunas.
Fascinated by landscape and architecture
Lineta Mišeikytė, one of the most prominent Lithuanian film producers, the founder of Baltic Film Services, who helped foreign and Lithuanian filmmakers create more than thirty TV shows and films, helps us better understand the phenomenon of Lithuania's attractiveness to filmmakers. "It is impossible to film mountains or oceans in Lithuania because we don't have them, but if our architecture and landscape are suitable for telling a story, then Lithuania will definitely be chosen for filming. The main reason for this is that we are known as a country where projects are implemented professionally and with good quality," the producer of Chernobyl reveals. She says she even receives questions from her Polish colleagues, who ask, "What do you do that you manage to attract the best projects and creators?" She has also noticed more than once that there is a good rumour floating among the cinema people about the wide possibilities of filmmaking in Lithuania.
Architecture, landscape, the universality of the city, and its people – these same advantages are also mentioned by Aurelijus Silkinis, the head of the Kaunas Film Office when he talks about the reasons why filmmakers choose Kaunas to implement their vision.
"The architecture of Kaunas and especially our pearl – the interwar period architecture – is very beautiful and universal. Not only is it suitable for reproducing the events of that time, but it offers a very wide range of filming possibilities and can transform into different countries on the screen, such as the United Kingdom, or Germany, which has similar buildings. It is a chameleon-like city that can easily turn into something else. We also have – albeit small but nonetheless beautiful – old town as well as unique structures: Kaunas forts. There are not many that well-preserved forts of this style in the world," A. Silkinis names the numerous architectural advantages of Kaunas.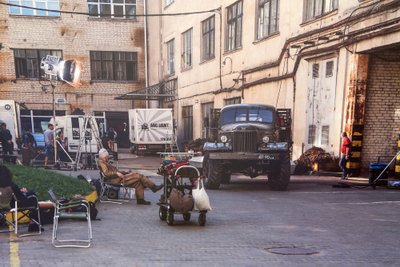 According to him, there is also no shortage of places in the Kaunas region that many foreign filmmakers have expressed admiration for. For example, Rumšiškės, which is one of the most versatile film sets due to its large territory and old buildings, and also Nemunas and Nėris landscapes. "We even have a yacht club in the city. The filmmakers don't have to drive hundreds of kilometres to film boats and water scenes. We are a compact city that has little of everything," head of Kaunas Film Office says.
L. Mišeikytė agrees, stating that foreign film crews get used to short distances in Lithuania very quickly and are happy when they realize that their hotel is only 15-20 minutes away from the filming location.
The greatest value of a country is its people
Lineta Mišeikytė reveals another very important reason why foreigners come to film in Lithuania, "Foreign filmmakers always want the Western work culture – transparency and professionalism. We definitely have it and cannot work otherwise. I would also mention the ability of Lithuanians to adapt. Each country has its own work culture, but Lithuanians are very flexible in this area, and they ask, "How are you used to working in your own country?" They also speak many foreign languages. For example, having a person who speaks English, Lithuanian, Russian, and a bit of French on a film set of a French project is a great asset. Where in France will you find a specialist who speaks not only the native language but also Russian? It turns out that we have such people in Lithuania."
"Another thing is the kindness of locals. You need to understand that when filming, we invade the private lives of people and disturb their usual rhythm. They are temporarily unable to drive on a certain road, are asked not to park a car in a certain place, and so on. That kindness fascinates me because, without it, we wouldn't be able to do anything," A. Silkinis emotionally explains.
Huge cinema's benefit to the city
Foreign filmmakers discover numerous advantages when choosing Lithuania, but it is equally beneficial for the city or a region to welcome the film projects. "The economic aspect is the most important one. Cities all over the world are doing their best to attract filmmakers because they mean large upcoming investments: job creation, earnings for hotels, restaurants, and the like. I don't know if that many people would be able to work in the Lithuanian film industry if only Lithuanian film production was encouraged. A decade ago, one or two, mostly up to three projects were filmed at the same time in Lithuania, and now the market can accommodate 5-6 projects at the same time.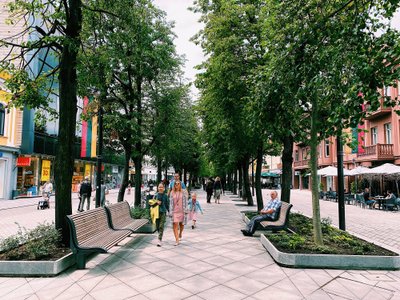 It is no secret that the Chernobyl budget was the largest filming budget in Lithuania to date and amounted to a dozen million euros. War and Peace had a slightly smaller budget – not more than 10 million euros and 200 or 300 thousand euros are usually needed to create a documentary with re-enactments," says L. Mišeikytė.
Of course, the producer reveals that she is often asked about what local talents we have. She says, for example, that the French team, which had a plan to bring 3 or 4 fine artists from France, eventually changed their mind and decided to bring only one and they looked for the remaining specialists in Lithuania. Foreigners diligently do homework and check what projects and what people the Lithuanian has worked with; they observe how the specialist solves problems and whether their vision and opinions coincide. The benefits of working with foreigners, and having the opportunity to learn from them are enormous.
When foreigners speak nicely about their work in Lithuania, about the local hospitality, they turn into ambassadors, L. Mišeikytė says, and she is convinced, that it helps to expand the geography of cinema and create a favourable image of Lithuania. However, there is no lack of competition in this area, so projects have to be fought for. First of all, with the neighbouring Baltic countries and Poland. It is not easy to prove Lithuania's advantages in comparison to the largest film clusters, such as Hungary, the Czech Republic, Romania, and Bulgaria.
"After the big projects, I told my team that we are truly capable of many things. We have grown, only sometimes modesty or mistrust in our own professionalism puts us at a disadvantage. It is very useful to have an abundance of projects and to be able to compare them with each other, thus testing your competence," L. Mišeikytė names the advantages of working in international teams. She wishes for even more projects in Lithuania that would contribute to the growth of teams working in the film industry.