The fragments of gravestones will be transported for safekeeping to the territory of the old Jewish cemetery of Vilnius (on both sides of Kirkuto Alley).
New stairs will be installed during the construction of the National Concert Hall, and the paths of the Lutheran Church Garden will be connected to the NCH terrace.
Vilnius City Municipality consulted with representatives of the Jewish community and the Department of Cultural Heritage regarding the demolition of the stairs constructed from memorial stones. More than 1,000 tonnes of fragments of memorial stones found in various parts of the city are already stored in the old Jewish cemetery of Vilnius in Šnipiškės and the territory of the old Jewish cemetery of Vilnius in Užupis (Olandų St.). In the Soviet era, they were used in the construction of transport infrastructure and buildings. Memorial stones with inscriptions were taken to the site near the old Jewish cemetery at Olandų St. from the territory of T. Kosciuškos, Latvių, Vytauto Streets and the Western bypass. Many places, where objects built from fragments of Jewish gravestones have been recorded, have already been repaired – the memorial stones have been dismantled, and in cases where the structures are not yet planned to be demolished (in Lazdynai (Žėručio St. 4), Antakalnis, in the territory of the Vilnius City Clinical Hospital and near the retaining wall, located at Vytenio St. 6), they have been marked with information boards by the city municipality after consulting with the Jewish community.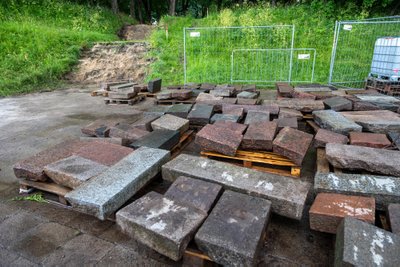 A part of the previously dismantled gravestone fragments from various buildings has been returned to the territory of the historical old Jewish cemetery of Vilnius in Užupis, where it is planned to install a memorial and properly perpetuate the memory of the townspeople buried here.
The Užupis cemetery in Vilnius was used from 1830 to 1963, where Jewish townspeople who lived in Vilnius at the end of the 19th century and the beginning of the 20th century were buried. In 1961, the Soviet authorities passed a resolution to liquidate the old Jewish cemetery of Vilnius in Užupis, and the gravestones were used instead of building materials (for stair treads, retaining walls or the decoration of façades of transformer stations), often without even trying to carefully erase the inscriptions carved on them. After the destruction of the cemetery, the Jewish cemetery of Užupis turned into a wasteland covered with occasional vegetation.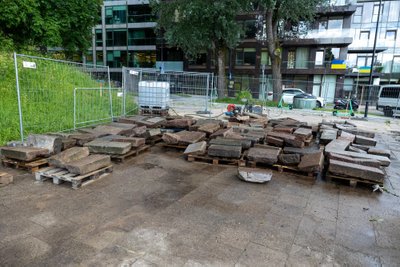 A few years ago, the 11-hectare area of the old Jewish cemetery on Olandų Street was renovated for visitors – avenues of trees, paths, information stands were installed, and the nearby forest was properly arranged.