aA
On July 12, a personal exhibition of the artist Akrolesta (a business immigrant from Russia Tatiana Sokolova) opened in the Seimas of the Republic of Lithuania.
The exhibition was organized by the Association of Business Immigrants and Investors under the Acquaintance project and was actively supported by the Deputy of the Seimas Algimantas Dumbrava.
Such an event is an honor for any person or a company. Therefore, we decided to talk to both the artist and the President of the Association of Business Immigrants.
First, we asked questions to Romas Stumbris, President of the Association.
- Romas, why did you decide to organize such an exhibition?
- An exhibition of works by an artist and a business immigrant is the implementation of one of the points of the Association's program: acquaintance of Lithuanian citizens and deputies of the Seimas, with foreign businessmen and investors. After all, you can get to know each other in different ways, including through joint meetings, events, exhibitions, concerts. Because before sitting down at the negotiating table and discussing something, people first get to know each other - they greet, introduce themselves, shake hands.
The Akrolesta exhibition is one of the options for such an acquaintance.
- How did it happen that you, a Lithuanian citizen, decided to deal with the problems of business immigrants and the protection of their rights in Lithuania?
- First, because Lithuania needs it. With a soft migration policy, small and medium foreign investments, granting foreigners an unhindered right of residence and setting up a business in Lithuania, we can significantly strengthen the Lithuanian economy.
The benevolent migration policy, the elimination of restrictive provisions of the legislation can increase Lithuanian GDP, and make Lithuanian residents richer and happier.
Secondly, in my opinion, a different legislative approach to enterprises of business immigrants and Lithuanian citizens negatively affects the competitiveness of Lithuanian businesses and violates the basic principles of human rights observance. And if in our country different categories of residents have different rights, it will be difficult to talk about democracy and freedom.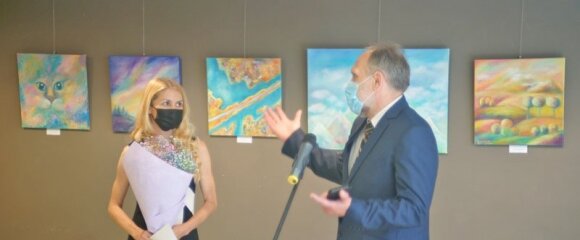 © Asmeninio albumo nuotr.
When one business is in a legislatively privileged position relative to another, then in the end everyone suffers. Privileged business is getting worse and worse, non-privileged business dies, residents receive low-quality products and services, and as a result, the budget receives fewer taxes. People, energy, entrepreneurship, intelligence, and businesses are flowing out of Lithuania.
Thirdly, helping business immigrants, improving the economic situation in Lithuania, and making it more democratic is very interesting. I have experience in representing interests. At the Business Immigrant Association, my job is to help business immigrants solve a variety of issues. I am a tool for solving problems raised by business immigrants.
- Russian-speaking immigrants often have a negative attitude to the concept of lobbying. In some countries of the former USSR, lobbyists are perceived as not always clean on hand people who act through bribery.
- This was the first thing I encountered when I started working with business immigrants. They interrogated me with passion for two hours. They could not believe that in Lithuania lobbying is a legal type of activity, licensed and regulated by laws. All the same, it is an important part of the democratic process, feedback.
Not every group of people, not every business has its own representative in the Seimas. Not every deputy has the strength, the time, the opportunity to devote a sufficient amount of time to the problem of a particular resident or enterprise from his district.
The task of lobbying in general and the Association, in particular, is to accumulate the needs and requests of business migrants and present these needs, requests, proposals to all deputies, factions, parties, ministries, and the government.
The Association gives business immigrants the opportunity to convey their point of view to the power and legislative structures of Lithuania. Provides an opportunity to consolidate efforts, and not "swim out alone."
On the other hand, it is easier for the Lithuanian authorities and legislative structures to communicate with the Association as a structure that summarizes the requests and demands of foreigners than with any individual business immigrant.
All this makes it possible to quickly contact the authorities and reach a mutually beneficial compromise, the "win-win" position.
- Then I wish all of us to win, with the participation of your Association, in the legislative and economic life of Lithuania.
And now let's talk about relaxation topics with the author of the paintings - Akrolesta.
- How do you feel about the fact that your paintings ended up in such an unexpected place, in the Seimas of Lithuania?
- Why not? The deputies also need relaxation. Take a break from laws and numbers, plunge into the world of images and colors, expand the horizons of consciousness.
- Have you been to the Seimas before?
- To be honest, no. This is my first time in a government building. Somehow it was not necessary. It was scary at first. Such pathos and solemnity. Checking like in the airport. But then I relaxed.
Everyone around is polite, courteous. This cannot be compared to how my registration was checked in Moscow (I myself am from Chuvashia) when I was invited to a casting on television.
People from the Association of Business Immigrants helped to feel easy and comfortable. They came to support me. I saw everyone who came for the first time and knew only in absentia. I was pleased that the exhibition became an opportunity to bring communication to another level.
Circumstances required me to speak, but I wanted to listen more, learn the stories of other people. Among the immigrants, there are polyglots, people with three higher educations, talented designers. Each of us brings new experiences, knowledge, and features. It's like an additional ingredient or seasoning in the main dish that makes it better.
An immigrant is like a dandelion seed caught in the wind and landed in new lands. Sometimes you have to break through the asphalt and repeat to yourself: "I can!" Sometimes you feel like a weed among a flower garden. You remind yourself of a cactus. You prick because you are pricked. Immigrants are carbon, give time and we will turn into a diamond.
- Tell us a little about your collection. What does "relax art" mean?
- I invented Relax art as a way of meditation, removing templates and frames. A creative process for the soul that comes from the soul.
It's like jumping down a rabbit hole with Alice, making friends with the Little Prince and drawing boas that swallow an elephant.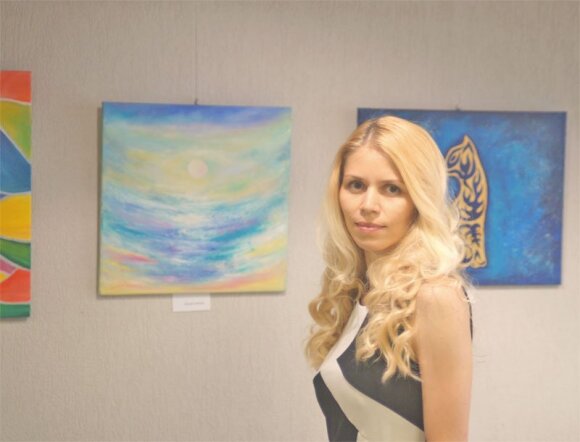 © Asmeninio albumo nuotr.
I have no task to show familiar objects. Creativity is an experiment and freedom of expression. There is no room for condemnation, comparison and evaluation. This is a space for relaxation and meditation.
You may have heard of art therapy for which art is a way to help and heal. This is so important especially during a pandemic. A journey into the world of fantasy and colors, pacification, salvation from depression.
My paintings are like "dandelion wine", a childhood memory, a soft blanket or an ice cream cone.
- What style do your works belong to?
- A very interesting question. Probably, my critics will give a more accurate answer, as in the case of the Impressionists, who got their name after the criticism of Louis Leroy.
To be honest, I have already been called an expressionist, symbolist, primitivist, constructivist. I prefer an artist or a creator, because it does not create another frame, but gives a wide range of possibilities.
For me, art is a way of communication, it is a tool with which you can simply relax, or you can ask questions and provoke the viewer to look for answers. "RelaxArt" is just one of the directions. In addition, there is "JazzArt"- improvisation on the themes of classical artists. "SmartArt", the main task of which is to give the viewer food for thought. According to Descartes: "I think - it means I exist."
In my opinion, the main thing in the picture is the idea. It is good if it is clearly and beautifully presented, but this is not the most important thing. Physical formulas are rather laconic, but this does not prevent them from having weight and significance.
It's hard to talk about pictures. It is better to show and watch them. Critics will come up with their own interpretation, and the viewer will decide whether he likes it or not. And everyone will be right and wrong in their own way. And this is not the most important thing.
Art is valuable in itself. It expands the understanding of the world, allows you to see it not in black and white, but in rainbow colors and appreciate all the colors of the palette, even if you don't like some.

It is forbidden to copy the text of this publication without a written permission from DELFI.