aA
Attending universities abroad is no longer an unreachable dream; it is one option that more and more students consider to pursue as a means to achieve their higher education and career goals. In some schools, like The American International School of Vilnius (AISV), 90 percent of graduates will go abroad to pursue their higher education.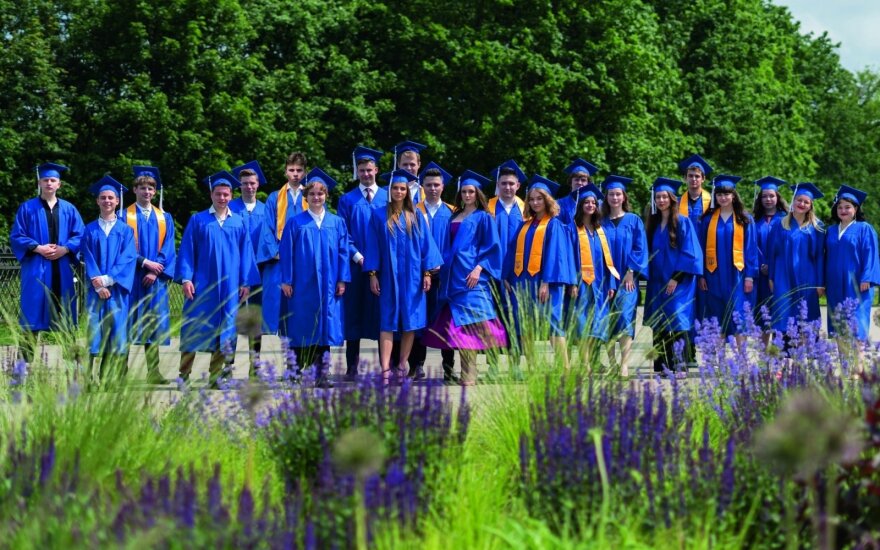 We asked some of AISV graduates to share their recommendations on finding and enrolling in their dream university abroad, the school writes in a press release.
Artem Kyrylov, studying Liberal Arts at Brown University in the United States:
"Admissions to the world's most selective universities are getting more competitive by the year. For the Class of 2024, Brown's acceptance rate was ~6.9, meaning more than 93 out of 100 applicants, all no doubt very talented, were rejected. In light of this, the prospective applicant's profile must be a balanced combination of stellar academic performance, extracurricular engagement, and personal qualities, all of which AISV has been insanely helpful in developing.
I suggest starting thinking early - not beginning in primary school, of course, but beware that what you do and how you do it throughout high school will matter. Do your research - in all honesty, I hadn't heard about many universities aside from Oxford and Harvard before I started applying, and it's important to remember that finding your "one and only" requires effort on your part. Look beyond the rankings - there's so much to consider."
Mantas Gudelis, currently studying biochemistry at University of Edinburgh, Scotland:
"Studying abroad, it was a bit stressful at the beginning, as it was (and still is) probably the biggest choice of my life so far. But, quite frankly, there were no real challenges apart from deciding where to apply. In my opinion, universities are like a box of chocolates - you never know where you'll get into. All you need to do is to grab the right box, and no matter what shape of the chocolate is, you'll be happy eating it. Jokes aside, study hard, and reach for the stars. The critical part is - multiple stars and at the end of the day, make sure that wherever you'll end up going, you're going to be physically and mentally satisfied."
Gabriele Degutyte, currently studying social sciences at Sciences Po in France:
"Throughout high school, I was able to create several criteria for what I wanted to get out of my university experience. As there are so many universities to choose from, knowing that I wanted to study the political sciences and stay in Europe for my studies allowed me to narrow down my choices. Other factors, such as present associations, student life, and alumni and current students' opinions, made me apply to the universities I had applied to. Completing the IB Diploma rightfully prepared me for university. I was able to study subjects that would be beneficial to my university courses. My active participation in extracurricular activities in high school truly solidified my want to study the field that I am in. The most important thing that I can advise is to be certain that the university and degree that they are planning to go into are the perfect fit for you. Sometimes the top-ranked universities and the universities that your parents want you to go to may not be ideal for you. Stay realistic and make sure you are doing it for yourself and no one else."
Meghan McMorrow - currently studying Global Challenges at Leiden University College, Netherlands:
"I am studying Global Challenges in which we focus on four challenges that the world is facing today: diversity, sustainability, peace and justice, and prosperity. So far, I am absolutely loving it! I am learning so much from my classes and enjoying meeting new people. Everyday life for me consists of doing readings and homework for my classes during the day while taking fun breaks to go for a walk, hang out with friends, watch TV, etc. My College Counselor, Mrs. Ruz, introduced me to the program and I fell in love! The curriculum was exactly what I was looking for, and the sense of community was perfect for what I needed.
As I was studying for the IB Diploma at AISV, it has helped me significantly in the way that I am a better writer, thinker, and learner than I used to be. AISV helped prepare me by teaching me how to work hard and live a balanced lifestyle. I applied Early Action to LUC and was lucky enough to get in by January. Our college counselor helped me through the process by assisting me in brainstorming what to write about and going over my application before submission.
As an advice for my younger friends, I would suggest establishing a social network right away. It can get lonely especially when you are new and don't know anyone, so the sooner you go out there and make some new friends, the happier you will be."
A word from the AISV College Counselor: "best fit" university is different for every student
"When selecting a higher education institution, there are many factors to consider, including cost, geography, competitiveness, quality and style of teaching, academic programs, and university size. While evaluating these factors, we encourage students to look for the "best fit." A "best fit" university is one that provides high-quality education and an environment that meets the needs and wants of the student, where he or she will be challenged while being successful, which is different for every student", - comments Claire Ruz, AISV College Counselor. At AISV, the college counselor supports students throughout high school by helping them achieve their higher education goals; she encourages them to explore and research career and university opportunities, prepare academically, and support them throughout the application process.
Top 6 advice from College Counselor for those who seek to study abroad:
Give yourself time to reflect, prepare, and explore your career and higher educational goals; visit a career or university fair;
Reflect on your strengths, values, learning style, and goals to identify universities that would be that "best fit"; be honest with yourself.
Conduct as much research as possible about the universities and their admission process so that you can plan accordingly and have clear expectations;
Be open-minded and embrace various cultures and diversity so that you can truly appreciate your experience abroad;
Don't forget you are searching for university for yourself and your future, not to impress others;
You are not alone! Join a career guidance class, ask your teachers or your counselor to help; reach out to the universities directly, they welcome international students!

It is forbidden to copy the text of this publication without a written permission from DELFI.