In assessing the role of classical music in today's society, Lipinaitytė noted that it plays one role in the life of a musician, but its quite another thing in the everyday lives of people who never have an opportunity to attend a world-class concert, opera or another classical music event. Furthermore, people who belong to the musical world typically prefer to discuss their role in the world of classical music, rather than the role of classical music in their lives.
These were the topics of our conversation with Rūta Lipinaitytė.
You are a violinist, Doctor of Fine Arts, Head of the Department of String Instruments at the Lithuanian Academy of Music and Theatre, a professor, a member of the jury and one of the organisers of the International Jascha Heifetz Competition for Violinists. People in many countries enjoy listening to the music you play. What does it mean to you to have the opportunity to perform on the greatest stages of Europe, America and Asia?
To me, performing abroad is different from performing in Lithuania. Playing in a foreign country is usually easier for me. Since I often play Lithuanian music, the international stage provides a great opportunity for me to present the works of Lithuanian composers to a foreign audience. I want the audiences I play to in other countries to leave with a good impression of Lithuanian music, to learn to love it and to remember it.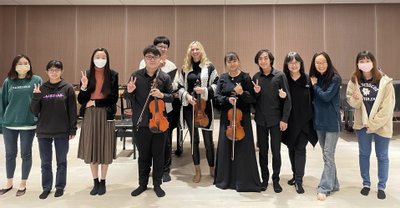 When I'm performing in my homeland, my awareness that the audience includes friends, colleagues, acquaintances and students has a different effect. I always worry much more.
You were in Taiwan to celebrate New Year's and you were the only Lithuanian who performed with the national orchestra. How did this offer come about?
These were solo concerts with the Taiwan Artists Symphony Orchestra, conducted by Ching-Ming Lu. Together with the orchestra, we performed Balys Dvarionas' Violin Concerto. I had many reasons to accept this offer, including the pleasure of gaining a new experience and the opportunity to play with an orchestra I hadn't worked with before. However, what tempted me the most was the idea of introducing Lithuanian music to a distant country, while highlighting the friendship between Lithuania and Taiwan.
How did the Taiwanese audience and musicians receive the Lithuanian music?
The audience had a very warm and enthusiastic response. The musicians in the orchestra were also generous with their compliments. It was their first opportunity to get acquainted with the music of our country. I was asked to share some of the sheet music and to recommend more Lithuanian works. This gives me hope that in the future, more music by Lithuanian composers will be performed in Taiwan.
One of the biggest advantages of being a musician is that in addition to performing, you sometimes have time to learn about other countries, including their cuisine, architecture and culture. Do you pack some comfortable shoes next to your violin when you go travelling? Were you able to get to know Taiwan a little better?
Yes, indeed. Being invited to travel is one of the advantages of being a performer. However, these experiences are not always joyful. Sometimes, travelling can be very hard and exhausting.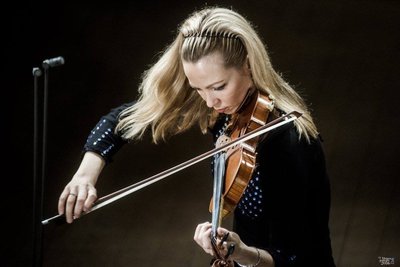 For eighteen years, I worked for one of Europe's leading orchestras, Kremerata Baltica. We travelled the world. Sometimes, we stayed in one place for a bit longer, but there were tours where we would arrive in the morning, have a quick snack, and then rush off to rehearse and perform. In the morning, we would get on a flight to the next city or country. All we had the chance to see was the airport, the hotel and the venue. It was the same story, day after day.
So in Taiwan, I was lucky. The entire experience here – from working with the orchestra, working with the students during the violin masterclasses and the whole trip – were very enjoyable, easy and inspiring.
What impressed you and what was the most surprising during your stay in Taiwan?
During this trip, I had a bit of time to travel and to see the beauty of the country, which is really abundant. I was truly impressed by the cuisine – in addition to excellent Taiwanese restaurants, there are also superb Japanese, Chinese and Korean restaurants in Taiwan.
The culture of social interaction also surprised me. It was very nice to get to know the Taiwanese people a little better. They have a different mentality here, and a different sense of humour. They are particularly polite, respectful, warm and helpful people, and they are very reluctant to contradict you – they find it very hard to say "no".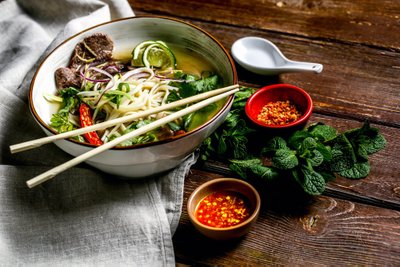 Taiwan is known around the world primarily as a leader in technology and artificial intelligence. Do classical performances benefit from this technology and scientific progress? Are virtual concerts bring more diverse audiences closer to this art form?
Yes, absolutely. Virtual concerts provide greater accessibility, so they are increasing the number of listeners. This greater access is also making artists, particular works and different forms of music more popular.
But on the other hand, we lose something very important, perhaps even something essential, in the virtual space. I think it isn't the same as a live concert, where you can experience the emotions conveyed by an artist. It isn't enough to just listen or see. Sharing the same space during a concert, which has a certain energy flowing through it, creates completely different emotions.
If a musician performs a work for the listener on the other side of the screen, they do not hear the ovation. How important is live applause for an artist?
It's very important. But it's not for the reasons that first come to mind – the pleasure of being appreciated or the feeling of support from the audience. Although that's also important, there is another reason that we don't always think about. When playing, a performer expresses a whole palette of different feelings and experiences. There is the excitement of being on stage, as well as a sense of responsibility towards the composer and the listener. And there is a variety of feelings that arise from the music being performed. Therefore, to convey certain emotions to the listener, the performer will usually experience those emotions him or herself. All this creates a certain inner tension, which the applause helps to dissipate. It allows the performer to "unload".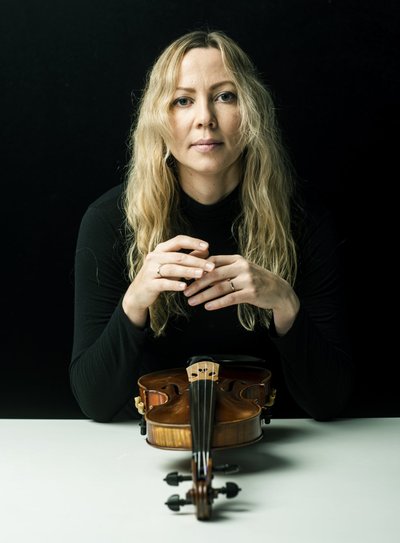 I once performed at a concert where the audience was asked not to applaud after Giuseppe Verdi's Requiem. After playing this big and emotionally powerful piece, we left the stage in absolute silence. It was then that I understood how important the applause is. After the performance, the tension and rather heavy emotions remained in the air, and did not fade away for a couple of days.
But applause is not a natural stepping stone to the international stage. Should a violinist who wants to play with the world's leading orchestras first test his or her skill in various competitions?
There are currently divided opinions about competitions. Many performers and critics compare them to sport, saying that they have a bad effect on musical life and culture. On the other hand, it is rare for a performer to reach the heights of an international career without taking part in competitions. But it's only the most serious, challenging competitions that matter. Today, such competitions for violinists can be counted on the fingers of one hand.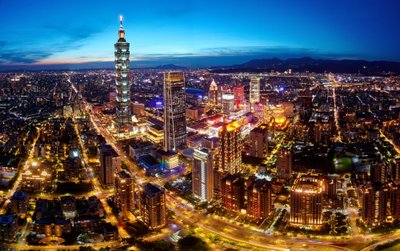 At the same time, there are thousands of smaller competitions. Nowadays, they are held in almost every little town in Europe. The names of those competitions adorn the biographies of almost all performers, even the youngest ones and those who are just starting out. The participation and preparation for any performance event is beneficial to the development of a performer. However, such competitions don't directly lead to an international career.
A few years ago, you received the Golden Disk Award in the solo instrumentalist category. Apart from receiving ovations from an audience and significant awards, what pleases you the most in your career as a violinist?
I currently teach at the Lithuanian Academy of Music and Theatre, and I have a large group of violin students. I find teaching really rewarding. It is not easy, and it requires a lot of time and sacrifices. Sometimes I feel more nervous about my student's performance than about my own. But the achievements of my students and the awards that they win are incredibly rewarding.
It is also a very meaningful profession – a teacher is one of the most important figures in a young person's life. Many people think teachers as people who know a lot of facts and just tell others how to do things. However, one of the main tasks of a teacher is not to instruct, but to reveal a student's talent or simply not to suppress it.
It is not enough to just teach someone how to play the violin. A good teacher not only has a wealth of professional knowledge – he or she is an inspiration as someone the students want to follow. At the same time, a teacher is a trustworthy friend who is available for discussions and to ask for advice.
Your repertoire is wide and varied. What time period do you enjoy performing the most?
Contemporary music is the closest to my heart, and that's what I play the most. I like to choose pieces that are unknown or rarely performed, because I think there is a deeper meaning in performing such music. I think that the wonder, discovery and other emotions that arise from hearing a new work are just as valuable as the pleasure of listening to a well-known melody.
I also play a lot of Lithuanian music. It is an act of both patriotism and sincere love. I connect with Lithuanian music very well and I always know what I want to say through my playing.
What role do visual elements play in music?
They are very important. Today, it is no longer enough to be talented and to have an virtuoso technique, because there are so many such performers now. You need to find a way to stand out. Visual elements, such as image building and clothing, can help.
In fact, the performer's role in both classical and pop music is no longer just musical, but is also social. A musician, just like any contemporary opinion-maker, is a visible public figure that influences their audience. In part, the message he or she wants to convey is delivered visually – through the design of the CDs, through the image or through the that are clothes worn. The messages can range from simple advertising to political views, protests and support.
I would like to share a quote from my colleague, the musicologist Professor Lina Navickaitė-Martinelli, that always brings a smile to my face: "What is a truly profound virtuoso pianist saying to his potential listeners, in a photograph that reveals his impressive physique? It's probably the same principles that are followed by the most beautiful violinists, who illustrate their artistic skills with equally aesthetic pictures, such as Vanessa Mae bathing half-naked with her instrument in her hands."