We were all in the Tabakika refugee camp, a hotspot for refugees in Chios, waiting to take the ferry to Athens, as we knew the official procedure for us should start from there, or to go toward another destination, or simply to head to the borders and try our luck there.
And that's what we did, since we were already ready after we all took our "Khartiya" papers, which are the Greek police paper for us that declare Greece had expelled us as refugees since Greece couldn't accept us with its financial crisis there, and therefore, in the paper, we were given a period of six months to leave Greece, the thing all refugees wanted for sure and were happy with, since that would entitle us of being accepted in other lands, wherever we wanted to head to past Greece.
We took the ferry, and it was a lovely journey, but as we arrived there, it was the first time we were shocked at what the Greek authorities did with us.
"Come on, come on… we are going to take you to decent hotels and camps not far away from Athens… come on guys, come on… get to the buses please quickly, we need to move." It was what the Greek police officers said to us as we were getting off the ferry with our stuff.
I had talked to a friend who was already in Athens, I talked to him to get me a tent at where he was staying at the port, which I had no idea about, I just talked to him in hope I was not going to stay there for long till the borders opened and we could leave Greece.
At that point, I just thought like: "Why would I bother going to the port and stay in a plastic tent with the others if the authorities are going to take us to good places to stay at? I am just going with them."
"How far are those places from Athens?" I asked the police officer, since I, with the others, cared about staying as close as possible to Athens, since all the organisations for refugees and the official departments were there.
"It's going to be around an hour only," answered the officer.
So we got to the buses, and the journey started, to spend an hour, then two, four, six, seven hours on the road non-stop.
We ended up in a desert, in the middle of nothing almost, only cloth tents on a stony rocky ground base, with foxes and snakes around, no electricity in that place near the mountains, and a UNHCR tent was there to distribute food for the refugees, in the military-run camp.
I realized, we all did, that we were deceived.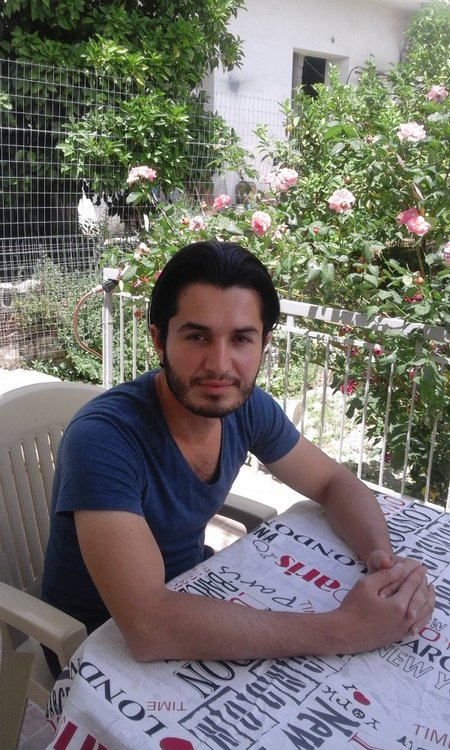 How can people, and especially the official authorities in a state, deceive people who fled their countries under war conditions escaping with only the clothes on their bodies to keep safe and alive? Then how nasty this world is and how big is that lie "human rights"?
I tried to calm down first and see what to do, and there, I spent two nights and a day, and in that period, the authorities there were almost careful dealing with me. "The journalist," they used to call me like that, and I don't think they memorized every job of all the refugees there, but as usual, journalists are enemies for people who know they are not honest.
They tried to convince me stay in the camp, in that tent which would turn completely black inside once 7 o'clock comes, where I would never see anything in that place where there were no malls or even minimarkets around to buy stuff from. I opened the bag that my sweet British friend Liz, who had given me a "special present" as she was waiting for me at the gate of the harbour as we were getting to the ferry. Without it, the head-lamp in that bag, I would never have been able to manage my time at night.
I would never stay there. I sent an email to Reporters Without Borders and told them about my situation there, and they were very sorry for me and asked me to give them time to see what to do in that regard.
I packed up my stuff, which I hadn't unpacked even, and headed to the city of Larissa there, to take the train back to Athens, and a family came with me as they saw me up to do that.
In Athens, I went to the port, and got my tent there with my friend, and stayed there for a while.
In the meantime, I started to write to the organisations in Athens, to several sides, one of which was a voluntary Greek lawyers organization to help the refugees stuck in Athens, and told them about my status at that time.
In the port, and at my first night, I felt very strange. As a guy who never slept outside his home or in other than his own room or his warm bed, I was sleeping on a pavement at a port with a tent to cover me only, on a very thin mattress bellow me. In the morning, we woke up to see we were showered all night, and the water was all around the tents.
I looked at the sky, talking to God: "Allah… I implore you… I am young, I can bear it… I just beg you to take care of the others… the elderly… the children and infants… please… just take care of them and make this time as easy as possible for them". And then I burst into tears alone in my tent.
Only three days passed for me there in that port, and then I received a call from a lawyer, telling me that she was coming to the port to pick me up to some shelter provided by a French organization in Athens, and she really did.
As the elegant lawyer came to take me from the port in a taxi, I couldn't look in the eyes of the people I got to know there, and I couldn't say I wanted to stay with them and share with them the destiny whatever it would be.
At the shelter, and just before we went in, it started to rain very very heavily with big pieces of hail. I looked at the sky, standing in the middle of the street under the rain, and cried. I was praying, "My God, I don't dare to ask you why only me. I thank you for that, but please, please don't break my heart, and take care of the people there under this hail." My tears mixed with the rain drops.
And there I got into the shelter, where I stayed for around a month.
I had sent several emails as I said before, to many official sides and international organisations… and almost a couple of days later, I received a call from Paris, Reporters Without Borders were calling me, and they asked me several questions and told me they would do something for me very soon.
Another journalistic organization in Britain wrote to me apologising for the last three months as they hadn't contacted me, and they thought, I was still in Istanbul.
I told them everything, and they supported me so much, and really took care of me at several points.
Not so long after that, I had some emails, WhatsApp messages, and phone calls, all told me to head to the Greek Asylum Service Office to do my interview for relocation, and they even made me bypass the Skype call which was a real "joke" for getting the refugees registered for relocation and reunification.
I did go, and had my interview, and they gave me an enrolment form to fill in, and I did. Then they told me I would need around a month to get my decision on where to be sent in Europe.
In the meanwhile, I wanted to do something to help the others, something else than volunteering in translation over the internet within Facebook networks for helping the refugees only. As it seemed that the only other thing I would be able to do for them was giving English classes, I asked some friends to help me in doing that, one of those brilliant friends was Laurie, an American woman who soon after I got to know her in Chios, became very close to me. She never left me alone, in anything. Starting from calling me every now and then or writing to me to make sure I was OK and doing well, passing through inviting me to walks and meals, and not ending with the financial support she always gave me.
I won't be able to sum it up about that friend in only some lines now. I need to write sheets and sheets I think to feel comfortable myself before expressing my gratitude to her only.
I told Laurie that I wish to give English classes for the refugees, and she suggested some camp to start with, which was barely being established in that time, the camp of Ritsona, as she was also volunteering there to help refugees. The NGOs were not that helpful there, and would always put obstacles in the way of every single volunteer ever wanted to help in Greece, including me. They wasted my time in holding meetings, my time and others' time, and we took weeks and weeks, to end up having done nothing.
In that time, I had my relocation decision made, and they called me from the GASO to tell me that I was to be sent to Lithuania. At first I was shocked. I had hoped for Ireland very much, since I already speak English very well, where I wouldn't need to learn a new language. Even though I mentioned that in the enrolment form, they didn't care and sent me to Lithuania.
How do authorities and leaders think?
I grieved for my dream of Ireland. I wasn't coping well with the idea of being sent to Lithuania. I don't know anything there, I don't know a single Lithuanian word, I don't know the people there, I know nothing.
Laurie had driven me to Athens to stand by me after I received my relocation decision as she knew in advance I would be very stressed. She could see how stressed I was, and she just insisted that I leave that shelter and come to her house in Chalkida and stay that month I had left till I fly to Lithuania.
I did go to Laurie's place, where she and another lovely American friend, Patty, took care of me and another Syrian guy to an extent one's mind can't always think of. Two American ladies, who don't have anything in common with two Syrian refugees in any point—the culture, the background, the religion, and the whole lifestyle—neverthless take care of them as if they were members of their families.
During this time, some of my friends hooked me up with some Lithuanian friends, and some others started finding me facts about the country, and things started to get easier on me and that terror I felt started to fade out gradually.
In Athens international airport, I just couldn't look around. I was departing another station, another country which I lived in for around three months and felt all secure and safe. Greece was another country I made as my home, with other people whom I loved and they shared me my soul. It was another period of time where I didn't even dare between me and myself to say I am a "refugee" like others were, since I didn't witness the tough times they used to live. I was extremely well taken care of, either in person by my friends around, or even by London as I had a wide web of friends there who always looked after me too, either from a distance, or in person when they came to Greece.
I finally landed in Vilnius international airport, where everything was strange to me. Even though the main atmosphere seemed to be good, and the people there looked friendly, still I felt very strange.
The police at the airport were not bad, and some spoke some English, that I could talk to. One of them, as they knew I was a journalist, asked me for any possibility to talk to the media who were waiting at the airport to talk to some refugees maybe, and then I approved, asking for it to be only one interview as I was completely tired after two flights a day.
The reporter was nice, and so was the cameraman. That was a good beginning for me there as I got to know some people and know how they speak, how they treat others, and how they smile.
Here, at the refugee reception centre, the people in charge are good, and some are nice even. Around the third or fourth day of my first days in this centre, my room door was knocked at, and when I opened, it was one of the employees handing a letter to me. I couldn't understand it, since it was in Lithuanian, but she told me it was some media offering me some job, and they need to communicate with me to see how to arrange things for that.
As it was my third or fourth day in Lithuania, and I started to take things easier as the feeling of being lonely started to vanish. I got very very happy, not only for the job opportunity itself but that made me feel that in this country, there are people who care about those who fled their countries under war conditions and are trying to help them in a way or another. They are showing interest in reflecting the humanitarian side of the country, and this is important anywhere, for anyone.
That made me start to feel familiar with this land, looking forward to making some achievement here, for me and for the country itself.
A new start… a new country…a new life. And a ray of hope!