This is not accidental success, but the result of years of hard work, investments and innovations, explained Michael Chang, Honorary Chairman of the Taiwan Woodworking Machinery Association (TWMA). Having started with primitive machinery and tools, today the innovative Taiwanese manufacturers are integrating artificial intelligence technologies into their machines.
M. Chang revealed that this gradual growth has been going on for decades, and Taiwan's woodworking machinery industry is now becoming increasingly competitive on the global stage.
"Taiwan started producing woodworking machines in the 1950s. Since then, the industry has steadily grown and developed. The government recognised the potential of the woodworking machinery industry at a very early stage, and provided the private sector's costs with a financial cushion, which allowed the country's supported businesses to develop into some of the world's largest producers," M. Chang said, talking about Taiwan's international leadership in the woodworking machinery industry.
Realisation that agriculture would not lead to wealth
In the 1950s, Taiwan's economy was mainly focused on agriculture. However, M. Chang explained that the Taiwanese government recognised the need to diversify the economy even back then, and to reduce the country's dependence on agriculture. The decision to develop other industries, including woodworking machinery, was part of a broader strategy to promote industrialisation and modernisation.
The government recognised that Taiwan had limited natural resources and that the agricultural sector alone could not sustain economic growth in the long term. Therefore, the government made a conscious effort to attract foreign investments and technologies. The latter have created new industries, which have in turn stimulated economic growth and job creation.
"In particular, the government saw the potential of the woodworking machinery industry, as Taiwan already had a strong base of craftsmanship and woodworking skills. The Taiwanese craftsmen were skilled in woodworking and had extensive experience in making furniture, handicrafts and other wood products. Thus, the government has made use of seemingly incompatible elements – modern advances and old-fashioned craftsmanship," said M. Chang about the start of the woodworking machinery industry in the country.
Promoting small- and medium-sized enterprises
Creating a business-friendly environment and promoting the growth of small and medium-sized enterprises also played a significant role in the development of Taiwan's woodworking machinery industry. The country's government has provided financial assistance to businesses, invested in research and development, and implemented policies to promote innovation and entrepreneurship.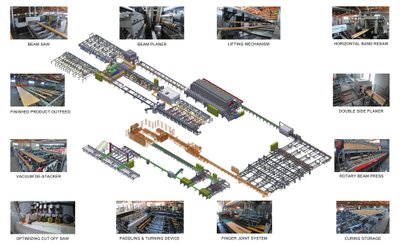 "The businesses themselves have really played an important role. The companies have independently invested in research and development, introduced advanced production technologies, and have focused on developing high-quality products that meet the needs of customers around the world. In addition, the private sector has sought to build strong partnerships with other companies and organisations in different countries, in return for the opportunity to collaborate in research and development and expand to their markets," said M. Chang.
The manufacturers are now focusing on advanced technologies such as robotics, artificial intelligence and the Internet of Things. These technologies make the woodworking machines more efficient, accurate and automated. They also reduce the need for manual labour and increase productivity.
Today, as M. Chang noted, the woodworking machinery industry is an important part of Taiwan's manufacturing and export sector. After decades of growth, it now produces a wide range of woodworking machines: saws, planers, milling machines, sanders, and other equipment used in the woodworking industry.
The major Taiwanese woodworking machinery manufacturers, such as Anderson, Champ Fond, Chang Iron, Kuan Yung, Leadermac, OAV, Sanderson and Tai Chan, specialise in their own specific woodworking machinery areas, with years of experience and strong technological support.
Good practice – vertically integrated production
According to M. Chang, Taiwan has a highly-skilled workforce that has mastered advanced manufacturing technologies. This allows companies to efficiently produce high-quality products at the lowest possible cost. In addition, Taiwan's woodworking machinery industry has been able to take advantage of the benefits offered by global trade, which include access to international markets, raw materials and components from all over the world, as well as the possibility to cooperate with other companies and organisations outside Taiwan.
Cliff Chang, Director of the Taiwan Woodworking Machinery Association (TWMA), echoed the sentiment that the skills of the workforce in Taiwan are extremely high. These craftsmen work with precision, without letting even the smallest detail slip through their fingers.
A good practice for the Taiwanese woodworking machinery companies is a vertically integrated production process. As M. Chang explained, the manufacturers have full control over all aspects of production, from the design and development to the assembly, testing and packaging.
This approach allows companies to maintain a high level of quality control and ensure that their products meet their customers' specific needs and stringent requirements. At the same time, strict product control is maintained to ensure that high-quality, reliable and long-lasting machines reach the customers on time.
High quality at a competitive price
In the early years of the woodworking machinery industry, the Taiwanese manufacturers focused on the production of basic equipment such as saws, planers and millers. As C. Chang noted, over time, the demand has evolved in a way that is strongly influenced by smart technologies.
"Customer demand is at the heart of the research and development of smart machines. The current market is demanding highly-accurate, fast and automated woodworking machinery. Therefore, continuous progress in this industry is essential," said C. Chang.
Taiwanese woodworking machines are now recognised and used by woodworking professionals around the world. They are renowned for their quality, reliability and competitive price.
Consequently, the Taiwanese woodworking machinery manufacturers have a strong presence in many of the world's major markets. Taiwan's largest export market for woodworking machinery, according to C. Chang, is the USA, with China as the second largest. Large export markets have also opened up in Asia, with products going to Japan, South Korea, and countries in South-East Asia including Indonesia, Thailand and Vietnam. In addition, the Taiwanese manufacturers are popular in Canada, Australia, Germany and the United Kingdom.
C. Chang explained how it is possible to maintain high-quality and competitive pricing, by emphasising that the Taiwanese manufacturers have strong relationships with their suppliers and partners, which allows them to source high-quality materials and components at a lower price.
"By closely working with their suppliers, the manufacturers can negotiate better prices and ensure they get the highest-quality materials for their machines," said C. Chang.

Strategies that ensure success
The woodworking industry, like many other industries, faced many challenges during the Covid pandemic. According to C. Chang, this included supply chain disruptions, labour shortages and a reduced demand for certain products, due to changes in the consumer behaviour. Now that the pandemic has subsided, the industry has continued to face rising raw material prices, increased competition and other challenges.
"To overcome these challenges and ensure their continued success, the woodworking companies needed to adopt certain market strategies. This was the only way to remain agile and thrive in a changing environment. The key to success here was a combination of innovation, intelligence and sustainability," the TWMA Director shared.
One of the key strategies was focusing on innovation and intelligence. Through the widespread use of technology and automation, these businesses could improve their efficiency, reduce costs and increase productivity. This, according to C. Chang, is what helped maintain a competitive edge in an increasingly saturated market.
Another strategy is to prioritise environmental, social and governance (ESG) practices. C. Chang believes that ESG is a very important concept that is becoming increasingly relevant in all industries, including the woodworking machinery industry.
"As customers are becoming increasingly aware of the environmental and societal impact of their purchasing decisions, the woodworking machinery manufacturers are under pressure to demonstrate their commitment to ESG principles. The companies that prioritise sustainability and ESG practices are not only winning over these conscious consumers, but are also contributing to saving our planet," C. Chang noted.