aA
Inviting foreign guests or business partners to Vilnius today, you should have no problem finding them somewhere to stay. The capital's real estate market – which has been particularly active in recent years – is not just seeing an increase in apartment buildings and business centers, hotels have been popping up as well.
Mantas Miseliūnas, a partner at Solid Real Advisors, estimates that between 2017 and 2020, Vilnius hotels will offer nearly 1,500 new rooms. But new hotel projects are also being implemented in other Lithuanian cities. Let's have a closer look at the places that offer the greatest potential for market development, writes the company in a press release.
The market in Vilnius is becoming cramped
'The recent opening of new internationally renowned hotels in the capital has greatly increased competition in the accommodation sector. New hotels and the growing popularity of platforms such as Airbnb suggests that the Vilnius accommodation market is coming very close to its limits, if it hasn't already reached them', says M. Miseliūnas.
According to him, Vilnius hotels simply have no choice but to adapt to the conditions of high competition. According to the expert, the further development of the capital's hotel market will depend on the city's ability to increase the flow of tourists and business travelers. For example, new routes offered by air carriers or the opening of an international conference center in Vilnius could give a fresh impulse to the development of the city's hotel market.
Vytautas Jonėnas, director of the Mabre Residence hotel in the center of Vilnius, says that during the warm season there is no shortage of guests, but winter and autumn show a slowdown in reservations.
'Guests visiting our capital have a lot of options when looking for a place to stay. The market now answers everyone's needs: whether guests are looking for an economic option or a more luxury type of accommodation. I think the current situation in the accommodation sector is stable, and more competition will simply force market players to be at the top of their game', says V. Jonėnas.
He hopes that, in terms of inbound visitors, the potential of Vilnius has not yet been fully reached and the city will find ways to attract more tourists and foreigners with events and internationally oriented conferences.
The hotel market in Kaunas has room to grow
When we look at Kaunas, we see a slightly different situation. According to M. Miseliūnas, the hotel occupancy rates in this city have been growing rapidly since 2012 and currently exceed those of the capital. Kaunas has become a new discovery for tourists and investors alike, and the small number of hotels in the city poses greater opportunities for the development of its accommodation sector.
'Kaunas' revitalized public space, expanding service infrastructure, attracted investments, new companies and factories in and around the city, as well as its airport have resulted in a growing demand for accommodation services. Because of this, Kaunas is now offering great opportunities for new hotels. The first Moxy hotel in the Baltic States is already planned here. However, this hotel alone will not exhaust the city's potential. The possibilities of the city's hotel market are well illustrated by the fact that the total number of hotel rooms in Kaunas up until now is around 1,200, which is less than the expansion of Vilnius' market in the last three years alone. As we can see, there is definitely room for development', says M. Miseliūnas.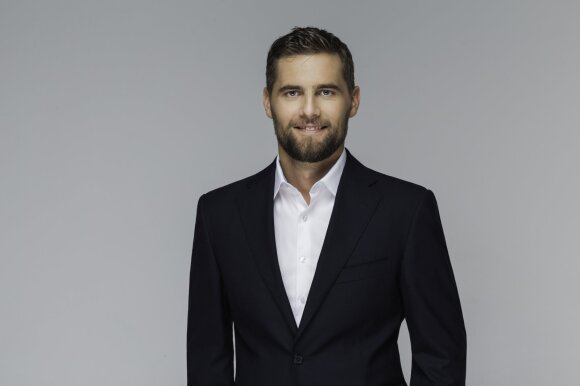 © Bendrovės archyvas
The real estate expert notes that after Kaunas becomes the European Capital of Culture in 2022, the city will attract an even greater number of tourists. As a result, Kaunas should overtake the capital in terms of hotel occupancy rates. There are quite a few opportunities in Kaunas to use existing buildings as a basis for hotels, as there are a number of premises in the city that are currently not used but would serve great as hotels. Going back to Vilnius, this city sees similar potential in the future when part of the state-owned real estate will free up, once the ministries which are currently based there move out from the city center.
Diversified competition

Egidijus Dargevičius, manager of the Best Western hotel chain in Vilnius, Kaunas, Palanga and Druskininkai, notes that the demand for accommodation in Kaunas is currently dependent on events and the seasons. According to him, the implementation of the currently developed and planned hotel projects in the city will significantly increase competition in the accommodation sector. This will affect accommodation loads and prices both during the high season and when big events take place in the city. In addition, the private accommodation sector, which, according to E. Dargevičius, is extremely active in Kaunas and continues to develop in a chaotic fashion, should not be overlooked.
'Increased competition and alternatives available to customers are generally positive. However, it is important for the accommodation sector to create the greatest value for both cities and the state, while ensuring fair competition. As a result, there is a need for clearer regulation of private accommodation services, mainly with regards to solving issues related to taxes, hygiene and fire safety standards', says E. Dargevičius.
According to him, the hotel market in Kaunas could possibly be supplemented by a small five-star hotel. This would help Kaunas to attract top-level international events, such as the EuroLeague Final Four games. However, the expert shared his doubts that a few potential larger events would lead to such a project.
Many possibilities in resort towns
According to M. Miseliūnas, Klaipeda's hotel market is also waking from its previous stagnation. Four new hotel projects are planned in the port city over the next couple of years. As a result, competition in Klaipeda's hotel sector should also increase. However, the expert notes that the planned hotels are somewhat varied, targeting different consumer segments, so the competitive environment should not see too drastically of a change.
'Klaipeda does not yet attract such a large number of tourists that a big shortage of hotels in the city would be felt. For now, it looks like more guests visit the city during the start of the summer season and the Sea Festival. However, due to the seasonal decline in available accommodation at seaside resorts, some guests also choose hotels in Klaipeda. As is the case with other cities, the development of Klaipeda's accommodation service market and investment in it, will depend on how successful the port city will be in attracting tourists and business travelers', says M. Miseliūnas.
The real estate expert sees a lot of opportunities for the construction of hotels in the country's resort towns of Palanga, Anykščiai and Birštonas.
'At the moment, Druskininkai has the highest hotel occupancy and income from room rental in all cities of the country. Anykščiai and Birštonas are trying to follow the example of this resort town. New attractions are emerging in these two cities, infrastructure for services focused on recreation is being developed, and active communication is aimed at attracting visitors. At the same time, there is a greater need for accommodation services. It is true that the majority of hotel customers in Anykščiai and Birštonas up until now have been domestic tourists, unlike in Druskininkai, which has and has had a large flow of international tourists for a long time now. Additionally, attractions such as the indoor skiing facilities and water parks also add to the city's attractiveness', says M. Miseliūnas.
According to the expert, the country's main seaside resort also has exceptional opportunities for hotel development. The occupancy rates during summer weekend is already high in Palanga's hotels, but according to M. Miseliūnas, the development of hotels with spas and other leisure services could make the resort attractive to tourists throughout the year.

It is forbidden to copy the text of this publication without a written permission from DELFI.