aA
Increasing competition in the banking sector is a true challenge, says Gediminas Simkus, Lithuanian President Gitanas Nauseda's nominated candidate to lead the country's central bank of Lithuania.
"We see in some places that competition (in the banking sector – BNS) has even shrunk. Or, to be more precise, concentration has increased. We fail to make proper use of businesses operating locally, as well as the growth potential of financial market participants. A cooperative banking sector with a wide regional network can lead to a further breakthrough, if we improved capital growth and management prospects," Simkus told lawmakers.
In his words, the capital market is also an alternative to banking loans as it provides opportunities for smaller businesses to attract capital and thus increase liquidity.
The presidential decree on Simkus' nomination for a five-year term to lead the board of the bank of Lithuania was put before the Lithuanian parliament earlier in the day.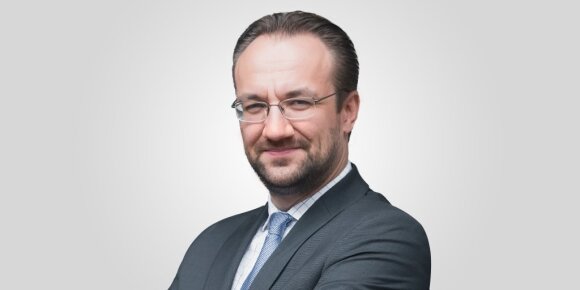 © Asmeninio albumo nuotr.
"The president believes Simkus is a great economic and financial expert, having long-standing experience of working for the Bank of Lithuania, who based his work on successful inter-institutional cooperation. During his career, Simkus has also demonstrated good management skills he improved working in various positions. The president is convinced that through his knowledge, skills, international experience and the Bank of Lithuania's mature long-standing vision, he will help to pursue stability of the financial system and sustainable economic development," Povilas Maciulis, a presidential adviser, said when introducing the candidate.
Simkus told lawmakers he sees the Bank of Lithuania as a progressive and modern institution understanding public needs and working for the needs of people.
Simkus joined the central bank in 2002 and has been consistently going up the career ladder within the bank for the past 18 years. He was appointed a board member in September.
The term of the Bank of Lithuania's incumbent board chairman Vitas Vasiliauskas expires on April 7.
It is prohibited to copy and republish the text of this publication without a written permission from UAB "BNS".